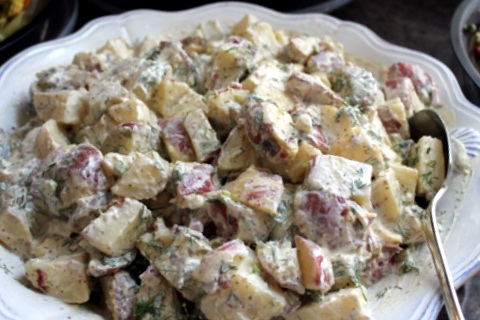 As summer approaches (some might argue that it's already here, with our 90+ degree weather), so do cookouts, BBQs, and summer picnics. Almost weekly, my friends and I get together for some sort of pot-luck — lunch or dinner accompanied by soccer and kayaking in the park, an impromptu Sunday BBQ, or a summer holiday festivity. We all bring something and end up going home with containers of leftovers. It really is an awesome time.
I do have my stockpile of recipes set aside for these occasions – tortellini salad or a summer orzo salad for a side; skirt steak marinated simply with a little kosher salt and pepper; or easy cookies for dessert. This past Memorial Day, I decided to try something new, Ina's Old-Fashioned Potato Salad. I was a little skeptical about the dish. I tasted the dressing when I first made it, and it was super tangy. But, it was too late to run to the grocery store and make something else, so I threw it in the fridge for an hour and hoped for the best. I'm so glad I stuck with it! After sitting for a few hours, the dressing had mellowed out and my girlfriends and I were gathered around the bowl, forks in hand, eating right out of the serving dish. (Plates were ignored and the guys were at the grill). This salad was a winner, and incredibly addictive. Less than a week later and I am already getting requests for it.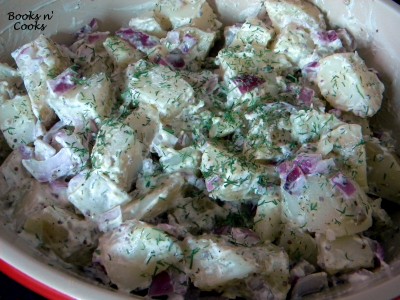 Ina's Old-Fashioned Potato Salad
Adapted from Barefoot Contessa At Home (p. 86)
Serves 6-8
Ingredients:
3 lbs. small red potatoes or other thick-skinned potatoes (potatoes with thinner skins tend to be a little messier, with the skin peeling off)
kosher salt
freshly ground black pepper
1 c. mayonnaise
1/4 c. milk
2 Tbs. Dijon mustard
2 Tbs. whole-grain mustard
1/2 c. fresh dill
1/2 c. diced celery
1/2 c. diced red onion
Fill a very large stockpot with water and 1-2 Tbs. kosher salt. Bring to a boil. Add whole potatoes and cook, 10-15 minutes, until potatoes are "barely tender" when pierced with a knife.
Drain water, returning potatoes to pot. Cover with a clean dish towel, allowing the steam to continue to cook the potatoes until tender but still firm, another 15-20 minutes. Once cooked through, uncover and allow to cool.
Meanwhile, combine mayo, milk, mustards, dill, 1 tsp. salt, and 1 tsp. pepper in a bowl. Set aside.
When potatoes are cool enough to handle, cut into 1 1/2-in. pieces. Toss with 3/4 of the dressing, adding more if needed. Toss onions and celery, along with 1 tsp. each salt and pepper. Cover and refrigerate at least 1 hour before serving.