Cool off this summer with Healthier Blueberry Cheesecake Popsicles – made with frozen fruit, a natural sweetener (instead of added sugar), and a surprising protein boost.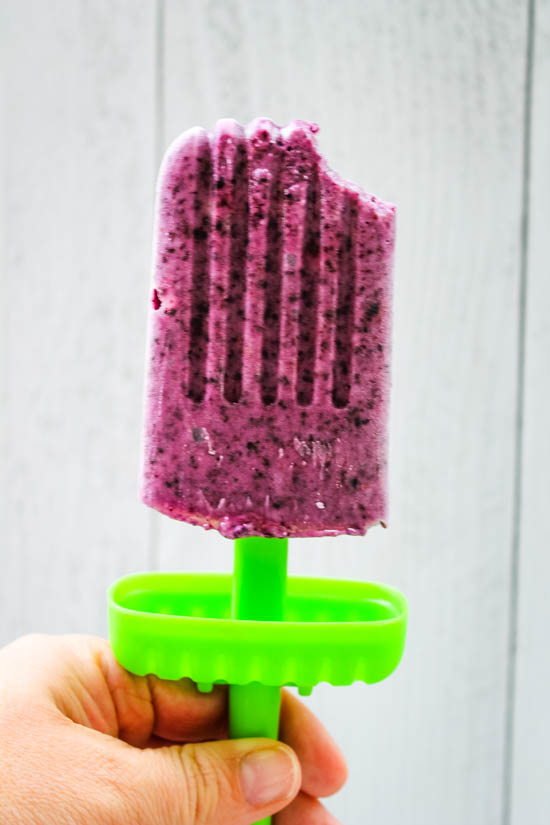 When I was growing up, we were in a newly build neighborhood. I vividly remember the kids running wild throughout the neighborhood – biking all over and playing in each other's yards and the culdesacs. It was the picture I had in mind when my husband and I were house-hunting a few years ago, getting ready to start our own family.
Fast forward to today, and I'm lucky enough that we have exactly what I wanted for my children – to grow up in a neighborhood where the kids are always outside playing together; where parents hang out and chat as the kids run around together. My daughter has a solid group of girls in her grade and slightly older that play together almost daily – riding bikes and scooters, playing with American girl dolls and doing crafts. And my Little Man seems to have been adopted by the neighborhood "Big Boys," who he begs to play with daily. Those 4th graders have taken my little 4 year old under their wing, patiently helping him load his water gun, lending him their nerf guns, and giving him piggy back rides.
All of this makes me smile and feel incredibly lucky every afternoon I see my kids playing with their friends.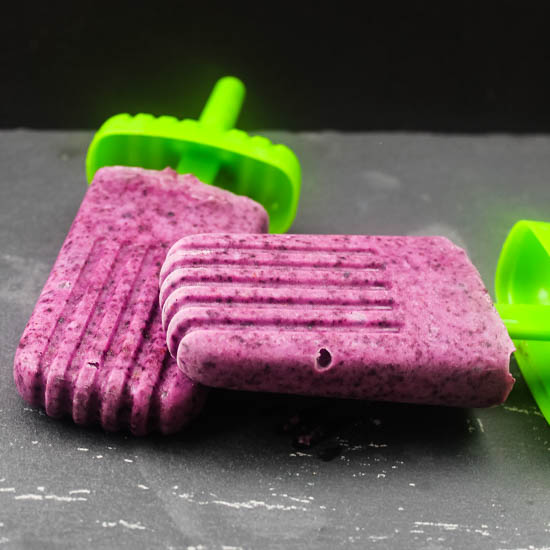 Now that it's summer, more often than not, the kids are doing some sort of water play – water gun fights, sprinklers, the random inflatable pool… In that hot sun, we do plenty of popsicles so that everyone stays hydrated, although I try to avoid the excess sugar (these kids have enough energy without that!).
That's where these Healthier Blueberry Cheesecake Popsicles come in. There is very little added sweetener in them, but the the little bit comes from a natural sweetener – maple syrup. Lots of blueberries, some low-fat milk, and a surprising addition of low-fat cottage cheese (protein!) make these popsicles a healthier alternative to what we'd typically buy at the grocery store.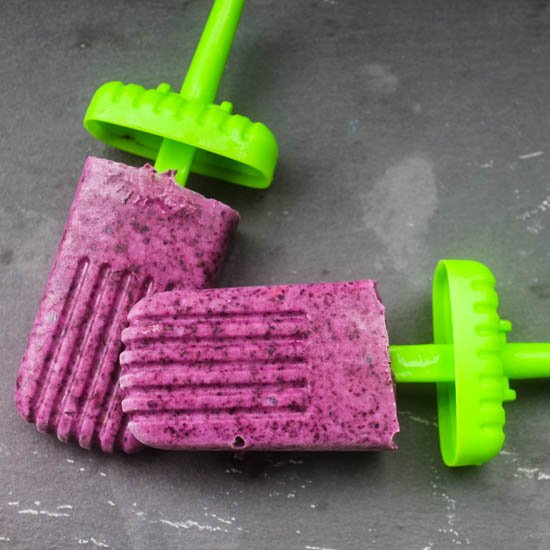 I don't make homemade popsicles often, but the kids and I really enjoy them when I do. These popsicles were a hit with the kiddos, who had no idea that they were on the healthier side.
Interested in other popsicle ideas?
Cookies and Coconut Cream Popsicles – The coconut cream in these popsicles give the treat a lovely creamy consistency, whereas sometimes milk comes out more icy. Don't like coconut? Don't worry, they didn't taste like coconut at all.
For the adults, these Raspberry Sangria Popsicles from Chef Savvy were a hit with me and my husband. This post reminds me that I have to make them again. 🙂
You can also check out some of previous round-ups of popsicle recipes, like this round-up or this one.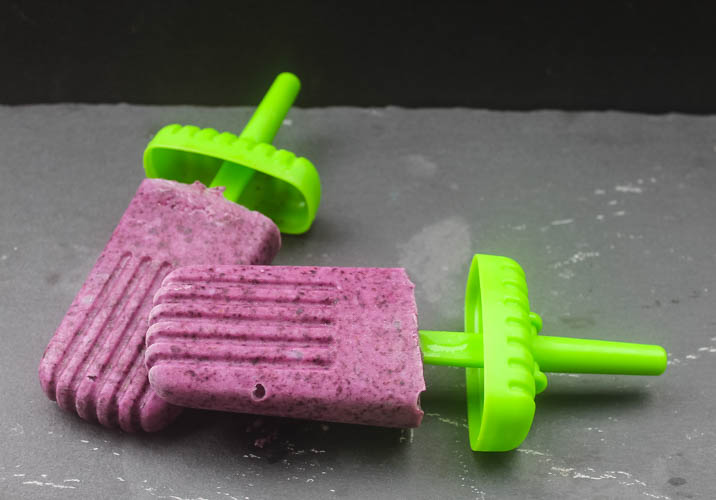 A Quick Recipe Note:
To make homemade popsicles at home, you really do need to have some sort of popsicle mold. The sets aren't particularly expensive, and are fairly easy to store. This is similar to the popsicle molds that I have – which I've been very happy with (they're easy to fill and easy to clean):
Enjoy!
Print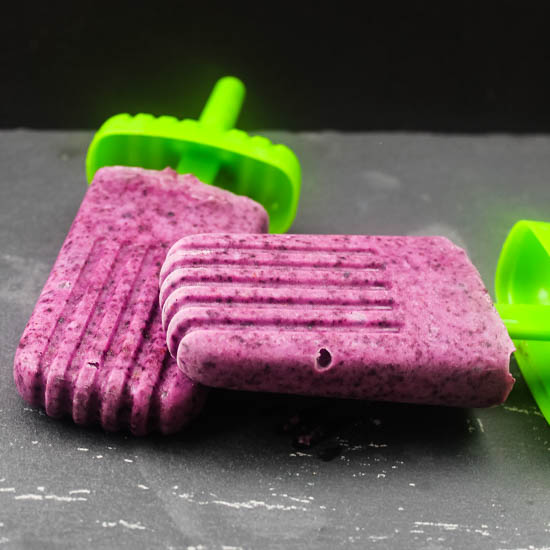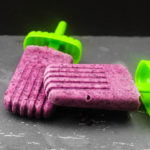 Healthier Blueberry Cheesecake Popsicles
Cool off this summer with Healthier Blueberry Cheesecake Popsicles - made with frozen fruit, a natural sweetener (instead of added sugar), and a surprising protein boost. 
Total Time
3
hours
10
minutes
Ingredients
1 1/2

c.

frozen blueberries

thawed

1/2

c.

low-fat cottage cheese

1/2

c.

low-fat milk

3

Tbs.

pure maple syrup

1

tsp.

lemon juice

1/2

tsp.

vanilla extract
Instructions
Add all ingredients to the bowl of a blender and puree until smooth, scraping down sides of blender as needed.

Evenly portion into 1/3 c. popsicle molds. Freeze until set, at least 3 hours.
This recipe was rewritten but barely adapted from Weight Watchers Magazine, May/June 2016.