Last time I was on maternity leave, I had all of these plans to accomplish so much – lots of cooking and reading and blogging; lots of time crafting; even some home improvement projects… and for the 3ish months I was at home, almost none of that got done. Don't get me wrong, Sophie was a super easy baby. But between the constant flood of family and friends visiting, I didn't get to touch most of what I had wanted to. And when I did have a moment of quiet, I was too restless to sit and read.
So this time around, I wanted to be prepared. While I really hoped for a quieter time at home, I didn't want to leave you without a new book to check out. Thus, I asked Heather from  Hezzi-D's Books and Cooks to write a book review for me. Heather is an avid reader and cook – I have no idea how she manages to find the time to do everything while also working full-time, so if you haven't visited her blog, I highly recommend you check it out. This post will give you a little taste of what you can expect.
Thanks for joining me this week, Heather! I've got Orphan Train on my to-read list, for that next quiet moment!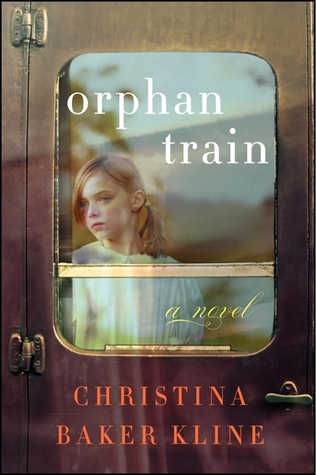 Orphan Train
by Christina Baker Kline
Synopsis from Goodreads
The author of Bird in Hand and The Way Life Should Be delivers her most ambitious and powerful novel to date: a captivating story of two very different women who build an unexpected friendship: a 91-year-old woman with a hidden past as an orphan-train rider and the teenage girl whose own troubled adolescence leads her to seek answers to questions no one has ever thought to ask.
Nearly eighteen, Molly Ayer knows she has one last chance. Just months from "aging out" of the child welfare system, and close to being kicked out of her foster home, a community service position helping an elderly woman clean out her home is the only thing keeping her out of juvie and worse.
Vivian Daly has lived a quiet life on the coast of Maine. But in her attic, hidden in trunks, are vestiges of a turbulent past. As she helps Vivian sort through her possessions and memories, Molly discovers that she and Vivian aren't as different as they seem to be. A young Irish immigrant orphaned in New York City, Vivian was put on a train to the Midwest with hundreds of other children whose destinies would be determined by luck and chance.
The closer Molly grows to Vivian, the more she discovers parallels to her own life. A Penobscot Indian, she, too, is an outsider being raised by strangers, and she, too, has unanswered questions about the past. As her emotional barriers begin to crumble, Molly discovers that she has the power to help Vivian find answers to mysteries that have haunted her for her entire life – answers that will ultimately free them both.
Rich in detail and epic in scope, Orphan Train is a powerful novel of upheaval and resilience, of second chances, of unexpected friendship, and of the secrets we carry that keep us from finding out who we are.
Review/Recommendation: The story follows two very different characters. Molly is a year old whose father died when she was 8 and whose mother is in and out of jail. She has been hopping from foster family to foster family for the last 9 years and she can't wait until her 18th birthday when she'll be free from the craziness. She can't take the families that keep her for the money and want nothing to do with her.
Vivian is 91 years old and lives alone in a big mansion. On the outside it appears she has a wonderful life. She was married for 50+ years, she has an amazing house, money, and someone to help her keep the house.
Molly meets Vivian when she goes to her house to help her clean out her attic as part of her community service hours. She has to complete 50 hours from stealing a book from the library. When Molly and Vivian begin going through the boxes it's clear that Vivian simply wants to reminisce and not really clean anything.
Molly finds herself fascinated by Vivian's story. It turns out the old woman is much more like Molly then she could have ever dreamed. Vivian's family came to America when she was just a child. When a fire kills her entire family Vivian is left alone. She is quickly sent to a home for orphan's and begins her journey on the Orphan Train. As Vivian goes from city to city she both hopes she will be chosen by a family and fears it.
Molly learns that Vivian had her fair share of bad families. The two grow close as they recount the stories of their childhoods and growing up as orphans. It's an unlikely friendship that blooms into something more as the two grow emotionally attached.
This is a beautiful story about a present day orphan and an orphan back in the 1920's and 1930's. The similarities and differences are startling. The journey that Molly and Vivian takes together is something that only the two of them could possibly share.
I found Molly to be an intelligent young woman who has a lot of great characteristics but is unfairly judged by many people, including the woman she is living with. She dresses like a Goth but inside there are deep emotions of a trouble teenager.
Vivian is lonely and longs for the days when she was happy. Her life started out rough and while she is now comfortable there is still something missing. Can Molly help her find the piece that is missing?
Rating: I give this book 4 ½ out of 5 stars.