With the wonderful banana and chocolate chips, you may not even notice the oat bran, honey, and molasses in these Banana Chocolate Chip Bran Muffins.
Today, I'm excited to welcome Maeghan from The Way to His Heart. Maeghan and I met a few years ago and have kept in touch ever since. It's been a pleasure watching not only watching her own family grow, but also her blog. Maeghan takes gorgeous photos of family-friendly recipes and has had recipes featured by Cooking Light Magazine.
Maeghan, thanks again for posting today – Sophie and I can't wait to try out your muffins!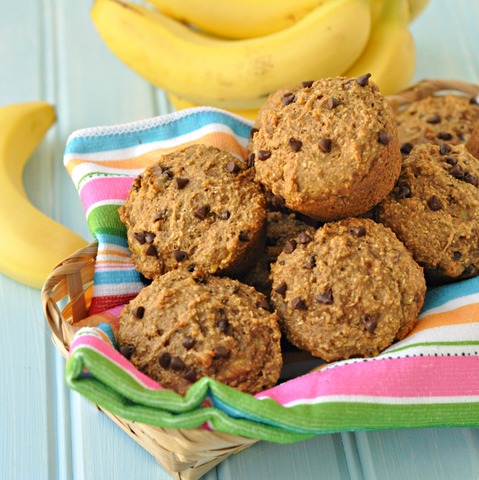 When you're expecting your second child you really focus in on what things to plan for. You've been down this road before and you know exactly what it will be like. I think the biggest part for me was making sure that my daughter was still taken care of and feeling loved while we welcomed her brother into the world. Back when I was expecting my son George, I took some time away from my blog, The Way to His Heart, to settle into our new life and other blogger's helped out and wrote some wonderful guest posts. Now that Liz will be welcoming her son, she is doing the same and it is my time to return the favor.
I met Liz a few years back at the Mixed conference, along with chatting on a cooking forum. She was actually pregnant with her daughter at the time and I was away from mine for the first time. What I wanted to offer to her, and to you, is a great and delicious snack when she's in a rush. These Banana Chocolate Chip Bran Muffins are absolutely delicious and my daughter and husband have no clue that they are remotely healthy for them. Not that clean eating needs to be hidden, but with the wonderful banana and chocolate chips, you may not even notice the oat bran, honey, and molasses. You can feel good about snacking on these and know that when you're in a rush, like a new mother definitely can find herself often, you have something nutritious to snack on. The best thing is that these muffins can be frozen, so Liz can make them ahead of the baby's arrival and pop them in the freezer, then grab a few at a time whenever she wants one.
I hope you enjoy these muffins as much as we do! Congratulations on the arrival of your son, Liz. I can't wait to see and hear all about him!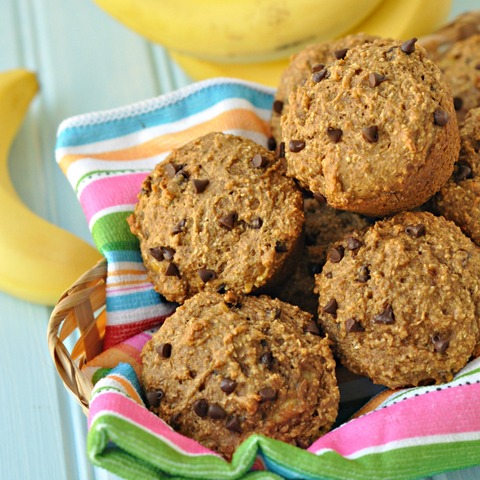 Banana Chocolate Chip Bran Muffins
Ingredients
1 1/2 cup oat bran
1/3 cup skim milk
3/4 cup mashed over ripe bananas (about 2 medium)
1 1/2 tsp vanilla extract
1 cup whole wheat flour
1 1/2 tsp baking powder
1/2 tsp baking soda
1 tsp cinnamon
1/4 tsp salt
1 Tbsp unsalted butter or coconut oil, melted
1/4 cup honey
1/3 cup molasses
4 Tbsp miniature chocolate chips, divided
Pre-heat the oven to 350 F and lightly coat 10 muffin cups with a nonstick cooking spray.
In a medium bowl, combine oat bran, milk, banana, and vanilla extract. Set aside and allow to to soak for at least 10 minutes.
In a small bowl, whisk flour, baking powder, baking soda, cinnamon, and salt together.
In a glass measuring up, stir together the melted butter, honey, and molasses until thoroughly combined. Once the oat bran mixture has soaked long enough, add the honey mixture to it. Then, add the flour mixture, stirring until just combined. Fold in 3 tablespoons of chocolate chips.
Divide the batter between the prepared muffin cups. Sprinkle the remaining 1 tablespoon of chocolate chips onto the tops of the batter and press them slightly into the batter.
Bake for 19-21 minutes, or until the tops bounce back from a slight touch. Let the muffins cool in the pan for 5 minutes and then transfer to a wire rack to cool until cool.
Store in an airtight container for up to 4 days or freeze.
*For a vegan version, use coconut oil, non-dairy milk, and maple syrup or agave in place of the honey.
Yields 10 muffins
Source: Amy's Healthy Baking