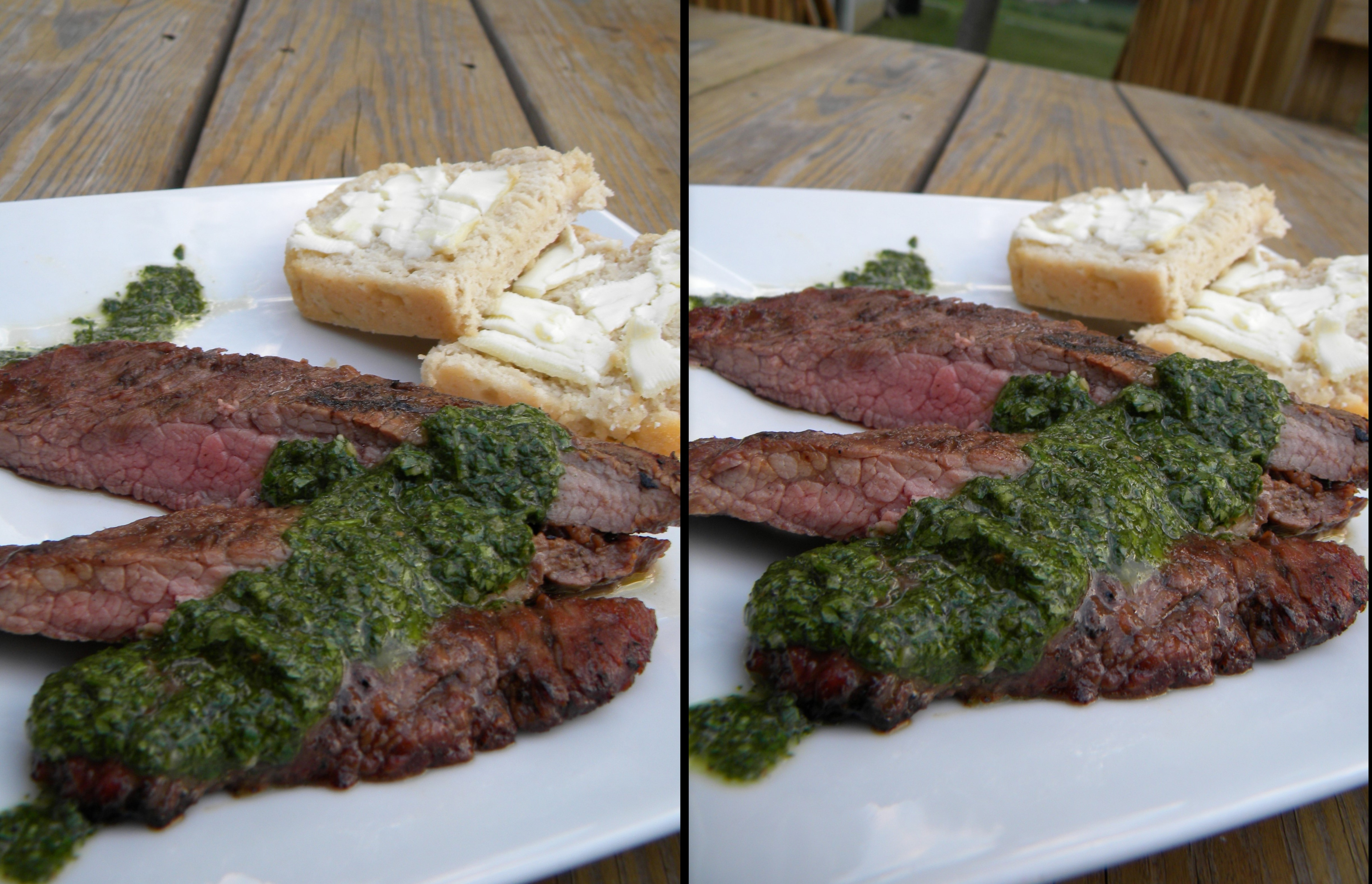 Earlier this year, a friend and her husband hosted our regular book club meeting. They grilled a fabulous skirt steak with a Brazilian "vinaigrette," what I would consider to be a chimichurri. After jokes about our "hunk of Brazilian meat" (referring both to our dinner as well as our chef) we dove in, leaving little leftover.
While I've yet to acquire the recipe for the Brazilian vinaigrette, this chimichurri will suffice for a substitute. The hubby and I loved the flavor it added to the grilled steak and enjoyed the leftovers with our beer bread. The best part? It took only a few minutes to throw together, making this a wonderful quick and easy weeknight meal.
Grilled Steak
By Books n' Cooks
Ingredients:
1-1 1/2 lb. flank steak or skirt steak
kosher salt
freshly ground pepper
Generously sprinkle both sides of steak with kosher salt and freshly ground pepper. Refrigerate at least 2 hours before grilling.
Preheat gas or charcoal grill.
Place steak on hot grill. Cook for about 5 minutes before flipping and cooking for another 3-5 minutes, until steak reaches 135°F for medium-rare, or 140-145°F for medium.
Let rest 10 minutes before slicing and serving with below chimichurri.
Cilantro Chimichurri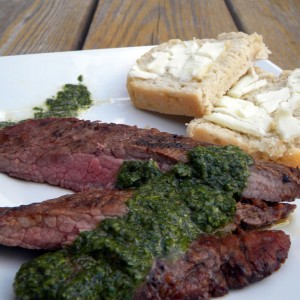 Adapted from Foodandwine.com
Makes 1/2 cup
Pulse the below ingredients in a food processor until smooth.
3/4 c. finely chopped cilantro
1/4 c. extra-virgin olive oil
1 clove garlic, minced
2 Tbs. fresh lime juice
1/4 tsp. kosher salt
1/8 tsp. freshly ground pepper
May also add 1 jalapeño, with or without seeds, minced if you'd like a little spice.

Serve at room temperature.
According to Food and Wine, chimichurri may be made up to 4 hours ahead of time and refrigerated. Bring to room temperature before serving.