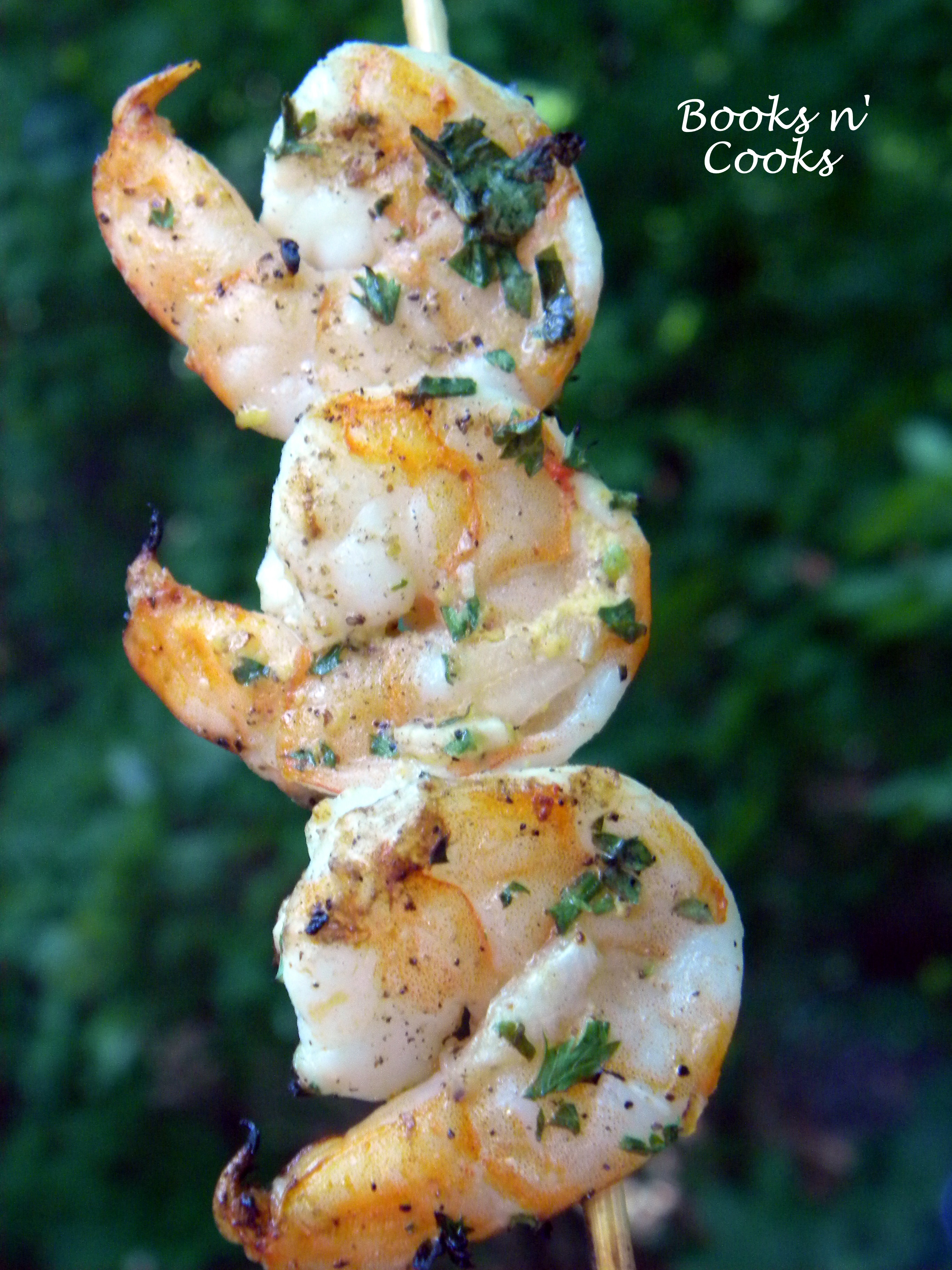 As the temperature goes up, I spend less time cooking and the hubby spends more time grilling. We'll grill just about anything – meat, seafood, veggies, fruit – and are always looking for new recipes to try out. We ended up bringing these shrimp over a friend's house a couple of weeks ago and they were a huge hit! We had these as part of the main dish, with burgers, but they would also be great as a hot, room temperature, or cold appetizer, or in a salad.
Thanks to Lake Lure Cottage Kitchen for choosing such a nice light dish for this month's Barefoot Bloggers.
Grilled Herb Shrimp
Adapted from Barefoot Contessa's Barefoot Contessa Parties!
Serves 2-3 as a main dish
Ingredients:
1 lb large shrimp (16 to 20 per pound), peeled and deveined (see note)
2 cloves garlic, minced
1/2 medium yellow onion, small-diced
1/8 c. minced fresh parsley
1/8 c. minced fresh basil
1/2 tsp. dry mustard
1 tsp.  Dijon mustard
1 tsp.  kosher salt
1/4 tsp. freshly ground black pepper
1/8 c. good olive oil
1/2 lemon, juiced
If grilling on skewers, don't forget to soak any wood skewers in water for 30 minutes. These can also be grilled in a grill basket.
Combine all ingredients except shrimp and set aside.
Skewer the shrimp, using 3-4 shrimp per skewer. (I removed the tails, but feel free to leave tails on.) Pour marinade on shrimp and allow to marinade for 1 hour at room temperature, or covered in the fridge for up to 2 days.
Heat grill on medium heat, and brush grill with oil to prevent shrimp and herbs from sticking.
Grill shrimp, bout 90 seconds per side. Serve hot, cold, or at room temperature