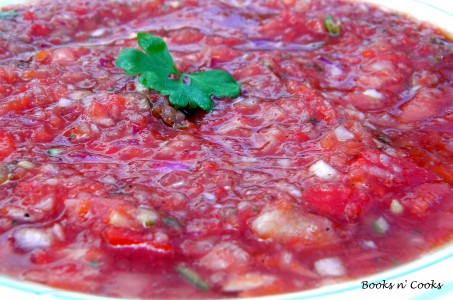 A month ago, I went to a week-long class for professional development. I was shocked when I arrived on the first day, and was told that they'd be serving us lunch. That's completely unheard of for most of the professional development courses I am encouraged to attend. What was even more shocking… the food was actually good! No tasteless, unidentifiable entrees that are usually on cafeteria buffet lines (at least where I am), but rather carving stations for ham and turkey, a beautiful salad bar with fresh veggies and berries, pitchers of water flavored by the fresh fruit sitting on top… I couldn't believe my luck, getting into such a class. I enjoyed great lunches all week, but the star, for me, was the fresh gazpacho I had on the first day.
Ever since, I've been craving gazpacho but a little hesitant to make it since I've never done so before and didn't have a tried and true recipe on hand. I tried to satisfy my craving with Greek Panzanella, and then the following week with an improvised Greek salad (diced tomatoes, peppers, and cucumbers with a little Italian dressing over them). However, I was still craving the freshness of the Gazpacho – a light treat for the warming weather. An added bonus – a great way to get in extra veggies.
Never having made Gazpacho, I was hesitant to change Ina's recipe too much, as I've loved everything that I've tried of hers. However, I wanted to make this a little healthier by the olive oil (I used extra-virgin olive oil) in half. I also cut the amount of white wine vinegar by half. (Both changes are reflected below) Even with these minor adjustments, the soup was wonderful and super easy to make (what's not easy about throwing everything into a blender and then refrigerating?).
Gazpacho
Adapted from The Barefoot Contessa Cookbook (p. 79) and on Food Network
Yields 10 serving (1-1/2 c. each)
Ingredients:
8 plum tomatoes
2 English cucumbers, seeded but not peeled
3 red peppers
2 red onions
6 cloves garlic
46 oz. (6 c.) tomato juice
1/4 c. white wine vinegar
1/4 c. olive oil
1 Tbs. kosher salt
1 1/2 tsp. black pepper
Roughly cut the tomatoes, cucumbers, red pepper, and red onions into chunks, about 1-inch large. Add tomatoes to a food processor fitted with a steel blade and pulse until coarsely chopped but not pureed. (I left mine a little chunkier, but continue to pulse if you prefer a smoother consistency.) Do the same with the cucumbers, red peppers, and red onions, processing each vegetable individually.
Combine chopped veggies with remaining ingredients in a large bowl. Stir well and cover. Refrigerate for at least 2 hours, to allow the flavors to blend, before serving.
Serve cold.
Optional Garnishes: Dollop of sour cream, homemade croutons, sprinking of Parmesan or feta cheese