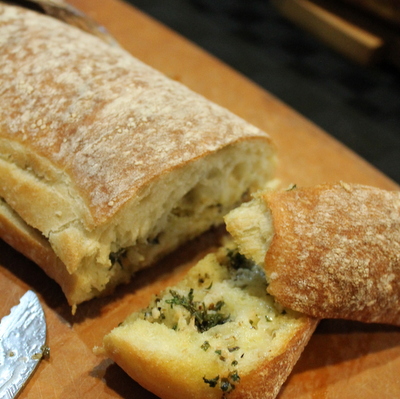 Hearty Italian meals have always been some of my favorites to both make at home and order out. I can eat pasta day and night for weeks without getting tired of it. And sometimes I do. But it's rare that I serve or indulge in the wonderful Italian breads that so often accompany those meals. After all, a girl has to watch her figure with all of those carbs, right? 😉
But in all seriousness, I do enjoy a good Italian bread, slathered in sweet butter, dunked in herb-infused olive oil, or well toasted with a hefty dose of garlic. All of that goodness comes out when I entertain. This garlic ciabatta bread is one of my favorites to prepare, as it's got enormous flavor and is easy to prepare. When entertaining, I make the garlic-olive oil mixture in advance, so that it only takes a minute to put together and move to the oven for a quick bake while I spend time with friends. Enjoy!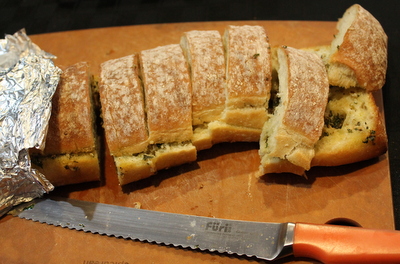 Garlic Ciabatta Bread
Adapted from Ina Garten's Barefoot Contessa Back to Basics (p. 184)
Ingredients:
1/2 c. extra virgin olive oil
1/4 c. fresh parsley, finely chopped
6 large cloves of garlic, crushed or finely minced
1 tsp. kosher salt
1/2 tsp. black pepper
2 Tbs. unsalted butter, at room temperature
1 loaf ciabatta bread
Preheat oven to 350F.
In a small saucepan over medium-low heat, heat olive oil, parsley, garlic, salt, and pepper until garlic is translucent and has infused the olive oil, about 5 minutes. Remove from heat.
Slice a loaf of ciabatta horizontally. On one half, spread butter. Spread the garlic-olive oil mixture on the other half. Put back together and wrap in aluminum foil.
Place on a baking sheet and bake for 10 minutes, until bread is heated throughout. Remove from oven and slice.
Serve immediately.
Save