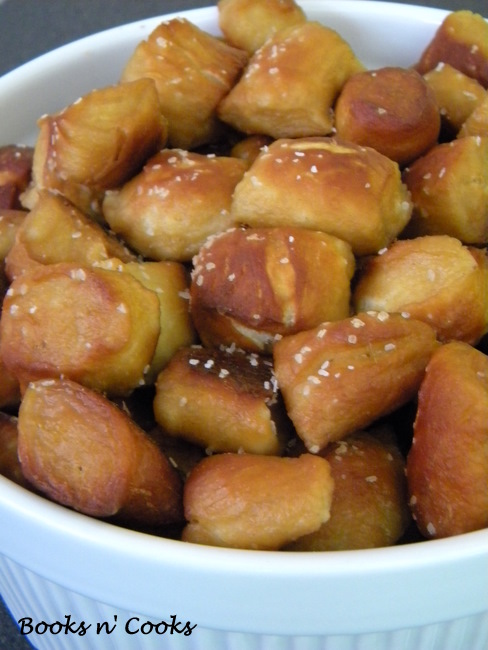 Everyone knows I'm not a football fan. Actually, that's an understatement. To me, football is a bunch of fat guys jumping on each other. I just don't understand the obsession with football. My college didn't even have a football team, not even a terrible one. I remember one of my first trips home with my husband, 5 years ago. We went to his buddy's house to watch an Alabama game. Intimidated with all these new people, I whispered to the hubby, "did so-and-so play for Alabama?" Confused by my question, because the guy was not exactly built like a football player, I was told no. I should have just left it at that, but I whispered (a little louder than I realized), "If he didn't play, then why does he have all these professional photos of Alabama football players on his wall?" I could  have understood it if the photos were of him, but some random dude he didn't know? Just didn't make sense to me. Needless to say, the hubby looked at me and rolled his eyes while the rest of the room overheard me and wondered what type of lunatic my now-husband had brought home.
You'd think that after being with my husband for 5 years, that I would have gained some appreciation for football. Nope. While the hubby watches football, I curl up with a mystery novel. Despite my opinion of football, I somehow got talked into watching a game at a friend's house. In fact, not only did I have to pretend to watch the game, but I got volunteered to bring something. No idea how that happened…. and really, I think the only reason I survived the game was because I brought some crafts, and received constant compliments on how wonderful these pretzels were.
This was my first time making soft pretzels (or pretzel bites) and although a bit of work, they weren't very hard. We all found them super tasty. I thought they tasted like real New York pretzels, bought just off the street. I served the pretzel bites with cheese dip from Two Peas and Their Pod, but I did not repost the recipe here because I wasn't happy with the way it came out (although the dish was gone by the end of the night).
Note: I did make these in advance and reheated a couple times throughout the night. The flavor and texture was fine through each reheat.
Make ahead / freezing instructions available on Annie's Eats, although she uses a slightly different recipe than the one below.
Homemade Soft Pretzels or Pretzel Bites
Adapted from Bobby Flay, via Two Peas and Their Pod
Makes 8 large pretzels or 8+ dozen pretzel bites
Ingredients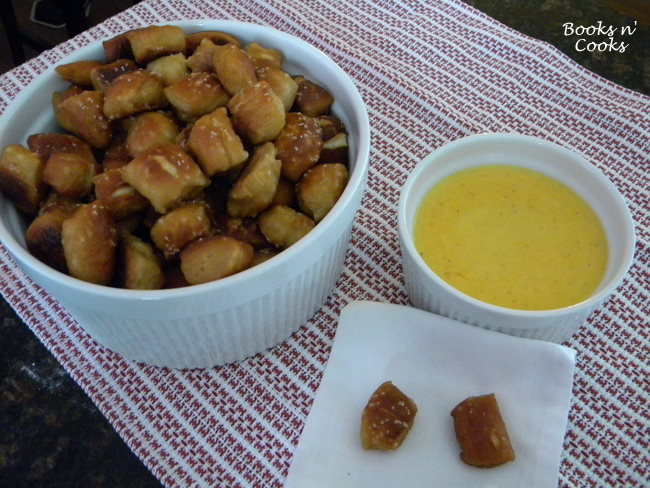 ~ 1 1/2 c. warm water
~ 2 Tbs. light brown sugar
~ 1 pkg. active dry yeast
~ 3 oz. unsalted butter, melted
~ 2 1/2 tsp. kosher salt plus more (or coarse sea salt) for sprinkling
~ 4 1/2-5 c. all-purpose flour
~ vegetable oil or spray
~ 3 quarts water
~ 3/4 c. baking soda
~ 1 egg, beaten, with 1 Tbs. cold water
Make the Pretzel Dough: In the bowl of a stand mixer fitted with the dough hook, combine water, sugar, yeast, and melted butter until just combined. Turn off and let stand for 5 minutes.
After 5 minutes, turn mixer to low and add kosher salt and flour. When just combined, increase speed to medium until dough begins to pull away from sides, 3-4 minutes. If dough is too wet, add flour 1 Tbs. at a time.
Turn dough onto a flat surface and with your hands, knead into a ball.
Oil or spray mixing bowl and return dough to bowl, turning to coat with oil. Cover with a clean towel or plastic wrap. Set in a warm place to rise. Dough should double in size, about 1 hour.
Cook the Pretzels: When dough has doubled in size, prep everything for cooking.
Line two baking sheets with parchment paper. Spray with cooking spray and set aside.
Set a small roasting pan or large skillet with at least 3-inch high sides on the stove over high heat. Fill with the 3 quarts of water and bring to a boil. Add baking soda.
Preheat oven to 425F.
As water is coming to a boil, remove dough from bowl and place on counter or a large cutting board. Divide dough into 8 equal pieces. Roll each piece into a long rope, 22-inches long.
If making pretzel bites, cut dough into 1-inch pieces (I used a plastic bowl / dough scraper to protect the counters).
If making full pretzels, lay dough on counter. Take the right side and cross it over to the left. Then take the left side and cross it to the right. Press down slightly where dough overlaps.
In batches, put pretzel bites or pretzels into boiling baking soda-water for 30 seconds. Do not let the pretzels touch during boiling. With a slotted spoon, remove, letting excess water drip off before placing on baking sheet.
Brush tops of pretzels with egg wash. Sprinkle with salt. Bake for 15-18 minutes, until golden brown. Allow to cool slightly, about 5 minutes,  on baking sheet or baking rack before serving.
Variations: According to Two Peas and Their Pod, you can make these into cinnamon and sugar pretzels by sprinkling with cinnamon and sugar instead of salt. The frosting would be 3 Tbs. cream cheese, powdered sugar, 1 tsp. vanilla extract and a little bit of milk, whisked together. I have yet to try this, but plan on it!