These Everything-but-the-Bagel Breakfast Pockets are a hearty family favorite breakfast. Make them on the weekend with your favorite filling and enjoy for breakfast all week long.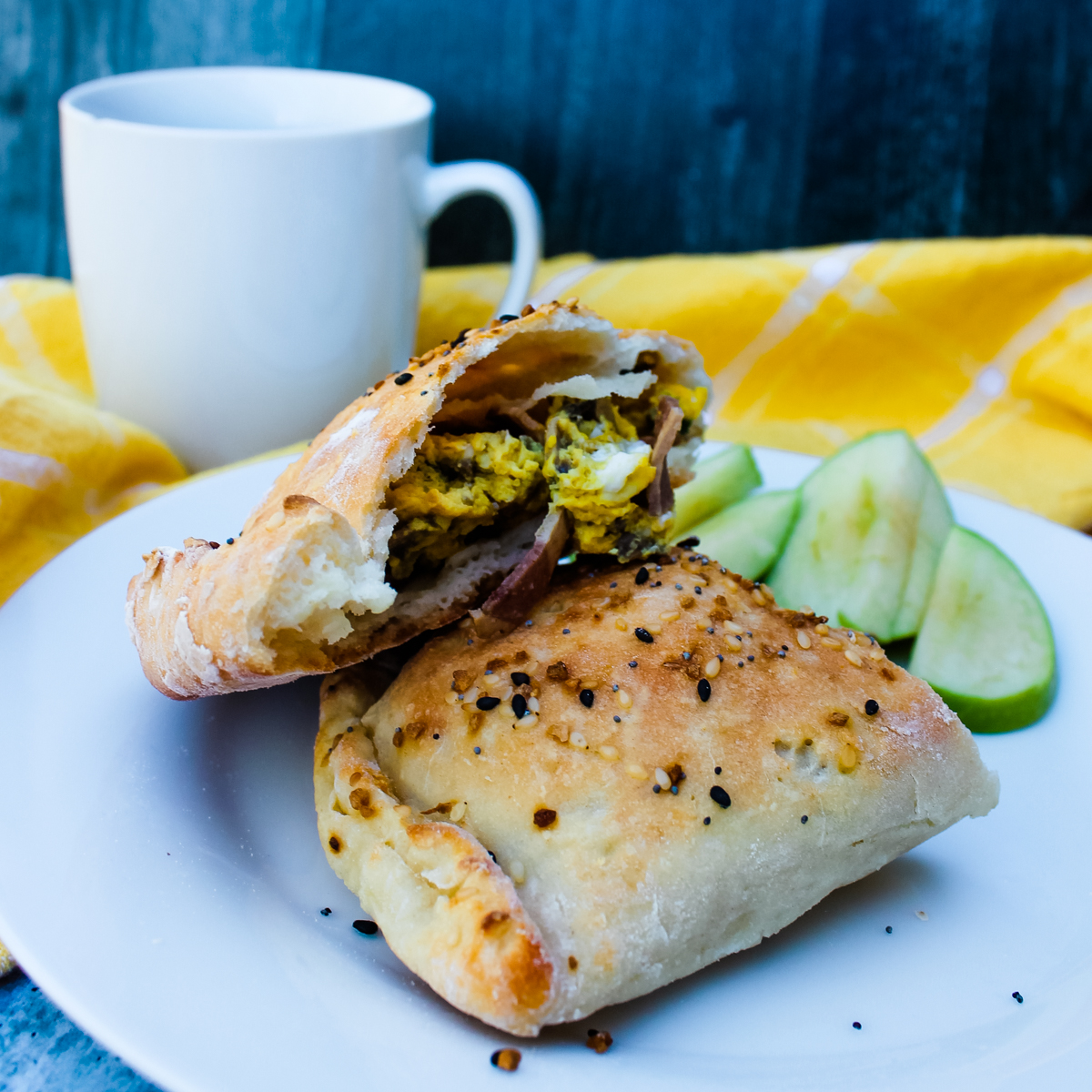 I'm not really sure where April went – I'm a little bit shocked that it's been almost 3 weeks since I've posted here. We've been super busy with our new sitter / virtual schooling / in person schooling routine – which also means that I'm actually going into work more (and taking way less vacation time!) and have way less time to cook, bake, read, craft and blog.
Plus, it's been gorgeous outside. All we want to do is sit outside watching the kids play in the yard. That is, when they're not at an activity. After a year of nothing, we finally decided to put both kids in some outdoor sports (masks on!) so that they can get some fresh air, run around, and see friends. They're enjoying it but it does mean for busy weeks for the cooks and chauffeurs in the family!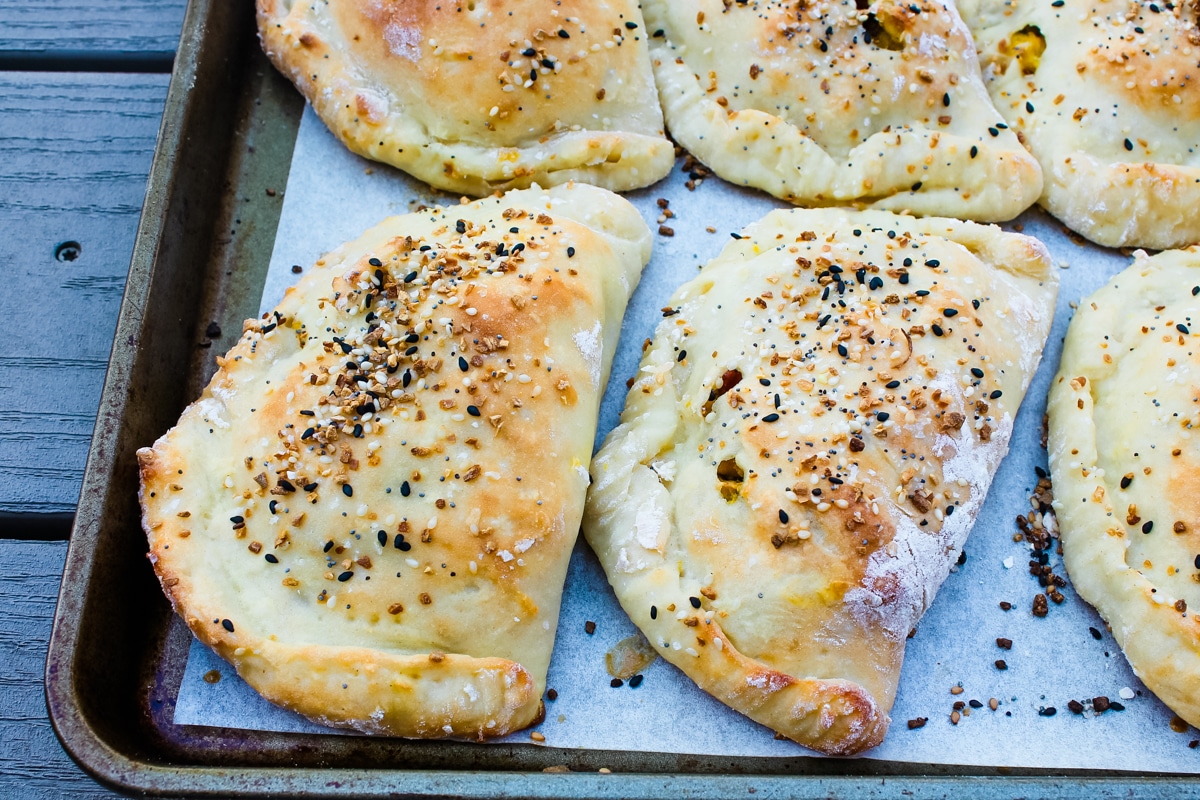 All that busy has been making it a challenge to really be cooking and eating healthier. I've been trying to stick to easy meals, but easy does not always mean healthy or satisfying or filling.
Take these Everything-but-the-Bagel Breakfast Pockets. My husband and I (yes, even me, the non-egg eater) really enjoy them. But man, do they take a while to make! I usually make a double batch and need to carve out a good 60-90 minutes to get it all done, from start to finish. Not hard, just several steps and almost half an hour of cooking time. BUT, these bagel pockets do keep me full all morning long, even when my morning starts at 5:30am. So I call it a win.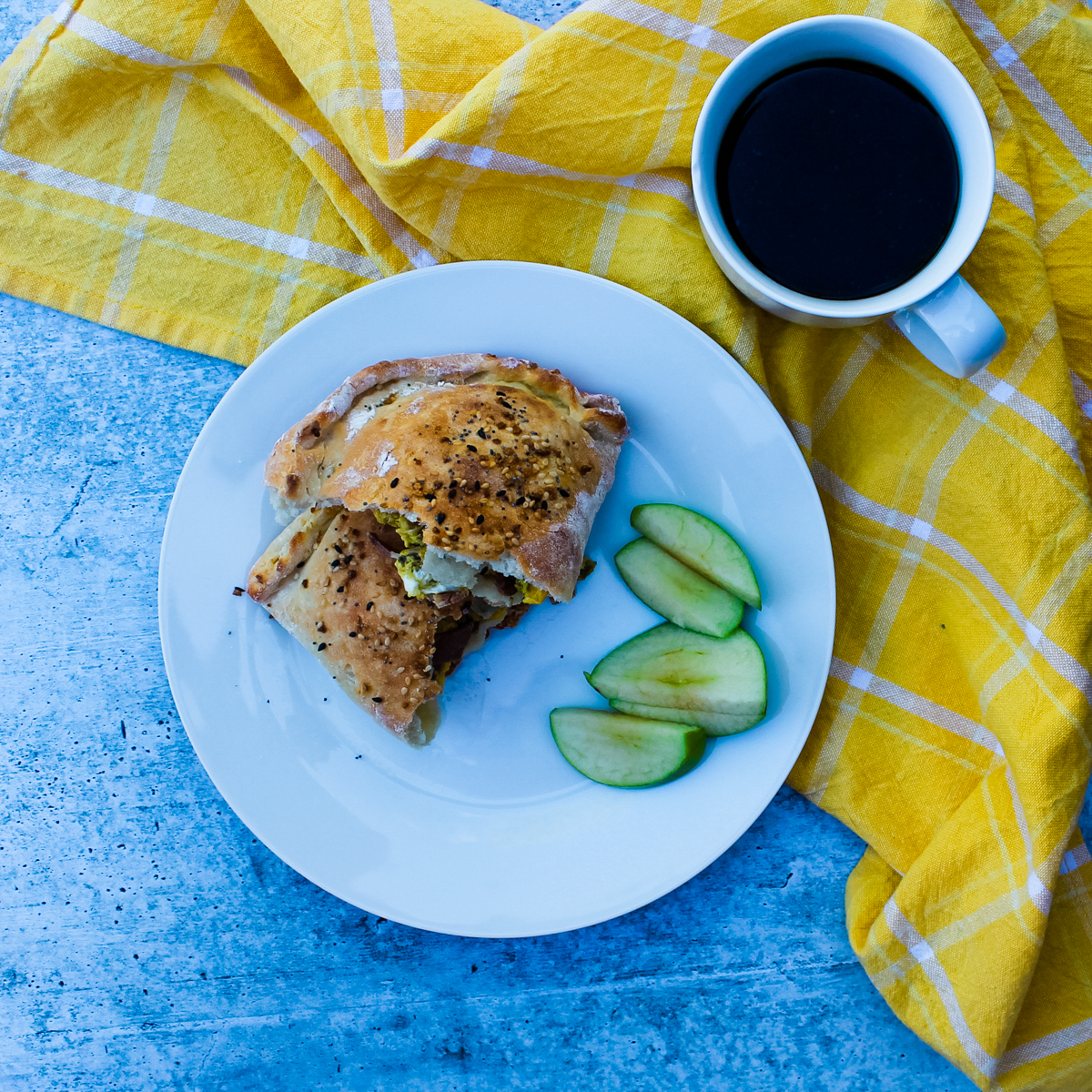 So whether you're looking for a make ahead breakfast for busy weeks, or perhaps brunch (ahem! Mother's Day is coming up!), these Everything-But-The-Bagel Breakfast Pockets are a win!
More Great Brunch Recipes:
You can also follow us and get more great recipe inspiration in our Facebook group, Recipes From Our Dinner Table. Join our group and share your recipes, too! While you're at it, join our Pinterest board, too!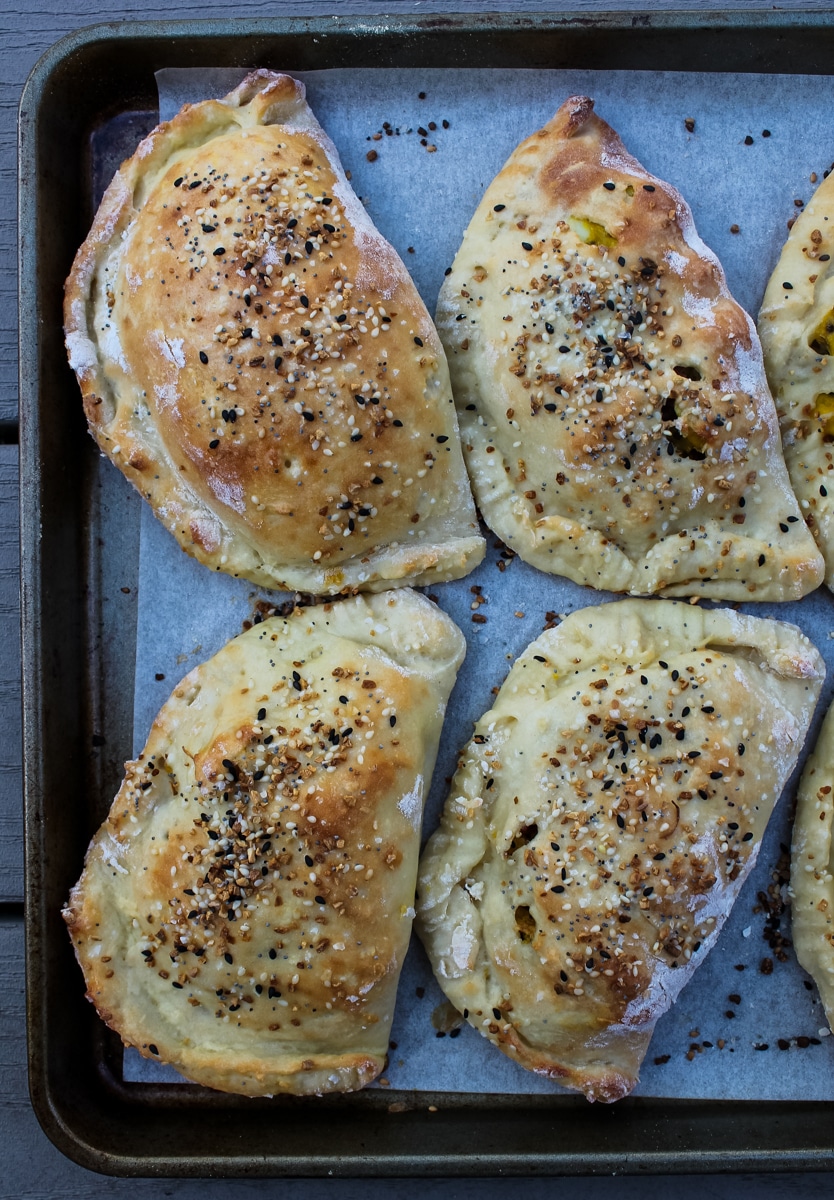 Recipe Notes for Everything-but-the-Bagel Breakfast Pockets:
Filling: My filling rarely looks the same each time I make these. Sometimes I use bacon (or turkey bacon), sometimes I go meat-free. Ditto with the cheese. While the original recipe calls for 1/3 c. each diced bell peppers and scallions , I use whatever I have in the fridge. I've used all of the following in the filling with success: shallots and minced onion, scallions, bell peppers, and mushrooms.
Cook: The original recipe is intended for the air fryer but because I so frequently double the recipe, and prefer a more hands-off approach, I usually end up baking the bagel pockets. I included directions for both in the recipe card below.
Store: I cook fully and then refrigerate any breakfast pockets that are leftover, covered in plastic wrap. I reheat in the air fryer or toaster oven. To freeze, wrap tightly in foil and place in an airtight bag. Defrost (I usually take out of the freezer and within an hour, am able to reheat) and reheat in the air fryer or toaster oven.
Serve: I usually eat these as-is, but sometimes spice up breakfast with hot sauce or homemade salsa. Serve with a side of fruit salad.
Print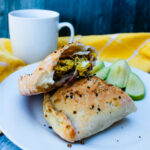 Everything-but-the-Bagel Breakfast Pockets
These Everything-but-the-Bagel Breakfast Pockets are a hearty family favorite breakfast. Make them on the weekend with your favorite filling and enjoy for breakfast all week long. 
Ingredients
Ingredients for the Filling:
4

slices

center-cut bacon or turkey bacon

(optional)

1

tsp.

butter

(if not using bacon)

2/3

c.

diced or chopped mixed vegetables

such as bell peppers, shallots, scallions, or mushrooms

5

large eggs

kosher salt

freshly ground black pepper

1/3

c.

shredded cheddar cheese

(optional)
Ingredients for the Dough & Topping:
1

c.

all-purpose flour

plus more for rolling

1 1/2

tsp.

baking powder

1/2

tsp.

kosher salt

1

c.

non-fat plain Greek yogurt

1

large egg

1

Tbs.

cold water

1

Tbs.

everything but the bagel seasoning
Instructions
Make the Filling:
If using bacon, cook in a skillet set over medium heat for 4 minutes, until starting to brown. Flip and continue cooking another 2-3 minutes until crispy. Drain and remove from pan to a paper towel-lined plate to cool completely. Once cool, chop and set aside.

Drain all but 1 tsp. of bacon fat from pan (pour extra fat into a bowl or mug and set on the counter to cool and solidify. You can then store in the fridge for future use or scrape into the garbage for disposal).

If you skipped the bacon or used turkey bacon, melt butter in the same skillet over medium heat.

Add diced vegetables and sauté until soft, about 3 minutes.

While vegetables are cooking, crack eggs into a medium bowl, discarding the shells. Season with salt and pepper and whisk together. Pour into skillet with vegetables. Cook, stirring frequently to scramble, for 3-5 minutes, or until eggs are set. Sprinkle with cheese, if desired, and cooked chopped bacon, if using.

Set filling aside to cool while making the dough.
Make Dough:
In a large bowl, whisk together flour, baking powder and kosher salt to combine. Use a silicon spatula or wooden spoon to stir in Greek yogurt. Dough will be very crumbly. You may need to use clean hands to help mix it together.

Lightly flour a clean countertop. Turn dough out onto countertop and kneed for 2-3 minutes, flouring surface as needed to prevent sticking, until dough comes together. Dough will be very sticky. Cut into 4 equal portions and roll each into a ball.

Use a rolling pin to roll dough into 4 7-inch round circles.
Assemble:
In a small bowl, beat together egg and water to create an egg wash. Set aside.

Place about 1/2 cup of the egg mixture onto the bottom half of each circle of dough, leaving a 1/2 inch border.

Gently brush egg wash over the edges of the dough. Fold top half of dough over filling. Roll edges slightly and pinch together or press with a fork.

Poke the top of each pocket 4-5 times to vent while cooking. Brush tops with egg wash and sprinkle with everything-but-the-bagel seasoning.
Bake:
Oven: Set a rack in the middle of the oven and preheat oven to 425F. Place assembled breakfast pockets on a baking sheet lined with parchment paper. Bake in preheated oven for 20-25 minutes, until golden brown throughout.

Air Fryer: Spray the bottom of the air fryer basket with cooking spray. Bake at 350F for 6 minutes. Flip and bake for another 4 minutes or until golden. (Lower the temperature to 300F for a toaster style air fryer; cooking times remain the same.)
Adapted from The Skinny Taste Air Fryer Cookbook (p. 16) (affiliate link).