Ok, I swear, I'm working toward the end of all these desserts and toward a more balanced recipe posting! (I've got enchiladas and bread lined up for the next couple weeks.)
I never drank eggnog growing up, and really don't drink it now. I might have a small glass of vanilla eggnog, but that's about it. My hubby, on the other hand, loves the stuff. As a treat for him and some coworkers, I decided to make these eggnog cupcakes. When test-tasting, I was surprised to find out that I liked them more than I thought I would.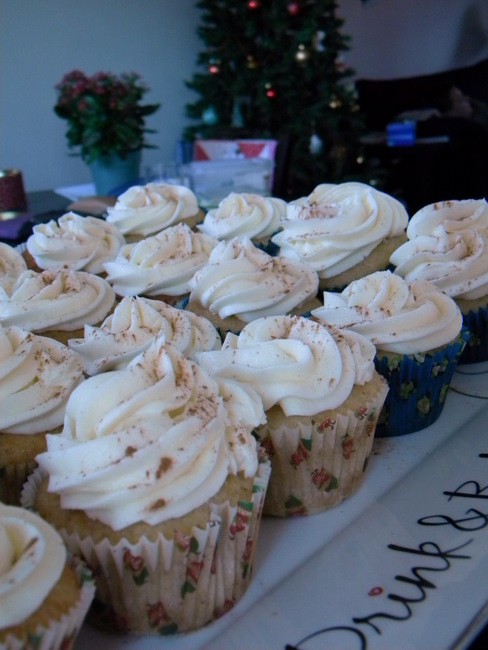 The frosting on these cupcakes is pretty sweet, so I wouldn't go overboard when frosting them. The rum in the cupcakes and frosting is optional, but a little alcohol never hurt anyone, right? 🙂
Eggnog Cupcakes
Adapted from Everyday Annies
Makes 12-18 cupcakes
Ingredients for the Cupcakes:
1 1/3 c. all-purpose flour
¼ tsp. baking soda
½ tsp. baking powder
½ tsp. salt
¼ tsp. ground nutmeg
¼ c. dark rum (or bourbon)
1 c. eggnog
¼ c. vegetable oil
1 Tbs. apple cider vinegar
1 tsp. vanilla extract
1 c. sugar
Ingredients for the Frosting:
20 Tbs. unsalted butter, at room temperature
2½ c. confectioners' sugar, sifted
Pinch of salt
Pinch of grated nutmeg
2½ Tbs. eggnog
1 Tbs. dark rum
Garnish:
Ground cinnamon or grated nutmeg
Cinnamon sticks
Make the Cupcakes:
Preheat oven to 350˚ F. Line a muffin pan with cupcake liners and set aside.
In a stand mixer fitted with a paddle attachment, combine rum, eggnog, vegetable oil, vinegar, and sugar on medium-low speed until combined. With the mixer running, add baking soda, baking powder, salt and nutmeg. Reduce speed to low and slowly add flour, scraping down the bowl as needed. Cupcake mixture will be very soupy.
Portion batter into prepared cupcake liners. Fill 2/3 full for 18 cupcakes, or 3/4 full for 12 slightly rounded cupcakes. Bake 22-25 minutes, until a toothpick inserted into center comes out clean. Allow to cool for a few minutes before moving to a wire rack to cool completely.
Make the Frosting:
In a stand mixer fitted with the whisk attachment, beat butter on medium-high speed until smooth, 20-30 seconds. Add powdered sugar, salt, and nutmeg, mixing until smooth, scraping down the sides as needed, about 1 minute. Add eggnog and beat until light and fluffy, 4 minutes. With the mixer still running, add rum.
When thick enough to pipe, fill a pastry bag fitted with a large, unlabeled start tip with frosting and pipe onto cupcakes. Or, if you prefer, simply take a knife and frost the cupcake. Garnish with ground cinnamon or nutmeg, or a cinnamon stick.