An indulgent cocktail of rich dark chocolate and sweet caramel that will satisfy your sweet tooth.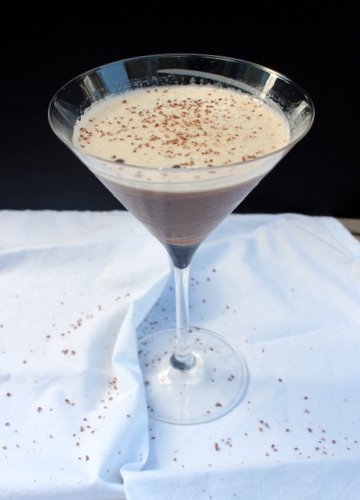 Disclaimer: Thank you to #Choctoberfest Sponsors  Barleans, The PinterTest Kitchen and our gold sponsor Imperial Sugar for providing prizes for #Choctoberfest free of charge. These companies, as well as sponsors Rodelle and Davis Chocolate also provided the bloggers with samples and product to use for #Choctoberfest . All opinions are my own.
When I signed up for #Chocotoberfest this year, I knew pretty quickly that I wasn't going to be sharing all dessert recipes. It's not that I don't enjoy chocolate desserts, but I wanted to ensure that there was some good variety. And I really wanted an excuse to shake up my usual cocktail routine and experiment with something new. 🙂
Experimenting with my cocktails  came at the perfect time, as the past 6 weeks have been ridiculously stressful both at home and at work. Work has been frustrating, the kids have been cranky, the house always seems to be a mess no matter what I do, and the chores don't go away. There may have been a lot of stress eating (damn you perfectly salted and perfectly crispy Cape Cod Potato Chips!) and more evening glasses of wine than I care to admit. I know I need to figure out how I can take a day off, a day to myself. to get some stuff done and relieve some of the stress. But the work and chores won't do itself and I can't seem to find time to make that happen.
So during naptime recently, I made this recipe. I savored the 45 minutes of quiet that I got while writing this post with the television turned to something that wasn't a cartoon. Toys still covered the floor, dishes and laundry were still piling up, but the quiet I got was essential. Reinvigorating. And my martini? It was like dessert in a glass. The perfect marriage of rich dark chocolate and sweet caramel. Indulgent but not so much that I couldn't finish it. In fact, I could have had a second and been quite happy.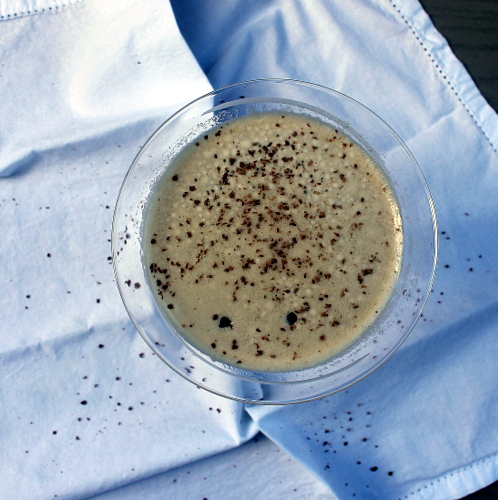 If you haven't checked out the #Chocotoberfest giveaway, you can do so here. There's a prize package from our sponsors worth more than $450 and multiple ways to enter. Rafflecopter below the recipe, followed by a linkup that includes more #Chocotoberfest recipes shared today.
Print
Dark Chocolate Caramel Martini
An indulgent cocktail of rich dark chocolate and sweet caramel that will satisfy your sweet tooth.
Ingredients
2

oz.

Godiva Dark Chocolate Liquor

1

oz.

Caramel vodka

i.e Van Gogh Dutch Caramel Vodka

1/2

oz.

dark Creme de Cocoa

2

oz.

milk

preferably not skim milk

Dark chocolate shavings and/or caramel for garnish
Instructions
If using caramel as a garnish, drizzle caramel along inside of a martini glass. Set aside.

Add liquor and milk to a cocktail shaker filled halfway with ice. Shake vigorously for 10-15 seconds.

Strain into prepared martini glass. Garnish with dark chocolate shavings.

Serve immediately.
Recipe Notes:
I used 2% milk for this recipe. The higher the fat content, the creamier it will be.
Save
Save
Save