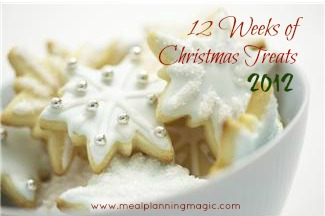 This is my third week participating in the Twelve Weeks of Christmas Treats hosted by Meal Planning Magic. This week, I bring to you a sweet for those mornings when family stays over or an afternoon coffee with friends.
This crumb cake comes together easily and quickly.  The cake is light and airy and the crumb topping is more than generous. It tastes as good as bakery crumb cake, if not better.
New York-Style Crumb Cake
Adapted from The Best of America's Test Kitchen 2008/Cooks Illustrated
Servers 8-10
Makes an 8×8 in. pan
Ingredients for Crumb Topping: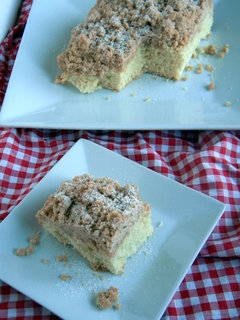 8 Tbs. unsalted butter, melted and still warm
1/3 c. granulated sugar
1/3 c. brown sugar, packed
3/4 tsp. ground cinnamon
1/8 tsp. salt
1 3/4 c. cake flour
Ingredients for Cake:
cooking spray/vegetable oil
1 1/4 c. cake flour
1/2 c. granulated sugar
1/4 tsp. baking soda
1/4 tsp. salt
6 Tbs. unsalted butter, cut into 6 pieces, softened but still cool
1/3 c. buttermilk or plain low-fat yogurt
1 large egg plus 1 large egg yolk, at room temperature
1 tsp. vanilla extract
Make the Crumb Topping: Whisk together melted butter, sugars, cinnamon, and salt. When combined, add cake flour. Stir with a wooden spoon until mixture is thick and cohesive. Set aside and allow to come to room temperature while you prepare the cake.
Make the Cake: Preheat oven to 325F. Line an 8×8 inch pan with aluminum foil, with an inch or two overhanging edges of pan. Spray with vegetable oil/cooking spray and set aside.
In the bowl of a stand mixer, whisk (or beat on "stir") flour, sugar, baking soda, and salt. With a mixer on medium-low speed, add butter, one piece at a time, until mixture is crumbly and butter is pea-sized. Increase speed to medium-high and add buttermilk, egg, egg yolk, and vanilla extract. Beat until light and fluffy, about 1 minute. The batter will be thick and very sticky.
Pour cake batter into prepared pan. Use an offset spatula to even it out, making sure the batter reaches all four corners and edges of the pan. Using your fingers to crumble the cinnamon-sugar-flour mixture into pea-sized pieces evenly over cake batter.
Bake for 35-45 minutes, until cake is browned and a toothpick inserted into the center comes out clean.
Allow to cool for 30 minutes in pan before using aluminum foil to remove cake from pan, move to a wire rack to cool completely. If desired, dust with confectioners' sugar before serving.
Storage: May be tightly wrapped in plastic wrap and kept at room temperature for up to 2 days.