Crown Roast of Pork with Fennel-Apple Stuffing and Cider-Bourbon Sauce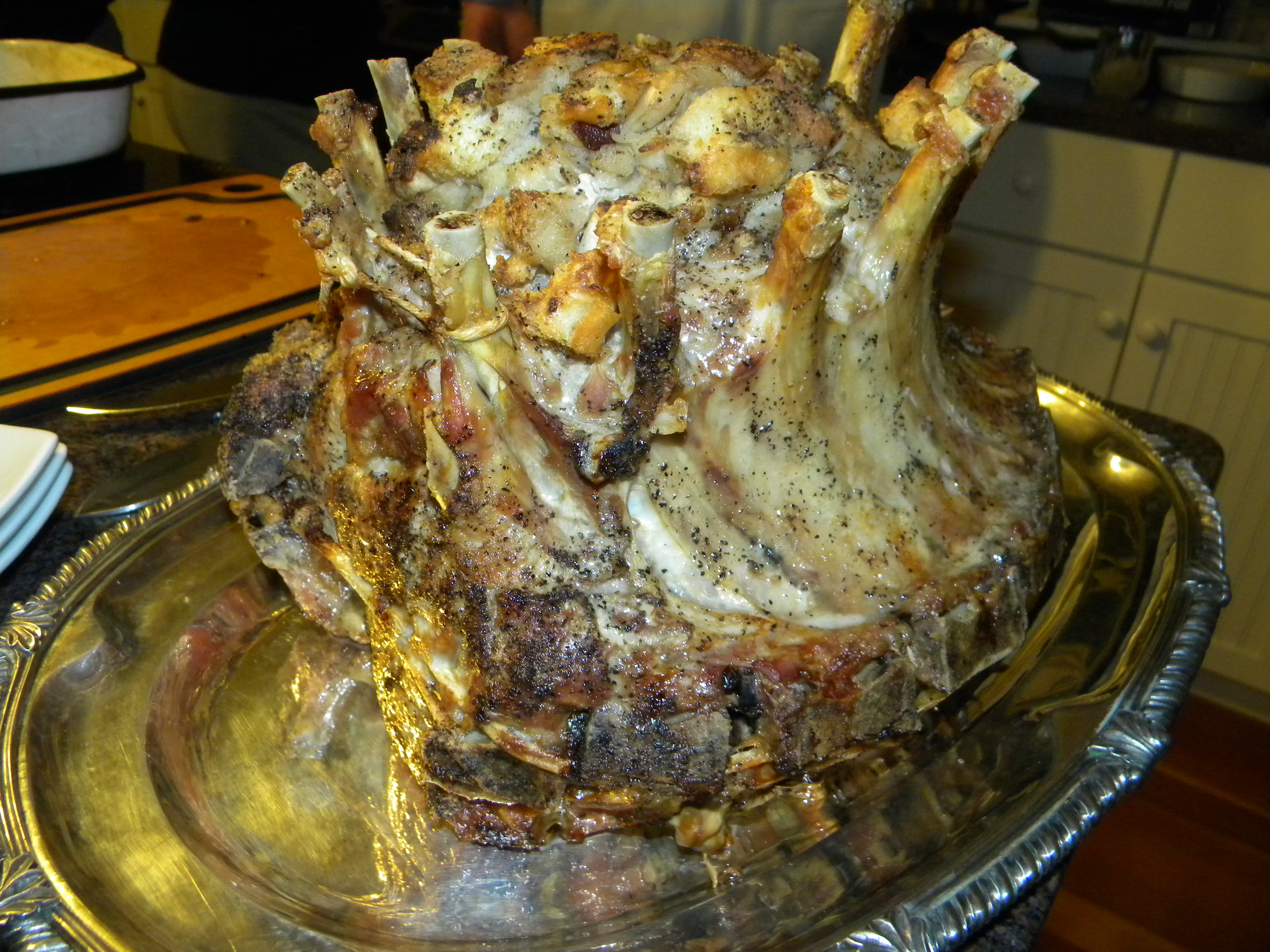 Source: Fine Cooking No. 89
Everything from Fine Cooking is so good that we usually stick pretty close to the recipe, as we did here. We did prepare almost this entire dish several hours ahead of time — the stuffing was finished and ready to go into the oven about 3 hours prior to actually baking. The sauce was reduced, about 5 hours prior to serving, so that all there was to do was reheat and add the vinegar & sour cream just prior to dinner.
The meal got off a little late, so be sure to check the size of your roast against cooking time. Our butcher said we need about 20 minutes per pound, which was right on the money. Our 11lb roast took 3 hours and 30 minutes to cook.
Ingredients for the sauce:
1 quart apple cider
2 c. bourbon
2 c. low-salt chicken broth
1/3 c. sour cream
1 Tbs. cider vinegar; more to taste
Kosher salt and freshly ground black pepper
Ingredients for the stuffing:
1 lb. crusty artisan-style bread, cut into 1/2-inch cubes (8 to 9 cups)
8 oz. bacon (8 to 10 slices), cut crosswise into 1/2-inch-wide strips
5 Tbs. unsalted butter
2 medium-small yellow onions, diced (about 2 c.)
1 medium fennel bulb, diced (about 3 c.)
1 tsp. kosher salt; more to taste
1/2 tsp. freshly ground black pepper; more to taste
4 medium Granny Smith apples, peeled, cored, and cut into 1/2-inch pieces (about 4 c.)
2 Tbs. bourbon
2 Tbs. apple cider
2 Tbs. chopped fresh marjoram
1 Tbs. chopped fresh sage
2 tsp. fennel seeds, lightly chopped or pulsed in a spice grinder
1/2 tsp. ground allspice
2 to 2-1/2 c. low-sodium chicken broth
Ingredients for the roast:
16-rib crown roast of pork (8-1/2 to 9-1/2 lb.), chine bone removed and bones frenched (ours, for 10 people, was 11 lb.)
Kosher salt and freshly ground black pepper
The day before: Dice bread and allow to sit out overnight on a baking sheet, to dry out.
Make the sauce: Combine cider, bourbon, and chicken broth in a saucepan. Bring to a boil over high heat. Reduce heat and maintain a simmer until sauce is about 1 1/4 cups, about an hour.
Make the "stuffing base": Cook bacon in a skillet over medium-high heat. When brown and crispy, transfer bacon to a large mixing bowl. Pour fat from skillet and return to stove. Add 3 Tbs. butter and melt. Add onion, fennel, salt, and pepper. Cook until onions and fennel have softened, 10-12 minutes. Add to bowl with bacon. Return skillet to stove.
Melt remaining 2 Tbs butter in skillet. When melted, add apples, stirring until slightly browned but still firm, about 5 minutes. Mix bourbon, apple cider, and 3 Tbs. of water and add to pan, scraping sides and bottom of skillet to loosen any bits stuck to pan. Cook until the liquid has reduced and coats apples, about 1 minute. Add apples to mixing bowl with bacon, onions, and fennel. Add spices and stir to combine.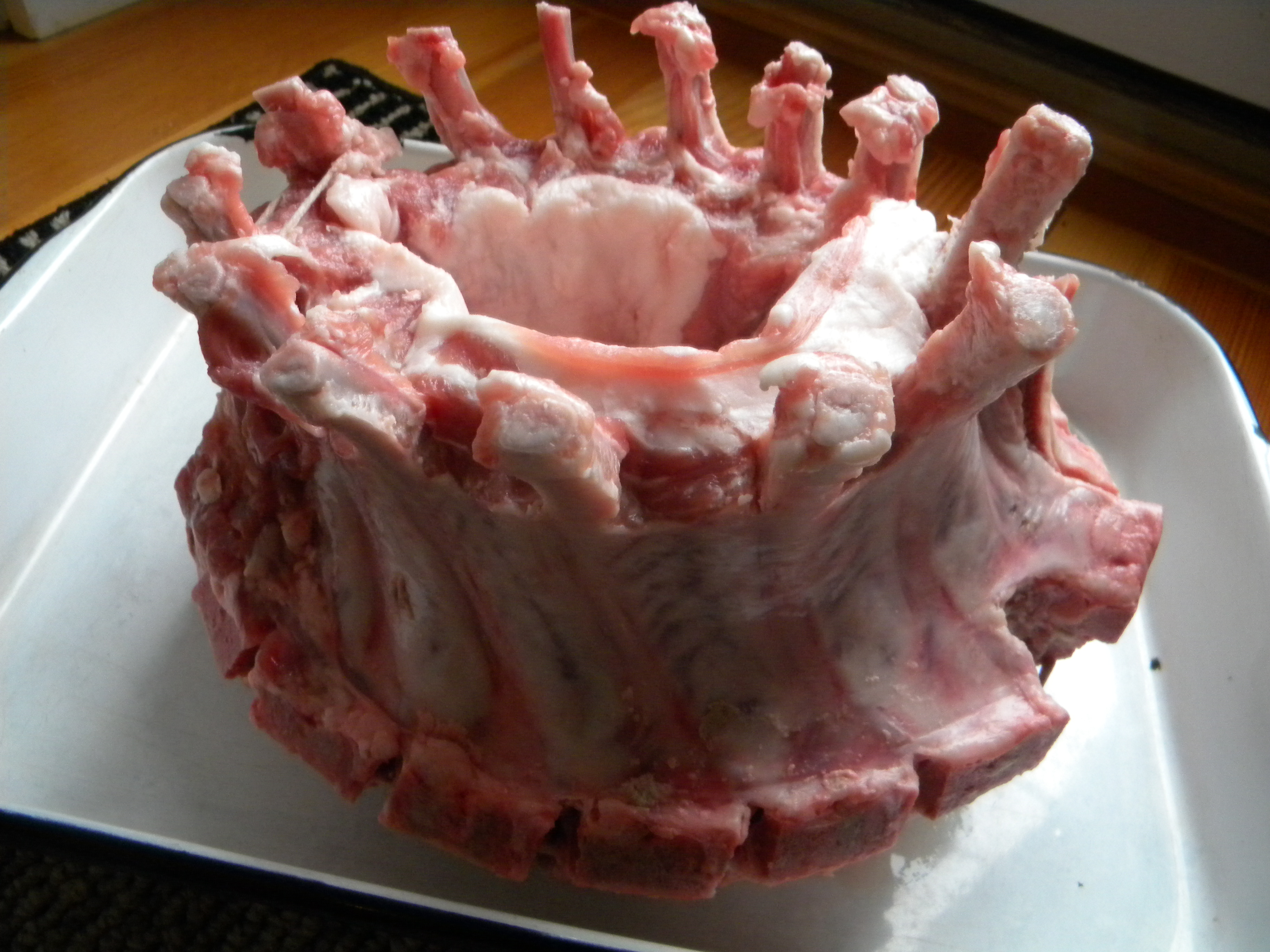 Cook the roast: Let the roast sit out at room temperature for 1 hour prior to cooking. We let it sit out in the roasting pan that we were going to use — a roasting pan (or heavy duty rimmed baking sheet), with a rack at the bottom. Be sure to oil the rack before putting the roast in the pan (it was interesting trying to lift the 11 lb. roast in order to oil after the fact!). Just prior to popping in the oven, season the roast generously with salt and pepper.
Heat oven to 500°F. Cover bones tightly with aluminum foil and cook for 30 minutes.
Meanwhile, in a very large mixing bowl (or stock pot, combine stuffing mix (onions, fennel, apple, and bacon) with dried bread. Pour 2 cups of chicken broth over mixture and stir to combine. "If the bread immediately sucks up the liquid, add the remaining 1/2 cup broth. The bread should be moist but not soggy."  Season with salt and pepper.
Remove roast from oven after first 30 minutes. Lower oven temperature to 325°F. Remove foil from bones and fill center with stuffing, to just below the top of the bones. (The stuffing never completely fits, so have a spare baking dish ready. Cover stuffing in aluminum foil and set aside.) Cover the bones and stuffing and return roast to oven.
Set oven timer for 1 hour. When the timer goes off, put stuffing in the oven with the roast. Reset the oven timer for 30 minutes. When that goes off, remove foil from roast and from stuffing wrapper, so that stuffing can crisp up.
Again, reset the oven time, for 15 minutes. When that goes off, check for doneness – an instant-read thermometer, inserted between two bones (without hitting the bones) should read 155° F. Be sure to check in a couple places. For a 9 lb roast, the cooking time will be 2-1/2 – 3 hours. According to my butcher, the cooking time will be 20 minutes per pound.
With a wide spatula under roast to keep the stuffing in, transfer roast to a cutting board or serving platter. The recipe calls to cover the roast loosely with aluminum foil and allow to rest for 30 minutes, but since we were running late, we skipped this (and the meat was perfect – still nice and juicy). Continue to bake stuffing until top is crisp. Stuffing can stay in the warm oven (turned off), until ready to serve, if necessary.
Finish the sauce: When almost ready to serve, rehear sauce in a small pan. Remove from heat and whisk in vinegar and sour cream. Season with additional salt, pepper, and vinegar, to taste.