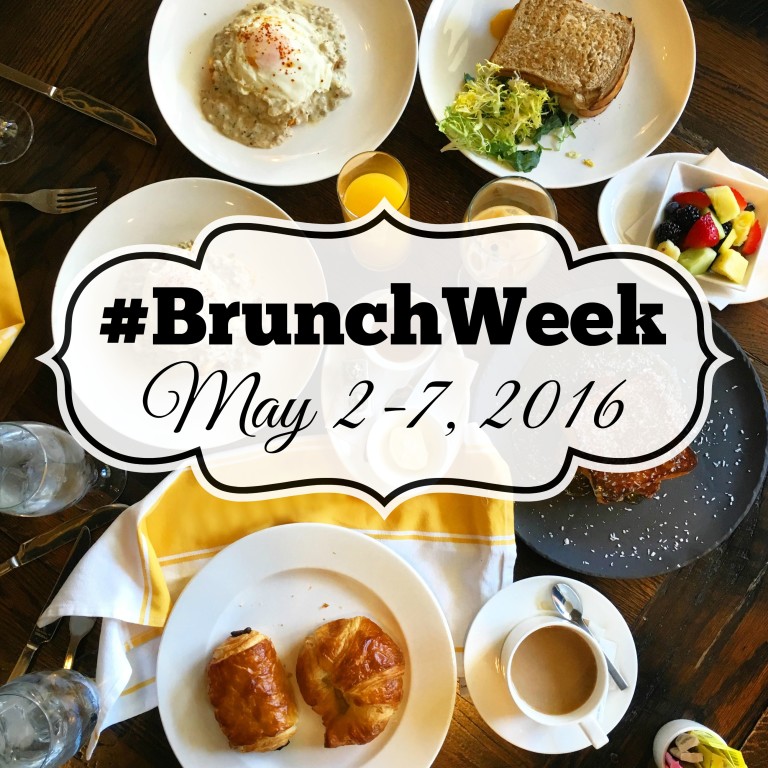 Today, #BrunchWeek comes to an end. If you haven't entered to win one of the prize packs provided by our amazing sponsors, I encourage you to visit this post and do so – and quick! The giveaway ends today! I think you can tell from the photo below, there are some seriously awesome prizes being offered, and I'd be thrilled if one of my readers won one of them.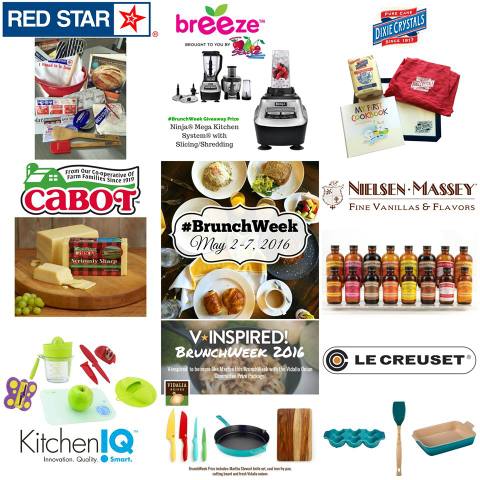 For the final day of Brunch Week, I wanted to make something healthy for those of you who are looking for not only great brunch recipes but who need quick, easy breakfasts that are convenient for someone constantly on the go. Muffins work for both. This particular recipe is one of the healthier ones I've made, using a combination of whole wheat all-purpose flour, cake flour, and ground oats. It has a sweet orange muffin with bursts of bright cranberries. Serve it for brunch, or make it on a weekend to grab on your way out to work during the week. Either way, enjoy!
Cranberry Orange Muffins
Makes 12 Muffins
By Books n' Cooks
Ingredients:
cooking spray
1 c. old-fashioned oats
1/2 c. whole wheat all-purpose flour
1/2 c. cake flour
1/3 c. Dixie Crystals granulated sugar
1/3 c. light brown sugar
1 1/2 tsp. baking powder
1/2 tsp. ground cinnamon
1/4 tsp. salt
1 heaping c. frozen cranberries, halved
2 tsp. Nielsen-Massey orange extract
1/3 c. unsweetened apple sauce
3/4 c. milk (I used 2%)
1 large egg white
Preheat oven to 350F. Spray a muffin pan with cooking spray and set aside.
Pulse oats in a food processor until finely ground. Transfer to a medium bowl and add all-purpose flour, cake flour, both sugars, baking powder, cinnamon and salt. Gently whisk to combine. Fold in cranberries, just so that they're coated in the dry mixture (to prevent sticking together).
In a separate, small bowl, gently whisk apple sauce, milk, and egg white. Use a spatula to fold wet mixture into dry mixture until just barely combined. Use an ice cream scoop to portion into prepared muffin pan, filling each cup until 3/4 full.
Bake in preheated oven for 18-22 minutes or until a toothpick inserted into the center comes out clean.
Disclaimer: Thank you to #BrunchWeek Sponsors: Red Star Yeast, Dixie Crystals, Cabot Cheese, Vidalia Onion Committee, Sage Fruits, Nielsen-Massey, KitchenIQ, and Le Creuset for providing the prizes free of charge. These companies also provided the bloggers with samples and product to use for #BrunchWeek. All opinions are my own.
Be sure to check out the last of the #BrunchWeek recipes, below.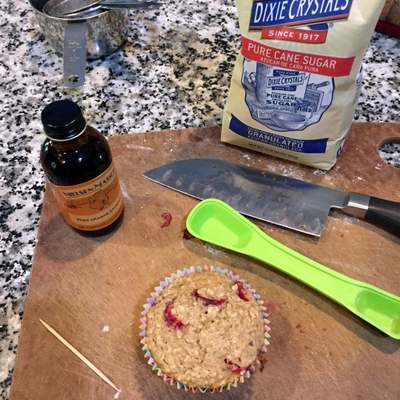 BrunchWeek Beverages:
BrunchWeek Breads, Grains and Pastries:
BrunchWeek Fruits, Vegetables and Sides:
BrunchWeek Main Dishes:
BrunchWeek Desserts: