Tart cranberries, sweet oranges and bitter orange peel simmer away with sugar and cinnamon, and preserved into a chunky Cranberry Orange Marmalade so that you can enjoy fall all year round.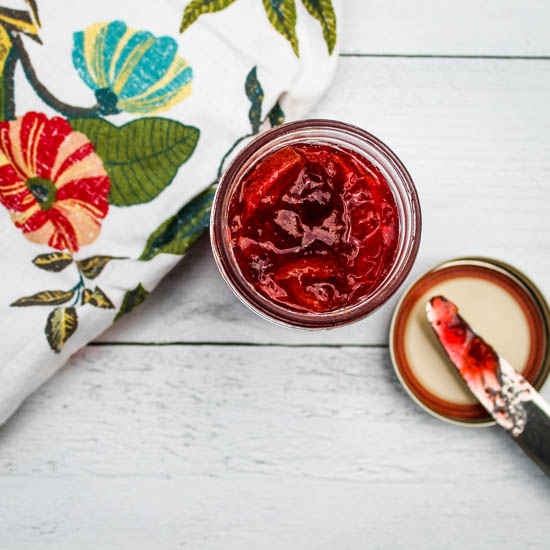 Today kicks off #CranberryWeek, a super fun week hosted by Caroline at Caroline's Cooking featuring one of my favorite winter fruits – the cranberry. All week long, you'll see my blogging friends sharing recipes featuring fresh cranberries, dried cranberries, and cranberry juice. Follow along with us by searching the hashtag on social media, or following the event's Pinterest Board (which will show both this year and previous years' recipes). Plus, check out the list of other fun cranberry recipes that went live today, at the bottom of this post.
The inspiration for today's post is Thanksgiving leftovers. If you're anything like me, you pick up a couple bags of cranberries this time of year, for making homemade cranberry sauce (or in my case, cranberry-orange relish), a seasonal topping for a baked brie appetizer, and maybe a little holiday baking (the cranberry pear tart is my personal favorite). I've even been known to stash a bag in my freezer so that I'm not limited to enjoying fresh cranberries in the fall.
Last year, however, I got a bit overzealous and bought too many cranberries. Since I've been getting into canning, I knew exactly what I wanted to do – preserve it. And so, I give you this Cranberry Orange Marmalade.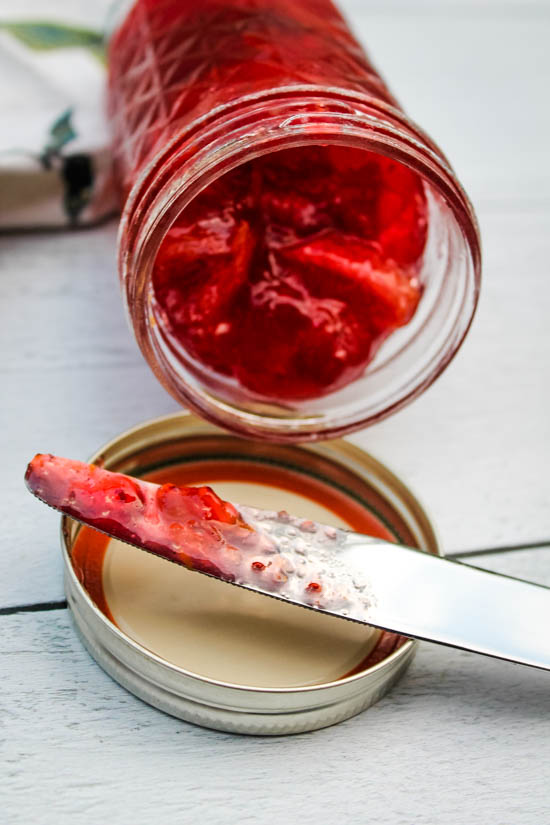 What's the difference between jelly, jam, and marmalade?
Jelly: Jellies are made of strained fruit juice, and thus, usually appear pretty clear.
Jam: Jams are usually made of crushed fruit and sugar. (If there's no added sugar, it's usually called a fruit spread.) Jams are chunkier in nature, although if homemade, the degree of chunk varies based on how well-crushed the fruit is.
Marmalade: The key ingredient in marmalade is citrus – both the juice and also the rind, which gives the spread a slightly bitter flavor. The citrus is usually combined with other fruits and sugar.
Serving Suggestions
I admittedly don't eat a lot of jam (or jelly or marmalade), although I really enjoy making it. This particular marmalade is a great accompaniment to:
Morning Toast
A winter cheeseboard: The Cranberry Orange Marmalade paired particularly well with Brie.
A cocktail: Make a Gin & Jam cocktail with a few tablespoons of your favorite jam or marmalade, gin, and club soda. This easy cocktail is fun to customize, using whatever preserves you have on hand or is seasonally appropriate.
Print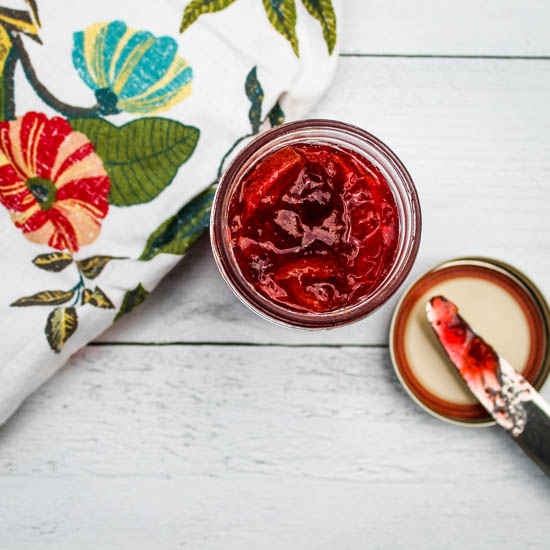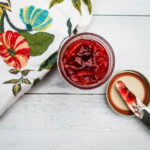 Cranberry Orange Marmalade
Tart cranberries, sweet oranges and bitter orange peel simmer away with sugar and cinnamon, and preserved into a chunky Cranberry Orange Marmalade so that you can enjoy fall all year round. 


Processing time
10
minutes
Total Time
1
hour
40
minutes
Servings
48
2-Tbs. servings
Ingredients
3

medium oranges

1 1/2

c.

water

1/8

tsp.

baking soda

2

c.

fresh cranberries

4

inches

cinnamon sticks

about 2

4

c.

granulated sugar

3

oz.

liquid fruit pectin

1/2 of a 6-oz. package, I use Certo
Instructions
Prep:
Sterilize canning jars. Place on a wire-rack set above a piece of aluminum foil, wax or parchment paper, or something to absorb any splashes from hot marmalade.

Prep the oranges before starting. First, peel. Scrape white pith from inside of the peel, as much as possible. Thinly slice the orange parts of the peel and set aside.

Then section fruit, saving juice and orange sections or segments in a bowl, while discarding the skin between each segment and any seeds you might find.
Make the Marmalade:
In a large, heavy-bottomed pot, combine orange peel, water and baking soda. Bring to a boil. Reduce heat to simmer and cover, simmering for 20 minutes. (While simmering, it's helpful to prep your workspace by opening pectin and setting in a glass next to the pot, ready to be added. You can also set a timer for 1-minute, ready to start the timer according to the directions below. Place ladle and funnel, if using, near canning jars. This stuff helps make the process go a bit smoother.)

After simmering for 20 minutes, add orange segments, cranberries, and cinnamon sticks. Return to a boil. Lower heat again, simmering covered for 10 minutes. If not already, start bring another large stockpot or canner (large enough so that jars will be covered with at least 2 inches of water) to a boil, for canning/processing.

Discard cinnamon sticks and add sugar. Stir constantly and bring to a full, rolling boil. Add pectin, continuing to stir. When the mixture once again reaches a rolling boil, start 1-minute timer. Continue stirring.

When timer goes off, quickly remove from heat and portion into prepared, sterilized jars, leaving a 1/4-inch headspace. Wipe rims clean and add lids. Screw bands on until just finger-tip tight.

Process in boiling-water for 5 minutes, with the 5 minutes beginning when water returns to a full boil. Remove from water and set on a wire rack to cool.
Recipe Notes
This recipe makes 6-half pints. 
This recipe was adapted from Better Homes & Gardens Jams & Jellies (p. 52)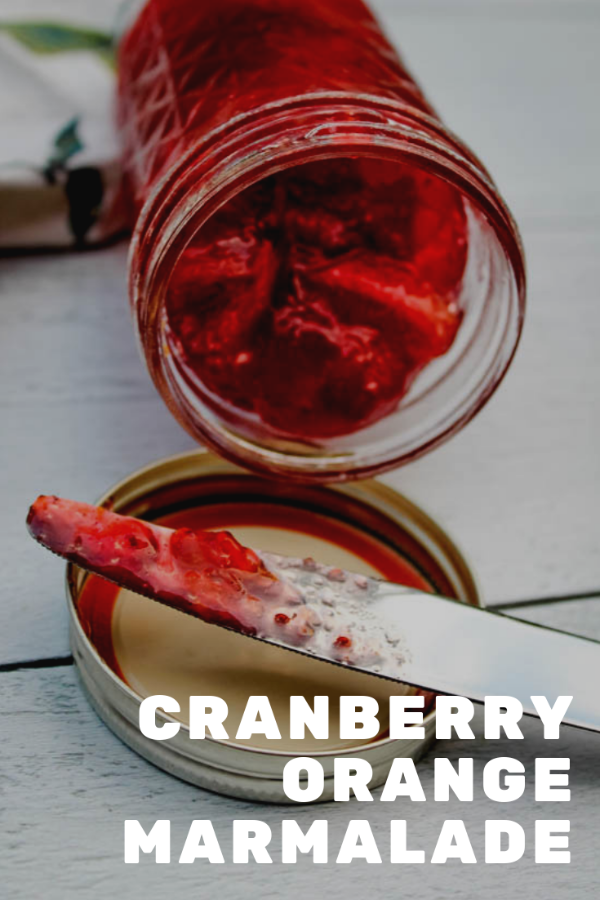 See all the other delicious cranberry recipes being shared today: