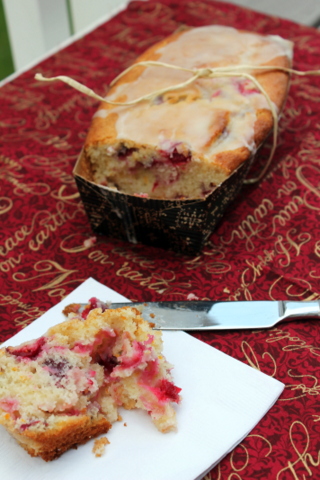 Welcome to the first in 12 weeks of Christmas treats, a weekly blog hop hosted by Meal Planning Magic. Now I know it's early to be thinking about Christmas, but the holiday season is a particularly busy one for me and I like to get a jump start on those holiday care packages and the big holiday party that my hubby and I host each year. So I'm already making lists of goodies that I want to make, and trying to pencil in some time to get baking.  This particular bread recipe freezes well without the glaze (and tastes great without it, if you prefer) and will definitely be making an appearance in some of my care packages this December.
Cranberry Orange Bread
Adapted from Fine Cooking
Makes 1 standard loaf (or two smaller, half loaves)
Ingredients for the Bread:
1/2 c. unsalted butter, melted and cooled, plus more for pan
2 c. all-purpose flour, plus more for pan
3/4 c. granulated sugar
1 Tbs. baking powder
3/4 tsp. salt
1 1/4 c. cranberries, halved
1 c. buttermilk
2 large eggs, at room temperature
1 tsp. vanilla extract
1 1/2 Tbs. finely grated orange zest
Ingredients for the Glaze:
1 c. confectioners' sugar, sifted
4 tsp. freshly squeezed orange juice
Preheat oven to 350F. If using a standard loaf pan, grease the pan with 1 Tbs. softened butter and lightly flour. Same thing for a disposable aluminum pan. (My pans, purchased from Michael's craft stores, did not need to be greased, so I omitted this step.)
In a large bowl, whisk together flour, sugar, baking powder and salt. Stir in cranberries.
In a separate bowl, whisk together buttermilk, eggs, vanilla and orange zest. Pour mixture, as well as melted butter, over dry ingredients. Gently fold in until no dry ingredients remain.
Pour into prepared baking pan and bake until the top is golden and a toothpick inserted into the center comes out clean, 50-60 minutes for a standard loaf pan, and 35-45 minutes for a half-loaf.
Allow to cool in pan on a wire rack for 30 minutes. Invert bread onto a rack to cool completely before adding glaze.
If using disposable liners, cool completely. Wrap tightly in plastic wrap and freeze, without glaze.
Glaze Bread: Whisk together confectioners' sugar and orange juice until smooth, adding extra orange juice by the teaspoon, if needed, to thin glaze. Drizzle over loaf. Store at room temperature, covered, for up to 2 days.
If glazing after freezing, allow bread to thaw completely before adding glaze.