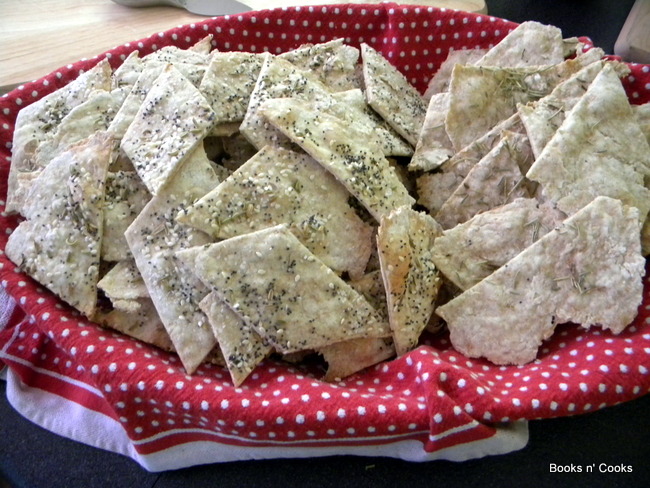 Easter weekend, I hosted our almost annual wine and cheese party. I say almost annual because we somehow missed last year. I love hosting this party because everyone brings a wine and/or a cheese to share, keeping the menu diverse and the party stress-free. I always try to do a little something extra to make the food shine, like the cheesecake truffles I made a couple of years ago.
This year, I hoped that these crackers would stand out. I've been making them since they were first published in Fine Cooking in December 2007. They're so easy to make, and I absolutely love the "everything" topping – it's what first made me fall in love with fennel seeds. If you're not interested in the "everything" or rosemary-sea salt toppings below, make up your own, but be sure to come back and share with the rest of us! 🙂
Crackers
Adapted from Fine Cooking No. 89 p. 45
Makes 3 dozen crackers
Ingredients for the Crackers:
1 1/2 c. (6 3/4 oz.) unbleached all-purpose flour
scant 1/2 c. (2 oz.) whole wheat flour
1 tsp. table salt
3 Tbs. extra-virgin olive oil
1/2 c. water
Choice of 1 topping – "everything" crackers, rosemary-sea salt, or your own
Ingredients for "Everything" Cracker Topping:

2 tsp. sesame seeds
2 tsp. poppy seeds
1 Tbs. fennel seeds
1-2 tsp. kosher salt
Ingredients for Rosemary & Sea Salt Cracker Topping:*
2 Tbs. chopped fresh rosemary
1/2 tsp. fine sea salt
* I did not mix rosemary and sea salt in a bowl or measure. Instead, I just sprinkled the sea salt and dried rosemary on the crackers until it looked like enough to flavor the crackers.
Instructions:
Preheat oven to 450F and pull out 1-2 large baking sheets. The baking sheets will remain unlined – no parchment paper necessary.
Fill a small bowl with water and set aside, along with a pastry brush. Mix desired toppings in a small bowl and set aside.
In a large bowl, whisk together all-purpose flour, whole wheat flour, and table salt. Switch to a rubber spatula and stir in olive oil and water.
Lightly flour a counter top with either flour. Place 1/3 of the dough onto the prepared surface, leaving the remaining dough in the bowl and covered with a clean towel. Using a rolling pin, roll out dough to 1/8-inch thick. Brush with water and sprinkle with your topping, adding extra kosher salt if necessary. Using a sharp knife, dough scraper, or pizza cutter, slice crackers into pieces, about 1-inch wide and 2 inches long.
Using a rubber cookie spatula, place crackers on baking sheet, and bake for 9-11 minutes, until slightly browned. (While cooking, prepare the next batch of crackers to go in the oven.) Move to wire rack to cool completely.
Store cooled crackers in an airtight container or ziplock bag for up to a week.