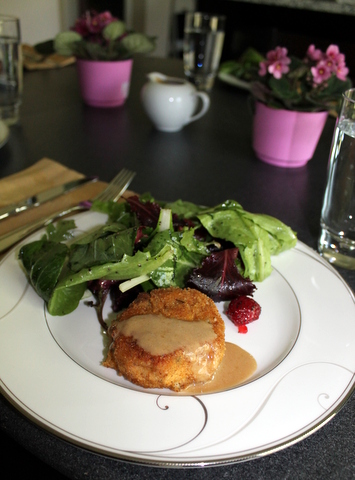 Crab cakes are one of my favorite special occasions dinners. My family makes them most years for our meatless Christmas Eve dinner, and I made them for my husband one Valentines Day. When I was planning a bridal shower luncheon for my seafood-loving best friend, I knew immediately that these crab cakes would be on the menu. Not only are they delicious, but the creole meuniere sauce elevates them to another level.
Recipe Note: The below recipe for Creole Meuniere Sauce is half of the original recipe. I've even gone so far as to make half of the recipe listed below. The sauce is amazing but very rich, and a little bit goes a long way.
Crab Cakes with Creole Meuniere Sauce
Adapted from Emeril Lagasse (here and here)
Makes 10 crab cakes
Ingredients for the Crab Cakes:
2 Tbs. extra-virgin olive oil
1 c. diced yellow onions
1/2 c. diced celery
1/2 c. diced bell peppers
1 Tbs. minced garlic
1 lb. lump crab meat, drained and cleaned
2 Tbs. fresh lemon juice (1 lemon)
2 Tbs. dijon mustard
1/2 c. mayonaisse
1/2 tsp. Worcestershire sauce
1/4 tsp. Tabasco sauce1/2 c. chopped scallions
2 Tbs. finely chopped fresh parsley
1 1/2 c. plain breadcrumbs, divided
1/4 c. all-purpose flour
1 egg
1 Tbs. water
1/4 tsp. pepper
vegetable oil for frying
3 tsp. Emeril's creole seasoning (recipe below)
Ingredients for the Creole Meuniere Sauce:
1/2 c. Worcestershire sauce
1/4 c. chopped yellow onions
1 bay leaf
1 lemon, peeled with pith discarded and quartered
1/4 c. + 2 Tbs. heavy cream
2 sticks unsalted butter, cut into dice
1/4 tsp. Emeril's creole seasoning (recipe below)
scallions, chopped (for garnish)
Ingredients for Emeril's Creole Seasoning:
2 1/2 Tbs. paprika
2 Tbs. kosher salt
2 Tbs. garlic powder
1 Tbs. black pepper
1 Tbs. onion powder
1 Tbs. cayenne pepper
1 Tbs. dried leaf oregano
1 Tbs. dried thyme
Make the Crab Cakes: Heat olive oil in a medium pan over medium heat. Add onions, celery and bell peppers, sauteing until softened, about 5 minutes. Season with salt and pepper. Add garlic and saute for another 2 minutes. Remove from heat and allow to cool.
While vegetables are cooling, combine mustard, mayo, Tabasco, and Worstershire in a small bowl. Set aside.
In a large mixing bowl, combine crab meat and lemon juice. Fold in cooled vegetables, scallions, and parsley. Fold in mayo mixture as well as 1/2 c. bread crumbs and 1 tsp. creole seasoning.
Take 3 shallow bowls and prep the breading. In the first bowl, combine flour and 1 tsp. creole seasoning. In the second bowl, combine egg and water. In the final bowl, combine remaining 1 c. bread crumbs with 1 tsp. creole seasoning.
Heat vegetable oil in a large skillet set over medium heat. Use a 1/3 cup measuring scoop, portion crab mixture into 10 equal portions, patting each to 1-inch thick cakes. Dip first in flour mixture, then in egg mixture, and finally in bread crumb mixture. Fry until golden brown, about 4 minutes on each side.
Allow to drain slightly on a paper towel-lined plate before serving with creole meuniere sauce. If preparing ahead of time, crab cakes can be warmed in an oven.
Make the Creole Meuniere Sauce: In a small saucepan over medium heat, combine Worcestershire sauce, onion, bay leaves, and lemon. When mixture starts to warm, mash lemons with the back of a wooden spoon to release the juices. Bring to a boil
Reduce heat and simmer until thick. Whisk in cream. Then whisk in butter, a little bit at a time. Finally, stir in creole seasoning. Strain through a find mesh sieve. Garnish with scallions and serve over crab cakes.
Make the Creole Seasoning: Combine all ingredients in an airtight container. Shake well. Yields 1/2 cup.