Rich fudgy brownies, chocolate ganache and a candy coated chocolate topping, these Cosmic Brownies are a hit with both kids and adults.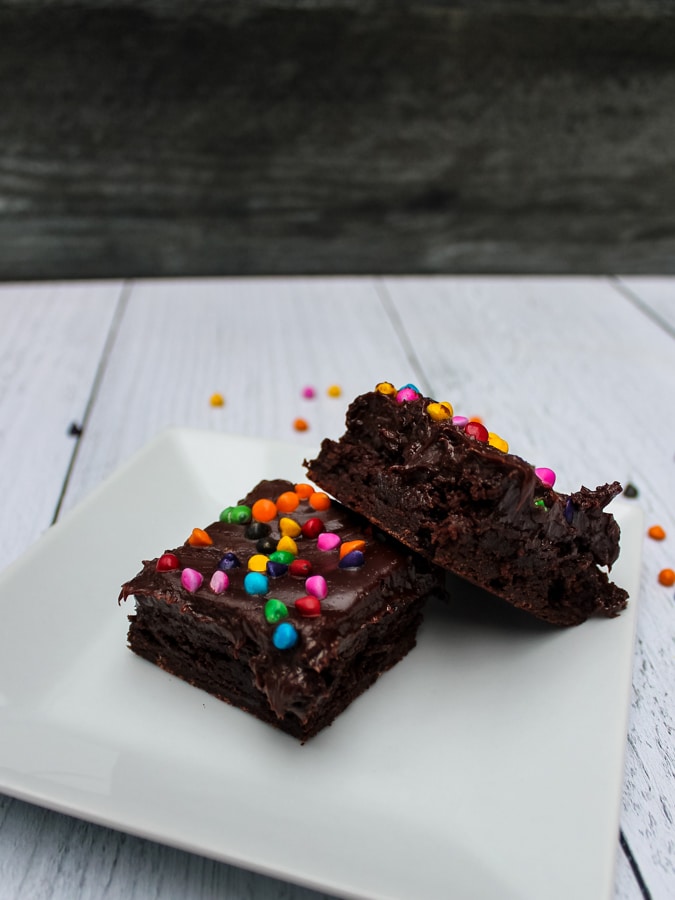 Umm, yeah. So November disappeared in the blink of an eye. I had every intention of being back regularly but life got away from me. Anyone else?
The month was busy with extra school and activities for everyone. We had school spirit week, parents invited to participate in Teach Across America Week, and getting ready for Miss. Hazelnut's winter violin concert. Both kiddos finished soccer season in a flurry of activity – we had a total of 12 games over the course of 3 weekends between regular season and their end of season tournaments. Both were ecstatic to come home with second place trophies in their tournaments. They also both started winter basketball in there, which has been it's own start-of-the-season rollercoaster. Then we traveled for Thanksgiving, which we NEVER do. But family time is precious and it was nice to see my nephews, who we rarely see, along with my parents and brothers.
December looks to be quieter, but only slightly. We still have lost of sports (both soccer and basketball) but once you add in holiday activities, I'm not sure I'll have much more free time. But I'm sure going to try to carve out a little more quiet time to get back here, sharing both recipes and book reviews with you. I have a backlog of posts – especially book reviews – that I'm going to try to get written before too much times passes.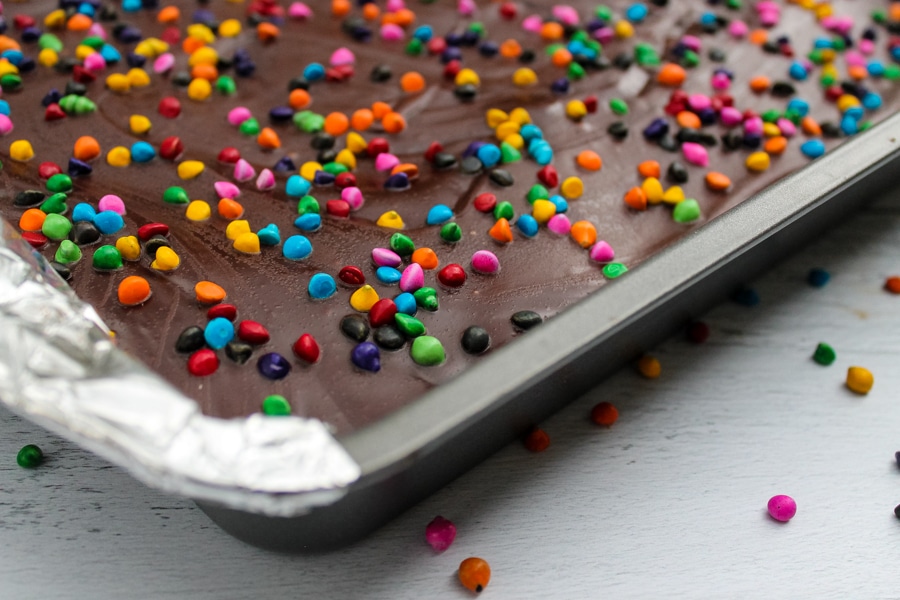 This particular recipe was one I've been excited about sharing for weeks (even if it took me to the 11th hour to get on a computer to write up this post). I visited an old friend and he requested something chocolate. Miss. Hazelnut and I were only too happy to oblige.
These brownies were a hit with everyone. Very rich and fudgy, a little bit goes a long way. This is one recipe you'll need to think about ahead of time if you want to include the candy-coated chocolate topping like the Cosmic Brownies we grew up with. They were a bit hard to find and had to be ordered. But I'm so glad I did. While they could be skipped, they just made these brownies that much more fun.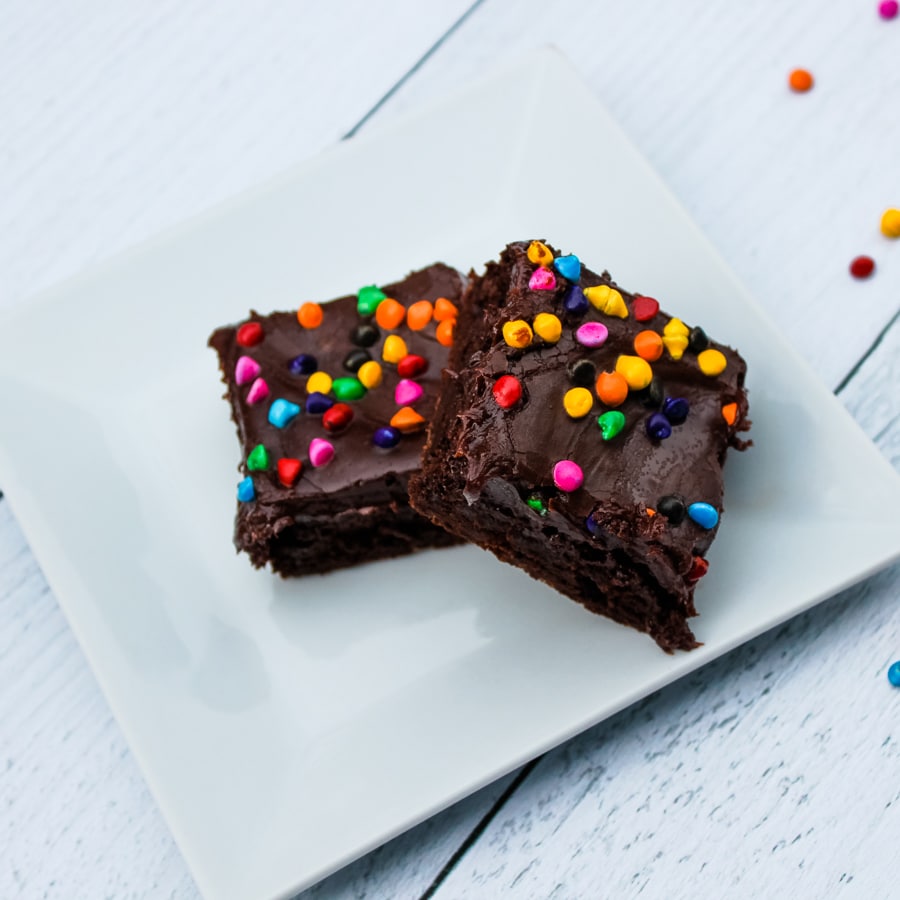 Recipes Notes for Cosmic Brownies:
This recipes doubles easily to bake in a 9×13 inch pan.
I had a hard time finding rainbow candy coated chocolate chips in my local grocery stores. Online searches of small local businesses also yielded few results. I ended up ordering a bag at Amazon (affiliate link), which should keep me baking these brownies for the next year!
More Fun Brownie Recipes:
Need more inspiration? Check out Recipes From Our Dinner Table on Facebook. You can join our Pinterest board, too!
Have you made my Cosmic Brownies? Leave a comment and tell me which is better, the homemade version or the store-bought brownie?
Print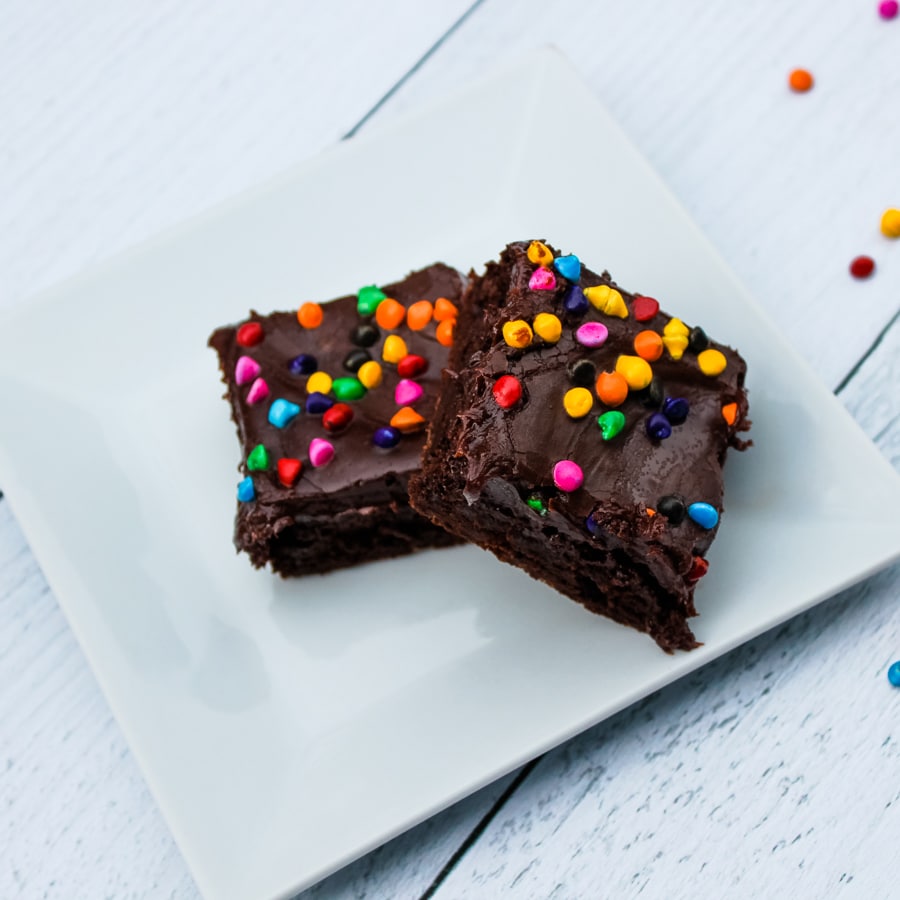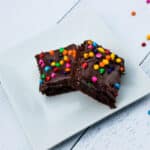 Cosmic Brownies
Rich fudgy brownies, chocolate ganache and a candy coated chocolate topping, these Cosmic Brownies are a hit with both kids and adults. 
Ingredients
Ingredients for the Brownies:
6

Tbs.

unsalted butter

1

c.

granulated sugar

1

large egg

1

large egg yolk

1

tsp.

vanilla extract

1/2

c.

all-purpose flour

1/2

c.

Dutch processed cocoa powder

1/4

tsp.

kosher or fine sea salt

2

Tbs.

whole milk
Ingredients for the Ganache:
4

oz.

semisweet chocolate

finely chopped

4

oz.

milk chocolate

finely chopped

1/2

c.

heavy cream

1

Tbs.

unsalted butter

at room temperature and cut into little chunks

1/4

c.

rainbow candy coated chocolate chips
Instructions
Make the Brownies:
Preheat oven to 350F. Lightly butter and line an 8-by-8-inch square baking pan with parchment paper or aluminum foil, allowing paper or foil to hang 2 inches over the edge. Lightly butter parchment. Set pan aside.

Melt butter in a small pan set over medium heat. When it's melted, add sugar and stir until smooth and paste-like. Transfer to the bowl of a stand mixer fitted with the paddle attachment. Mix on medium speed until mixture has cooled so that it's no longer hot to touch (about 90-100F on an instant-read thermometer).

With the mixer still running, add egg, yolk, and vanilla. Beat for 2-3 minutes, until mixture falls off the beater in thick ribbons.

Reduce speed to low and add in flour, cocoa powder and salt, mixing until just barely incorporated. Scrape down sides of the bowl and with mixer again on low, add milk, beating until smooth.

Pour into prepared pan, spreading into an even layer.

Bake for 22-26 minutes, until a toothpick inserted into the center comes out with moist crumbs but no raw batter.

Remove from oven and allow to cool slightly. If edges are sticking up a lot, while brownies are still hot, gently press down with an offset spatula to flatten.
Make the Ganache:
While brownies cool, prepare the ganache. Fill a small saucepan with cream and heat over medium heat. When very hot and starting to steam and bubble, reduce heat and add finely chopped chocolate. Allow to sit for 30 seconds before starting to whisk in small circles. Continue whisking until mixture is smooth and chocolate is fully melted. Turn off heat and add butter, whisking until smooth.

Pour ganache over top of warm brownies, using an offset spatula to spread into an even layer. Scatter candy-coated chocolate pieces over top.

Allow brownies to cool at room temperature for 2-3 hours until complete set. (Brownies may be refrigerated, but the ganache loses its shiny finish with refrigeration.)

Use parchment paper or foil to remove brownies from pan. Cut into 16 squares.

Store an an airtight container for 2 days, or in the refrigerator for up to a week.
This recipe was rewritten but barely adapted from Love and Olive Oil.