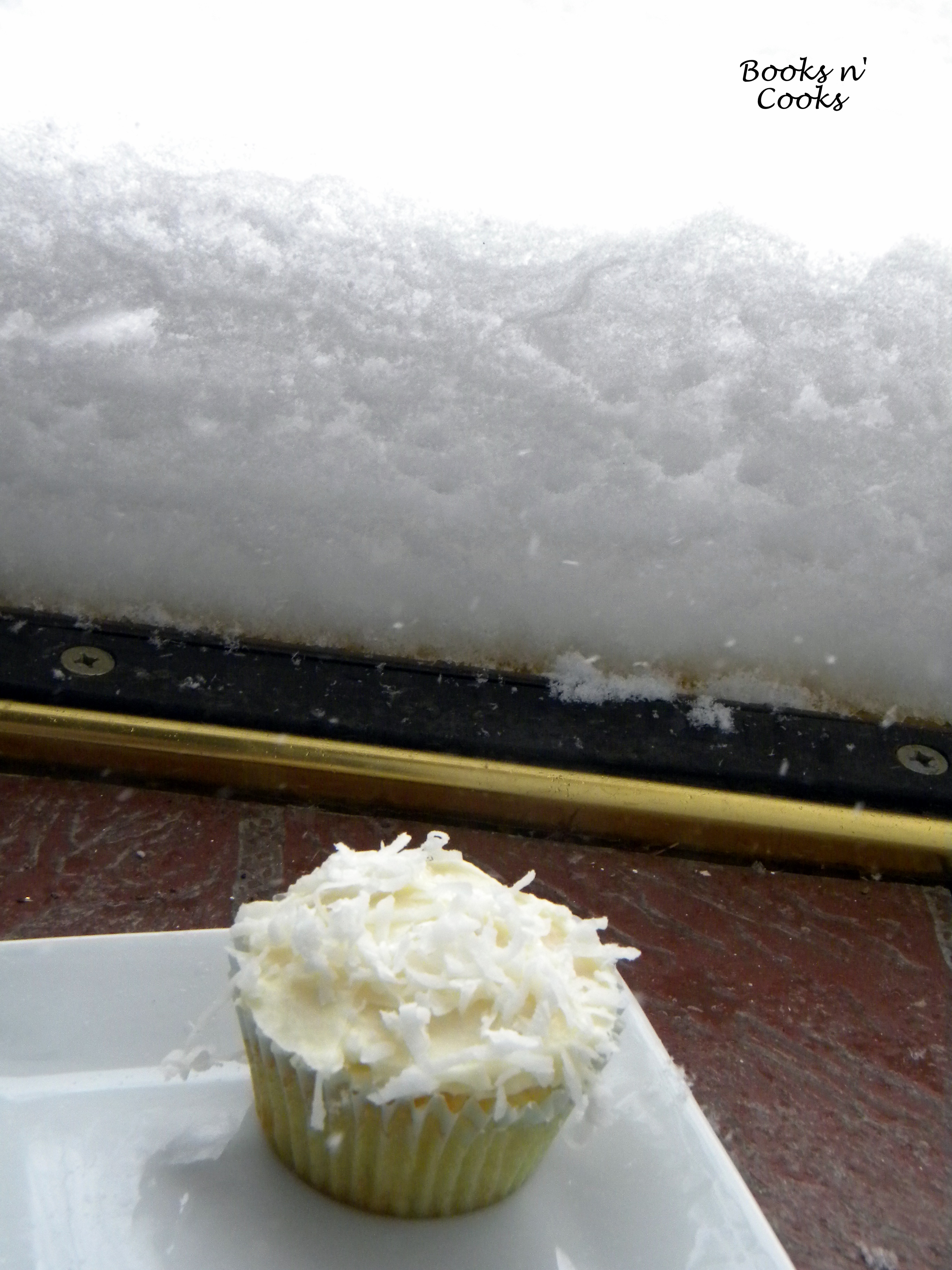 This is another Barefoot Bloggers recipe chosen by Jamie, of Jaime's Green Kitchen. While I've never made these cupcakes from scratch, I was given the boxed mix, available at Crate & Barrel, in my Christmas stocking one year. They were wonderful then, and I was looking forward to making them from scratch. In fact, these ended up being the perfect sweet treat to make for my week snowed in, as they remind me of little snowballs.
I made a few ingredient changes to this recipe, since I didn't have everything on hand. I also halved the recipe, since we're trying to eat better, and I don't need lots of cupcakes around the house. I have no idea how this happened, but instead of the 10 cupcakes I should have gotten when I halved the recipe (full recipe would have made 18-20 cupcakes), I ended up with a dozen cupcakes and 10 mini-cupcakes. If you tend to use very little frosting, as I do, you can even half the frosting recipe below – I did and I had plenty for all of these tasty treats.
Coconut Cupcakes
Adapted from The Barefoot Contessa Cookbook
Makes: 12 cupcakes
Ingredients for the Cupcakes: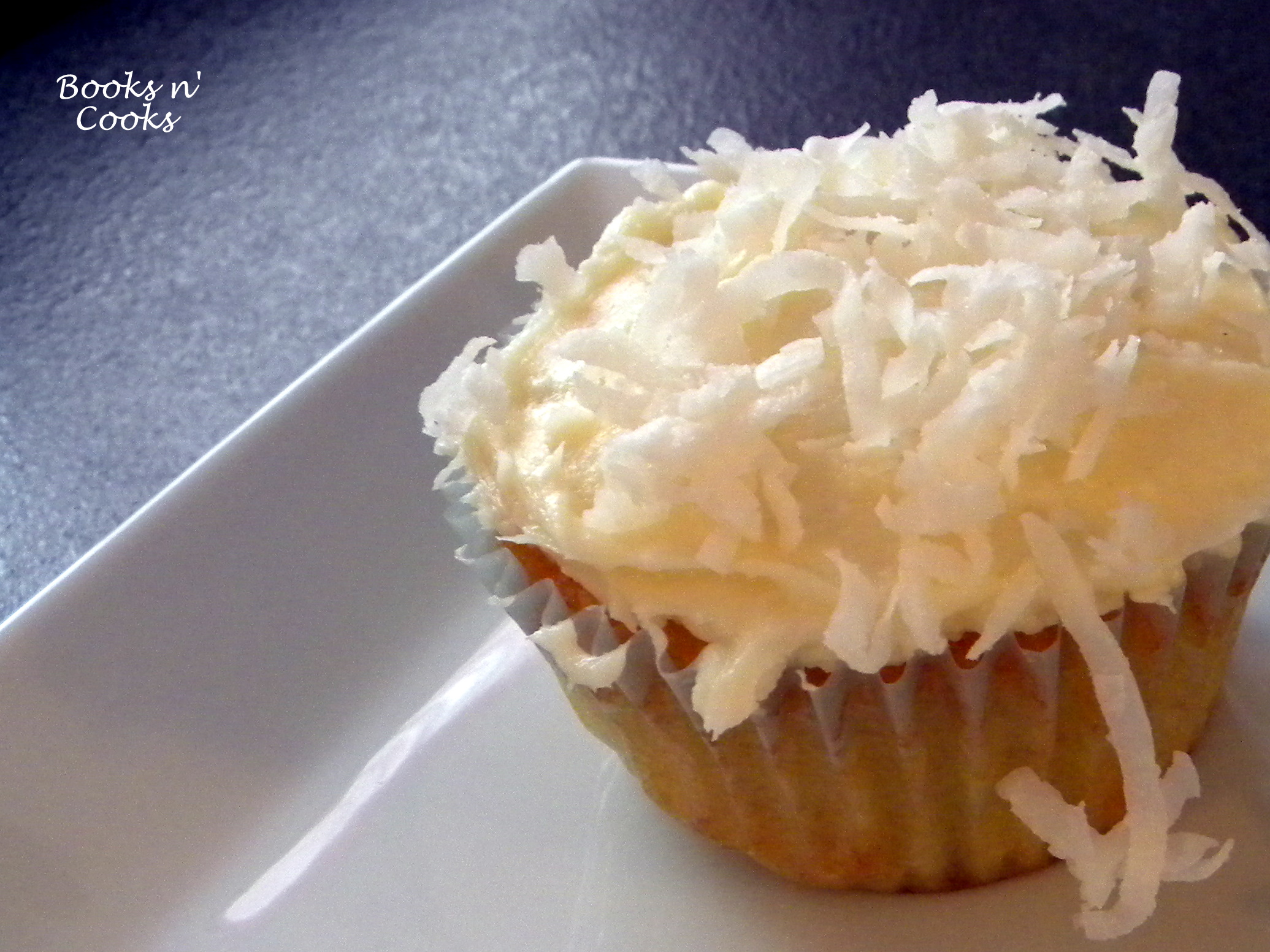 1 1/2 sticks unsalted butter, at room temperature
1 c. sugar
2 1/2 extra-large eggs,* at room temperature
3/4 tsp. vanilla extract
3/4 tsp. almond extract
1 1/2 c. flour
1/2 tsp. baking powder
1/4 tsp. baking soda
1/4 tsp. kosher salt
1/2 c. buttermilk*
7 oz. (about 2 c.)  sweetened, shredded coconut
* Note: Instead of buttermilk, I used 1/2 tbs. white vinegar and then filled the measuring cup to the 1/2 cup line with milk. Also, since I had large eggs on hand instead of extra-large, I used 3 large eggs, instead of trying to halve them.
Ingredients for the Frosting:
1/2 lb. (8 oz.) cream cheese, at room temperature
1 1/2 sticks unsalted butter, at room temperature
1/2 tsp. vanilla extract
1/4 tsp. almond extract
3/4 lb confectioners' sugar, sifted
Make the Cupcakes:
Preheat oven to 325F and line a muffin tin with cupcake liners.
In a stand mixer fitted with the paddle attachment, beat the butter and sugar on high speed until light and fluffy, about 5 minutes.
Lower speed and add eggs one at a time. Scrape down the bowl, and add vanilla and almond extract, beating until combined.
With the mixer on low, add in baking powder, baking soda and salt. Add in 3/4 c. flour and half the buttermilk. Repeat. Turn off the mixer when flour and buttermilk has been just combined.
Fold in half the coconut, about 1 cup.
Fill each of the cupcake liners in the prepared pan with batter, to the top of the liner.
Bake 25-35 minutes, until a toothpick comes out clean. Let cool in the pan for 15 minutes before moving cupcakes to a wire rack to cool completely.
Make the Frosting:

In a stand mixer fitted with the paddle attachment, cream all ingredients except the confectioners' sugar. Add the sugar and mix until smooth.
Frost the cupcakes, and sprinkle remaining coconut on top of the frosted cupcakes.
Happy Snow Days!