This year will be the first year in five years that my hubby and I will not be hosting our annual holiday party. With moving to a new home in early December, it's just going to be too difficult to manage. In fact, I'm not even sure that we'll be decorating for Christmas this year. Even though I know it's the right decision, I am disappointed. I absolutely love Christmas time – the parties, the decorations…. I love putting up our Christmas tree on Thanksgiving day, wrapping gifts and setting them under the tree as soon as I purchase them…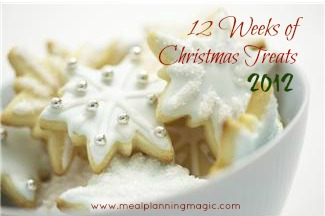 But I couldn't let this year pass without doing something for the holidays. While I might not be able to decorate or throw a party, I plan on indulging in holiday sweets over the next several weeks. And, I'm going to share those sweets with you! Over the next 10 weeks, I'll be participating in Meal Planning Magic's 12 Weeks of Christmas Treats (I missed the first two weeks due to travel). Every Thursday, I'll be sharing something new with you that might interest you for this year's festivities.
For the first post, I'm sharing a sweet snack – Cinnamon Sugar Pretzels. Addictive is the best word to describe them. My book club ladies, my hubby, and my coworkers loved these little snacks. They're quick and easy to make and keep pretty (mine were eaten within 3 days but were still fresh by the end). If I were hosting my holiday party, these would definitely make the menu!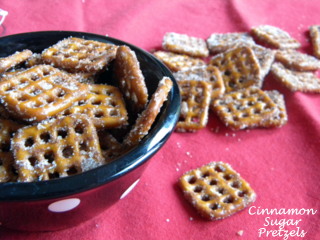 Cinnamon Sugar Pretzels
Adapted from Your Home Based Mom via Your Cup of Cake
Makes 1 lb. of pretzels
Ingredients:
1 16-18 oz. bag of pretzels
½ c. canola/veggie oil
1/3 c. granulated sugar
1½ tsp. cinnamon
½ c. cinnamon sugar for sprinkling  (½ c. sugar + 1½ tsp. cinnamon)
Directions:
Line two baking sheets with parchment paper and set aside.
Pour pretzels into a large mixing bowl (microwave-safe if you have one).
In a measuring cup, gently whisk together oil, the 1/3 c. sugar and the 1½ tsp. cinnamon. Microwave for 1 minutes. Gently whisk again. Microwave for an additional 30 seconds. Gently whisk. Pour over pretzels and toss until pretzels are coated in mixture. (If you have a microwave-safe mixing bowl, pour mixture over pretzels, microwave for 1 minutes, toss, microwave for 30 seconds, and toss again).
Pour pretzels onto prepared baking sheets, spreading so that pretzels are in one even layer. Sprinkle with additional ½ c. cinnamon sugar. Allow to sit out for 30 minutes before moving to a serving dish or storage container.
Store in an airtight container.