These were very tasty with my morning coffee and afternoon cinnamon tea. I've been dying to try the recipe for a while, but I only recently found cinnamon chips at a local store. I've made it both with and without the cinnamon drizzle (and never used the white chocolate drizzle that the original recipe calls for) and it's wonderful both ways.
Cinnamon Chip Biscotti
Adapted from Hershey's Kitchens*
Makes ~24 biscotti
Ingredients: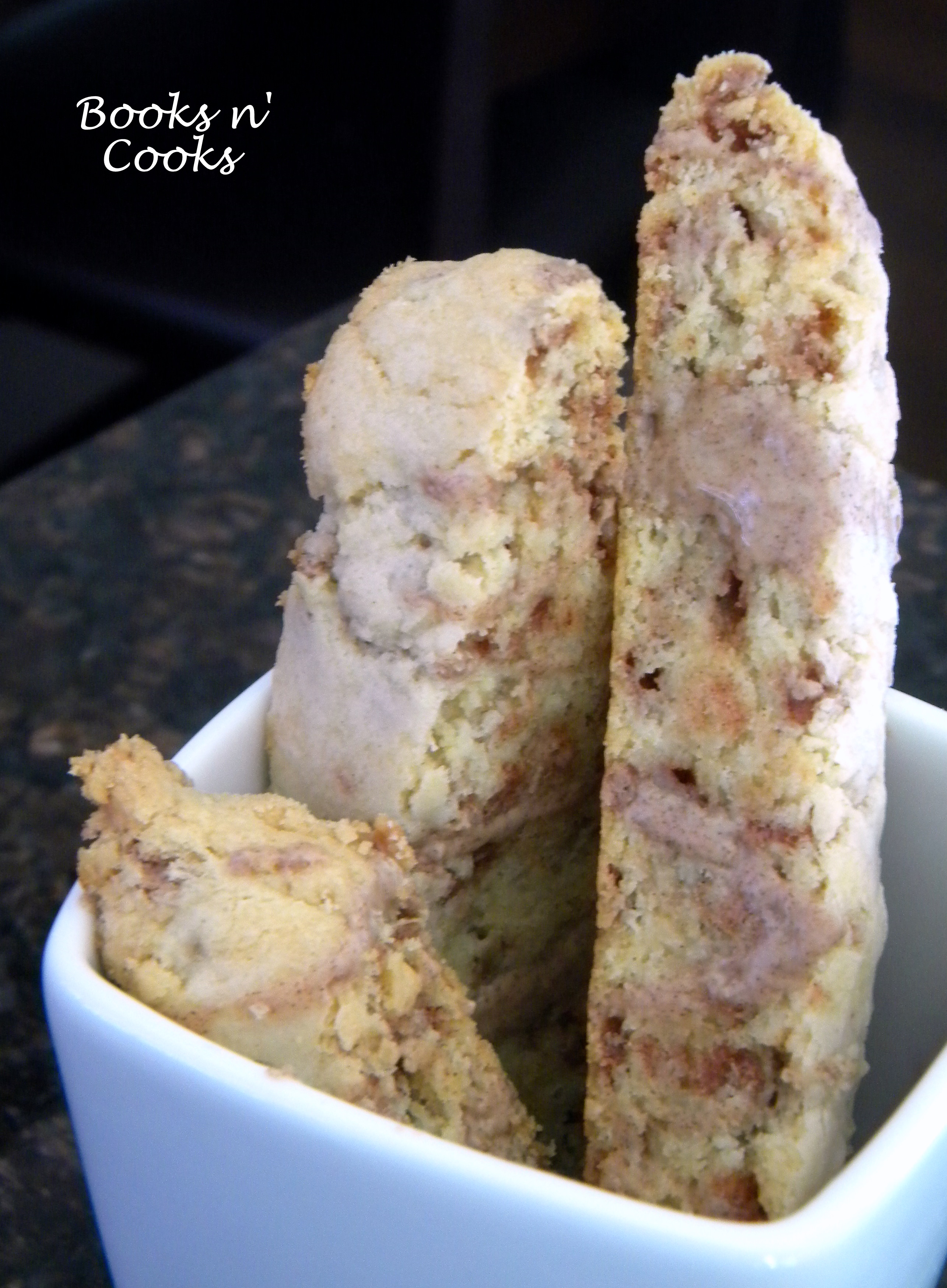 ½ c. (1 stick) butter, softened
1 c. sugar
2 eggs
1 tsp. vanilla extract
2 ½ c. all-purpose flour
1 ½ tsp. baking powder
¼ tsp. salt
1 2/3 c. (a 10-oz package) cinnamon chips, divided
2 tsp. shortening (don't use butter, margarine or spread)
Preheat oven to 325°. Line two baking sheets with parchment paper and set aside.
Beat butter and sugar until blended. Add eggs and vanilla; beat well. Gradually add flour, baking powder and salt to butter mixture, beating until smooth.  Stir in 1 c. cinnamon chips.
Divide dough into 2 logs, each about 6 inches wide. Lay a log on each baking sheet, flattening slightly and shaping as needed.
Bake 25-35 minutes, until a toothpick inserted into the center comes out clean. Remove from oven and let sit for at least 10 minutes. Using serrated knife and sawing motion, cut logs diagonally into ½-inch-wide slices. (I cut carefully, right on the baking sheet, but you can also transfer to a cutting board before cutting.) Place slices back on baking sheet, cut side down. Return to oven and bake 5-6 minutes. Turn each slice and cook another 5 minutes. Remove from oven; cool slightly. Remove cookie sheet to wire rack to cool completely.
Melt the remaining 2/3 c. cinnamon chips and shortening. Drizzle over each cookie.
Note: This recipe and photos were updated in March 2011.
This recipe was originally found on Hershey's website. As of January 2019, the URL was no longer good, and therefore was removed. I was no longer able to find the recipe on their site.