The end of WWII and the liberation of the concentration camps didn't bring an end to the atrocities. Based on a true story, Cilka's Journey details the continued suffering and series of impossible choices of Cilka Klein, rescued from a Nazi concentration camp, at a Soviet labor camp.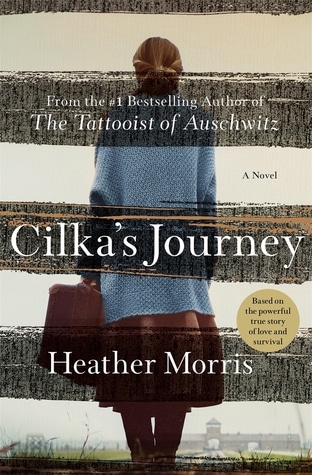 Cilka's Journey by Heather Morris
WWII ends and Cilka Klein is still alive. She survived the Nazi concentration camp at Auschwitz-Birkenau, where she was prisoner. Freedom is in sight.
The Soviet army liberates the camp, but before Cilka can leave, she must go before the Soviets for judgement. Freedom will have to wait – the Soviets sentence Cilka to 15 years at a labor camp in Siberia for "aiding" the Nazis. Once again, Cilka is stuffed into a cattle car with dozens of other people and forced to live in unbearable conditions. Moreover, Cilka again finds herself making difficult choices in order to survive.
Book Review:
Cilka's Journey is the second in The Tattooist of Auschwitz trilogy, a series loosely linked by friends who survived the Auschwitz-Birkenau Nazi concentration camp together. While technically part of a series, the book can certainly be read as a standalone without losing anything. Like the first in the series, this historical fiction book is based on real events and people, making history come alive in a way that some history books do not.
I enjoyed Cilka's Journey, just as much as The Tattooist of Auschwitz. Based on a true story, Cilka's Journey is engaging and heart-wrenching. In all of the WWII-era historical fiction novels I've read, Cilka's Journey shows a piece of history that I haven't encountered before. It details the continued battle that some prisoners had even after the end of the war.
Cilka's Journey depicted (in sometimes graphic detail) the harsh reality of judgment, of the difficult choices people had to make in order to survive. For some, there is no consideration for the victims that were put into impossible positions. Do Nazi bidding or die. Fall in line, under labor camp leaders, or suffer a worse fate. The violence, the sexual abuse, the choices some had to make… there's a lot of darkness here, just as there is in our past.
But there is sunshine through the darkness. Cilka continues to hope. She makes the most of her situation, of her terribly impossible choices, and is able to help those around her. And in return, she receives hope, friendship and love from her fellow prisoners and a few brave people who quietly rebel against the norm.
While the book isn't the most uplifting, it's a worth reading. It's well written and brings to light a piece of history that is often overlooked. Highly recommended.