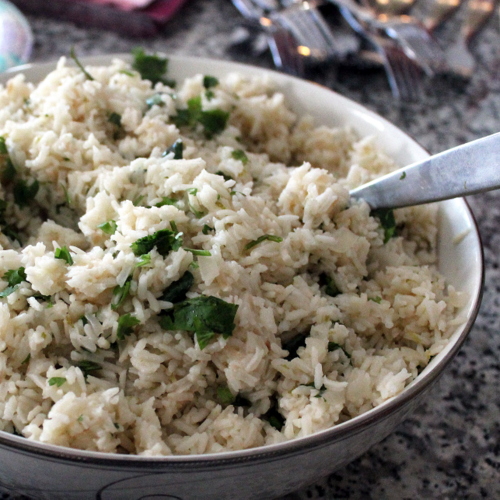 I don't know about you all, but we're big Chipotle fans in our house. Burrito bowl for me, burrito for my hubby, and my kids split the quesadilla kids meal – Miss. Hazelnut getting the quesadilla and fruit/chips and Mr. Nutterbutter getting the rice, black beans, and guacamole. This rice reminds me a lot of the rice at the bottom of my burrito bowl, with a burst of freshness from the lime juice and cilantro added at the end. It holds its own as a part of dish or as a standalone side.
Be sure to check at the end of the recipe for more #MexicanRecipes to inspire your weekend entertaining. And huge thanks to Sue at Palatable Pastime for organizing this great event!
Cilantro Lime Rice
Adapted from The Pioneer Woman
Serves 8
Ingredients:
1 Tbs. vegetable oil
2 cloves garlic, minced
1 onion, chopped
2 c. long-grained rice
1 tsp. kosher salt
3 c. low-sodium chicken broth
2 limes, zested and juiced
1/2 a bunch of fresh cilantro, coarsely chopped
In a medium stockpot over medium heat, heat vegetable oil. Add onion and garlic, cooking for 3-4 minutes until translucent. Reduce heat to low. Add rice and salt. Cook, stirring constantly for 3 minutes. Add chicken broth, lemon zest, and about 3/4 of the lime juice (reserving the remaining lime juice for finishing). Raise heat and bring to a boil. Lower heat, cover and simmer for 10-15 minutes, or until almost all of the liquid is gone and rice is cooked. Remove from heat and let stand for 5 minutes. Toss rice with reserved lime juice and cilantro.
Serve hot as a side dish or as the base for burrito bowls (I like to make them with taco meat, roasted or sauteed peppers and onion, homemade salsa, guacamole, and cheese.)

Happy #MexicanRecipes
Let's have a fiesta of Cinco de Mayo inspired recipes all week long!
Check back each and every day for new recipes by following along with the hashtag #MexicanRecipes on social media.
Are you a food blogger interested in posting within our blogging community? Find out more by joining us online: Holiday Fun with Our Blog Friends.
Save
Save
Save
Save