Give a homemade snack for the holidays this year. Sweet, sugar-cinnamon Chex Mix will be a winner with kids and adults alike.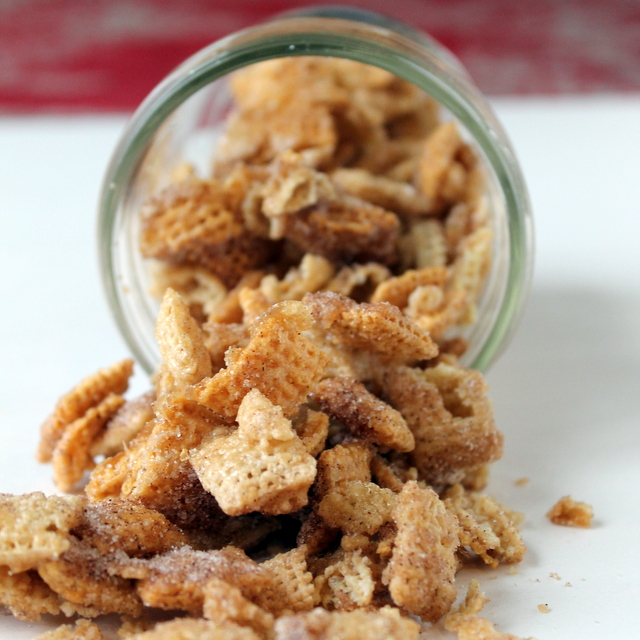 Guys, this fall has turned out to be way busier than I ever planned it to be, and things don't seem to be slowing down. It's so bad that I think I've accepted that I won't be hosting a holiday party this year, or even a brunch for our closest friends. I LOVE the annual tradition, but you know what, I just have to keep myself sane. And this year, there's just no way I can commit to it.
So instead, I'll talk to you about last year. I hosted a brunch for a couple of our closest family friends. While I missed our annual party, I switched it out for a brunch so that close friends could bring their young children without having to bump into nap time. And I shrunk the guest list way down to keep from stressing out and spending hours cooking and baking.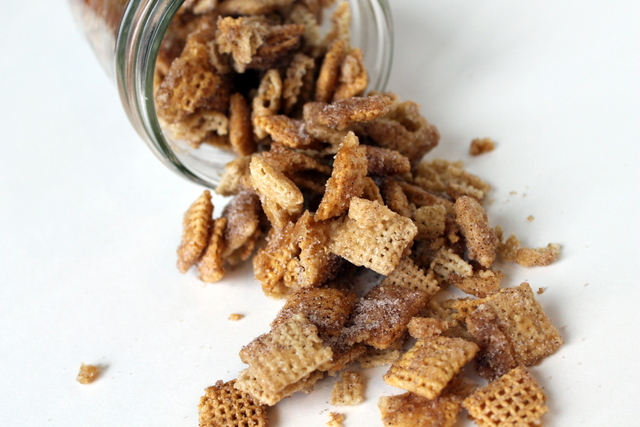 Even though the brunch was simpler than my child-free parties, I still wanted to do a little something special for friends. The children received small Christmas gifts, the men received boozy brownies, and the woman received sweet, cinnamony Chex Mix. Want to talk about a snack that is like crack? Both the ladies and the lucky children who snuck fistfuls loved it. I couldn't stop eating the leftovers. It's quick and easy to make and is soooo yummy. Gift it as a gift, serve or bring it to an upcoming holiday gathering, or hoard it for yourself. There's no wrong answer. 🙂
Print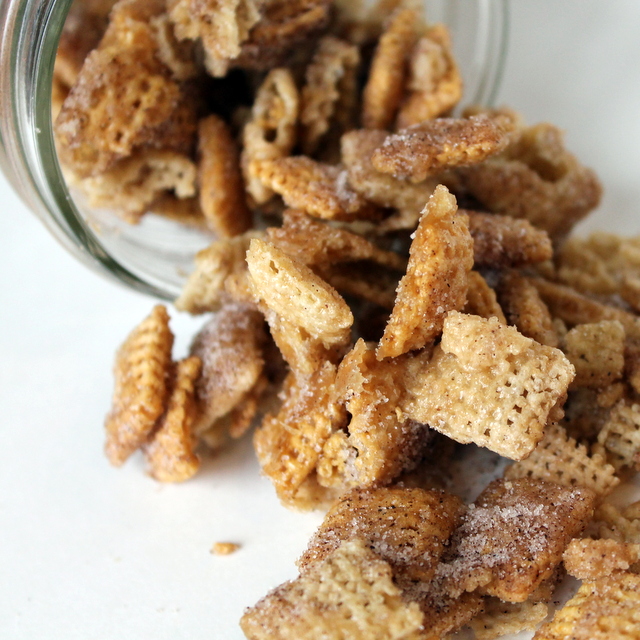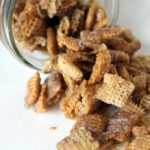 Churro Chex Mix #FoodGifts
Give a homemade snack for the holidays this year. Sweet, sugar-cinnamon Chex Mix will be a winner with kids and adults alike.
Ingredients
cooking spray

9

c.

Chex cereal

Rice Chex, Corn Chex, or a combination of the two

1/2

c.

granulated sugar

1 1/2

tsp.

ground cinnamon

1

c.

light brown sugar

1/2

c.

unsalted butter

pinch

of kosher salt

1/4

c.

light corn syrup

1/4

tsp.

baking soda
Instructions
Preheat oven to 350F. Line a baking sheet with aluminum foil. Spray with cooking spray and set aside.

Prep: Place cereal in a very large bowl. Set aside.

Combine sugar and cinnamon in a small bowl. Set aside.

Cook: In a large pot, heat brown sugar, butter, salt, and corn syrup. Stir until butter is melted and sugar is mostly dissolved. Bring to a boil. Let boil for 1 minute, stirring constantly. Remove from heat and stir in baking soda.

Pour mixture over cereal, and stir until cereal is completely coated. Turn out onto prepared baking sheet. Spread into an even layer. Sprinkle with cinnamon-sugar, enough to coat. Put the extra aside.

Bake for 5 minutes. Flip and spread out. Sprinkle with remaining cinnamon-sugar and bake for another 3 minutes. Chex Mix will be starting to turn golden brown.

Remove from oven and allow to cool completely. Break into pieces.

Store in an airtight container.
This recipe was adapted from Confessions of a Cookbook Queen
Check out more fabulous food gifts for the holidays.
Save
Save
Save