Soft, melt-in-your-mouth Christmas Sprinkle Cookies have a sweet almond flavor that adults and kids alike will love.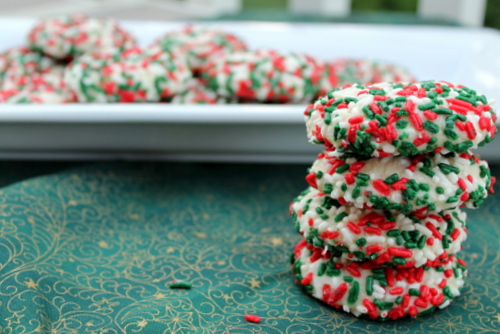 I have a confession to make. I'm a cookie snob.
I'm the person you don't want to invite to your holiday cookie exchanges, because I will almost never like anyone else's cookies as much as the cookies I bring. I want my holiday cookies soft and to stay soft even if it takes us a couple of days to eat the batch. I want them full of sweet yet subtle flavors, not cookies overpowered with lots of cinnamon and nutmeg.
So after a couple of disappointing cookie exchanges, I decided it was probably better for me to stay home and bake the cookies I enjoy, and then to push them on friends and coworkers so that I don't become a blimp during the holiday season. Truthfully, I'm bummed that I didn't enjoy the cookies I took home at those exchanges more than I did, because I truly enjoy trying new cookies. But I just didn't fall in love with any, and my friends and coworkers haven't complained yet. So I guess this arrangement will do.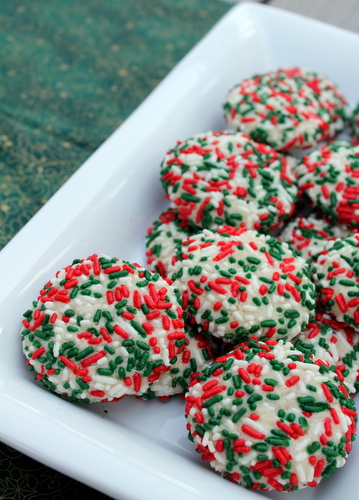 So today, for this day on #ChristmasCookies week, I bring you a recipe that I discovered within the past couple of years. This recipe isn't a seasonal classic in my house (that would be our seven layer cookies and our cranberry oatmeal cookies), but everyone loves these cookies so much that we now make a batch every month or two – for holidays as well as everyday entertaining. These cookies are slightly crispy on the outside but generally have soft throughout, a melt-in-your-mouth sort of texture. And the flavor is wonderful.
These cookies are also one of my favorites to make with kids. Miss Hazelnut and Mr Nutterbutter absolutely love to make it since they get to pick out which sprinkles they use. They love making all cookies but there's something special about them each getting their own bowl of sprinkles for them to roll the cookies in. And then, of course, to be licking spilled sprinkles off the counter.
So if you're looking for a new cookie to make this holiday season, may I suggest these Christmas Sprinkle Cookies. Not into sprinkles? Check out the collection of cookie recipes at the bottom of this post for even more inspiration. And don't forget to enter the giveaway!
Print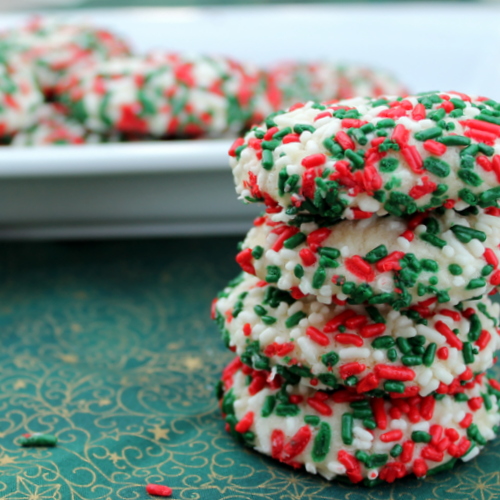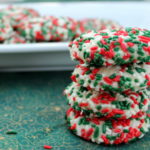 Christmas Sprinkle Cookies
Soft, melt-in-your-mouth Christmas Sprinkle Cookies have a sweet almond flavor that adults and kids alike will love.
Ingredients
1

c.

2 sticks unsalted butter

softened slightly

2

oz.

cream cheese

softened slightly

1 1/4

c.

granulated sugar

1

large egg

2

tsp.

vanilla extract

1/4

tsp.

almond extract

3

c.

all-purpose flour

1

tsp.

baking powder

1/4

tsp.

baking soda

3/4

tsp.

salt

1

c.

sprinkles
Instructions
Preheat oven to 375. Line two baking sheets with parchment paper and set aside.

Place cream cheese, butter and sugar in the bowl of a stand mixer. Beat on medium-high speed until light and fluffy. Lower speed to medium and beat in eggs, vanilla extract, and almond extract. Scrape down sides of the bowl and beat again, if necessary. Add flour, baking powder, baking soda and salt and beat on low until combined, again scraping down sides and bottom of bowl to ensure that everything is mixed thoroughly.

Portion dough into equal sized balls, using a 1 1/2 tablespoon ice cream scoop. Roll between the palms of your hands to warm dough slightly (as well as to perfect the shape) before rolling in a shallow bowl filled with sprinkles. Sprinkles should completely coat the ball of dough all around.

Place sprinkle-covered dough onto prepared baking sheet, each about 2 inches apart. Press down slightly with the flat bottom of a drinking glass or palm of your hand to flatten. Repeat with remaining dough. Bake for 9-10 minutes, until edges are set and starting to brown ever so slightly (center may look a bit underbaked). Remove from oven and allow to cook on the baking sheet for 5 minutes before transferring to a wire rack to cool completely.

Store in an airtight container for 4-5 days.
Recipe Notes
Makes 3-4 dozen cookies.
Rewritten but not really adapted from Smitten Kitchen, Originally from King Arthur Flour
Recipe Note: Smitten Kitchen advises that if the dough is too soft to roll, chill in the fridge for 15-20 minutes before using. I've never had this problem, but my butter and cream cheese are usually still fairly cold when making the dough.