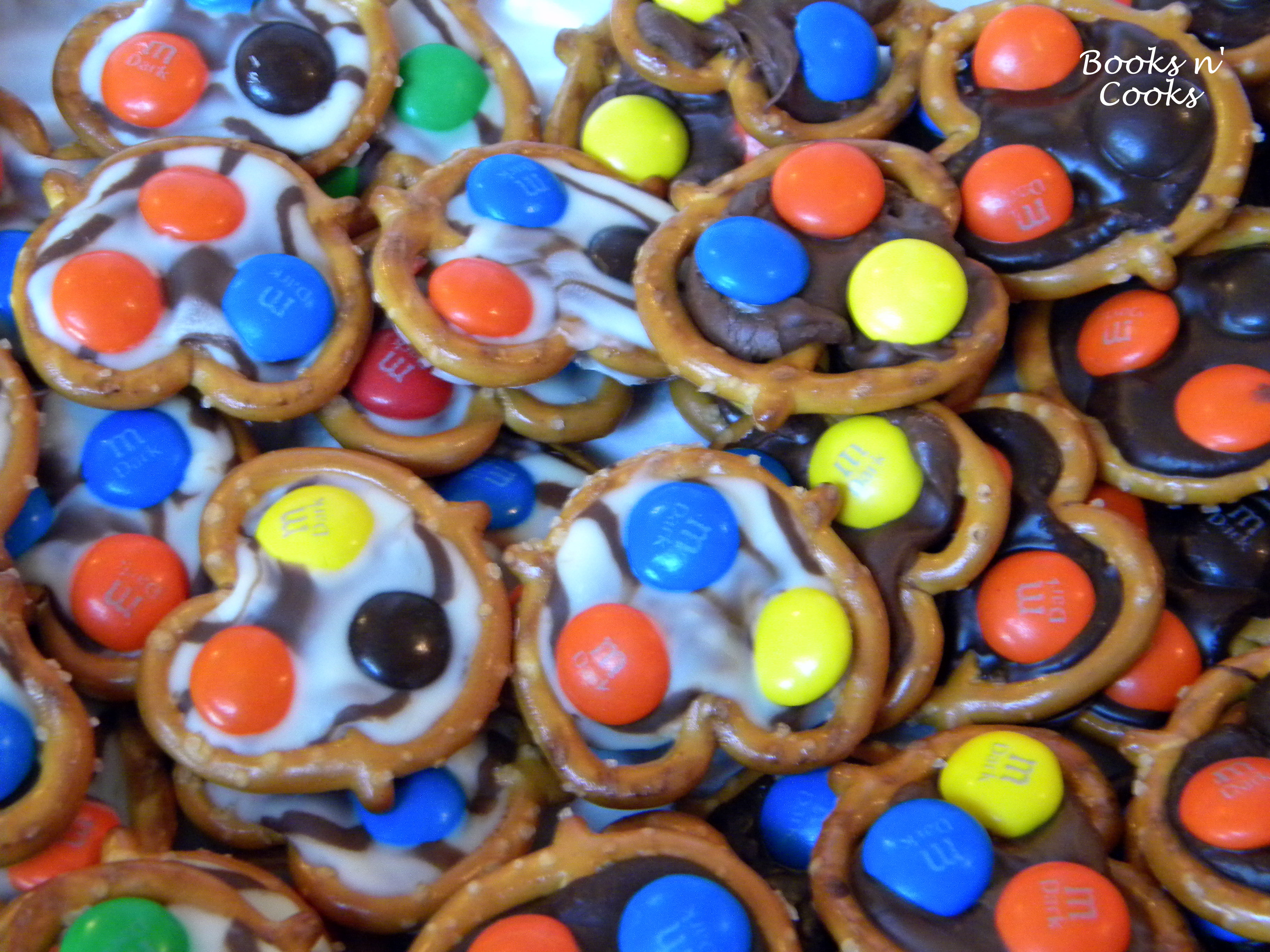 A friend brought these to a holiday party a couple of years ago, and the hubby has been talking about them ever since then. Intuitively, I knew how to make these, but did a bit of searching around anyway, to see if there were hints or anything I was missing. It seems that most people use Hershey kisses to make these treats, although Beantown Baker used chocolate bark instead. I've also included two techniques for making these (for melting the chocolate) below, based on what sort of chocolate you use.
These goodies went into care packages this week – I hope the recipients of these goodies like them!
Chocolatey Pretzel Treats
By Books n' Cooks
Makes 10 dozen treats
Ingredients:
1/2 a 1 lb. bag of pretzels – either the ties, the circles, or the checker boards
1 bag Hershey kisses (milk chocolate, dark chocolate, hugs, or other solid-chocolate kiss, unwrapped) or bag chocolate melts
1 bag M&Ms
Line a baking sheet with parchment paper. Cover the baking sheet with pretzels, with the backside facing down.
Method 1: If making with Hershey kisses, preheat the oven to 200F. Set a candy on the center of each pretzel. Bake until kisses are softened, 4-8 minutes. (The Hershey hugs soften the fastest). Remove from oven. Spread chocolate with a knife, or push it into place with the M&Ms.
Method 2: If using candy melts or chocolate bark, melt in the microwave for 30-60 seconds, stirring chocolate until smooth. Pour a bit of the chocolate over each pretzel, using a teaspoon or a squeeze bottle.
Lay 3 M&Ms on each pretzel treat. Refrigerate the sheet until chocolate is set.
Store in an airtight container, or in the freezer.