This chocolate peanut butter pie was included in Food & Wine's Best of the Best cookbook compilations. The creator of the pie says that this pie is always included in her restaurant, The Loveless Cafe in Nashville.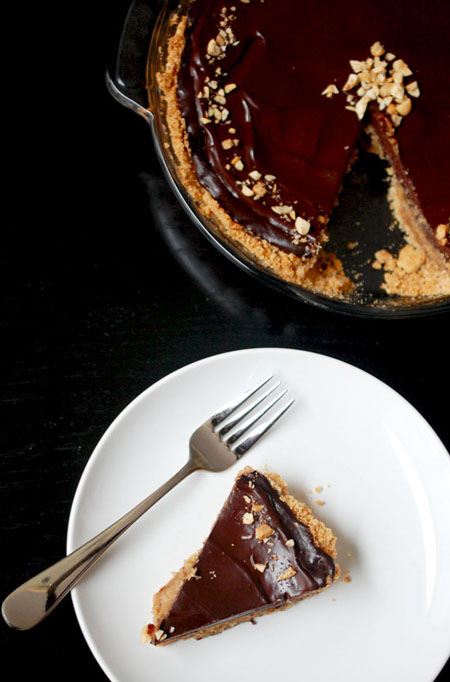 If you're looking to indulge, or simply to drool over some gorgeous photos of desserts, I highly recommend checking out Eva Bakes. I first teamed with Eva when she reached out about doing a bake along from the Bouchon Bakery cookbook. She ended up with a perfectly formed rum cake. I ended up with one that fell apart and turned into a rum cake trifle. Since then, I've watched her post baked goods that I've consistently bookmarked and added to the stack of recipes I had to try. Eva, thanks for joining me and my readers today! I can't wait to try out this recipe as well!
Hi everyone! My name is Eva, and I blog over at Eva Bakes. I want to thank Liz for allowing me guest post on her blog today.
I'm willing to bet that most of you reading this are peanut butter fans. Am I right? How about chocolate peanut butter? That's supposed to be the ultimate peanut butter combination, as I hear. Well, I am one of those very strange birds that doesn't like peanut butter. This has nothing to do with allergies. I just don't like the taste or texture of peanut butter. That's OK – more for you.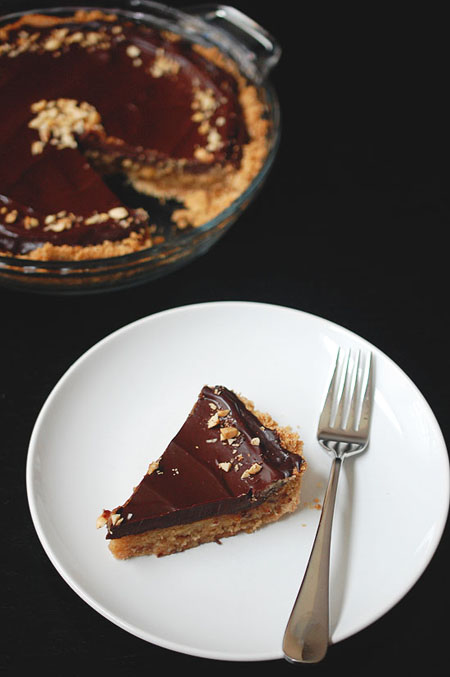 Anyway, my husband bought me a cookbook by Food & Wine called Best of the Best. It's a compilation of the 25 best cookbooks they found in 2012 (yes, I know… I am making this recipe 3 years late. Sigh). Since I am a dessert blogger, I went straight to the dessert section.
Since my husband is a peanut butter fanatic, I wanted to make this pie for him. He was gone on a business trip for a few days, and my 4-year and I decided to surprise him with this pie. The pie was actually easier than I imagined to put together and didn't take as much time as I originally thought. When my husband returned from his trip, he was excited to find this pie in the refrigerator and asked when he would be able to eat a slice.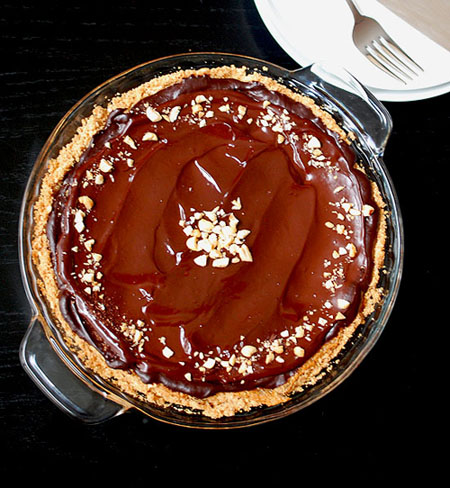 If you enjoyed this recipe or are a fan of sweets, I hope you'll stop by
my blog
sometime and check out all my desserts!
Print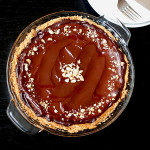 Chocolate Peanut Butter Pie
This chocolate peanut butter pie was included in Food & Wine's Best of the Best cookbook compilations. The creator of the pie says that this pie is always included in her restaurant, The Loveless Cafe in Nashville.
Ingredients
Ingredients for the Crust:
1

c.

graham cracker or vanilla wafer crumbs

you can use chocolate sandwich cookies too

2

Tbs.

granulated sugar

3

Tbs.

unsalted butter

melted
Ingredients for the Filling:
1/2

c.

light brown sugar

packed

3/4

c.

light corn syrup

1/2

c.

heavy cream

1/2

c.

smooth peanut butter

do not use natural or homemade

1

tsp.

vanilla extract

3

eggs
Ingredients for the Ganache:
8

oz.

dark chocolate

chopped finely

1

c.

heavy cream
Instructions
Make the Crust:
Process the crumbs in a food processor or high-powered blender. If you don't have either of these, you can put the cookies in a zip-top bag and crush them with a rolling pin or other cylinder-like object (like a bottle of wine). Transfer to a medium bowl and add the sugar. Mix well. Then add the melted butter and mix until the crumbs resemble wet sand. Transfer the crumbs to a 9-inch pie pan and press the crumbs on the bottom of the pan and up the sides. Set aside.

Preheat your oven to 350 degrees F.
Make the Filling:
In a large bowl, mix together the brown sugar, corn syrup, cream, peanut butter and vanilla until smooth and free of lumps. Add the eggs until well incorporated and pour the batter into the prepared crust.

Bake in your preheated oven for 40-45 minutes or until the edges are puffy and the center is soft (it may appear underbaked, which is OK).

Allow the pie to cool while you prepare the ganache.
Make the Ganache:
Placed the chopped chocolate in a medium sized bowl. Microwave (or heat in a saucepan) the heavy cream until very hot. Pour over the chopped chocolate and allow it to sit for about 5 minutes. Whisk the cream and chocolate together until smooth. Pour this over the pie. If desired, garnish with chopped peanuts. Allow the pie to cool and the ganache to set completely. You can also serve with dollops of whipped cream.

Any leftover pie should be stored in the refrigerator and will keep for several days.
Recipe Notes
Yield: One 9-inch pie, about 8-10 servings
Source: Slightly adapted from Alisa Huntsman, via Food & Wine: Best of the Best; pages 105-106.