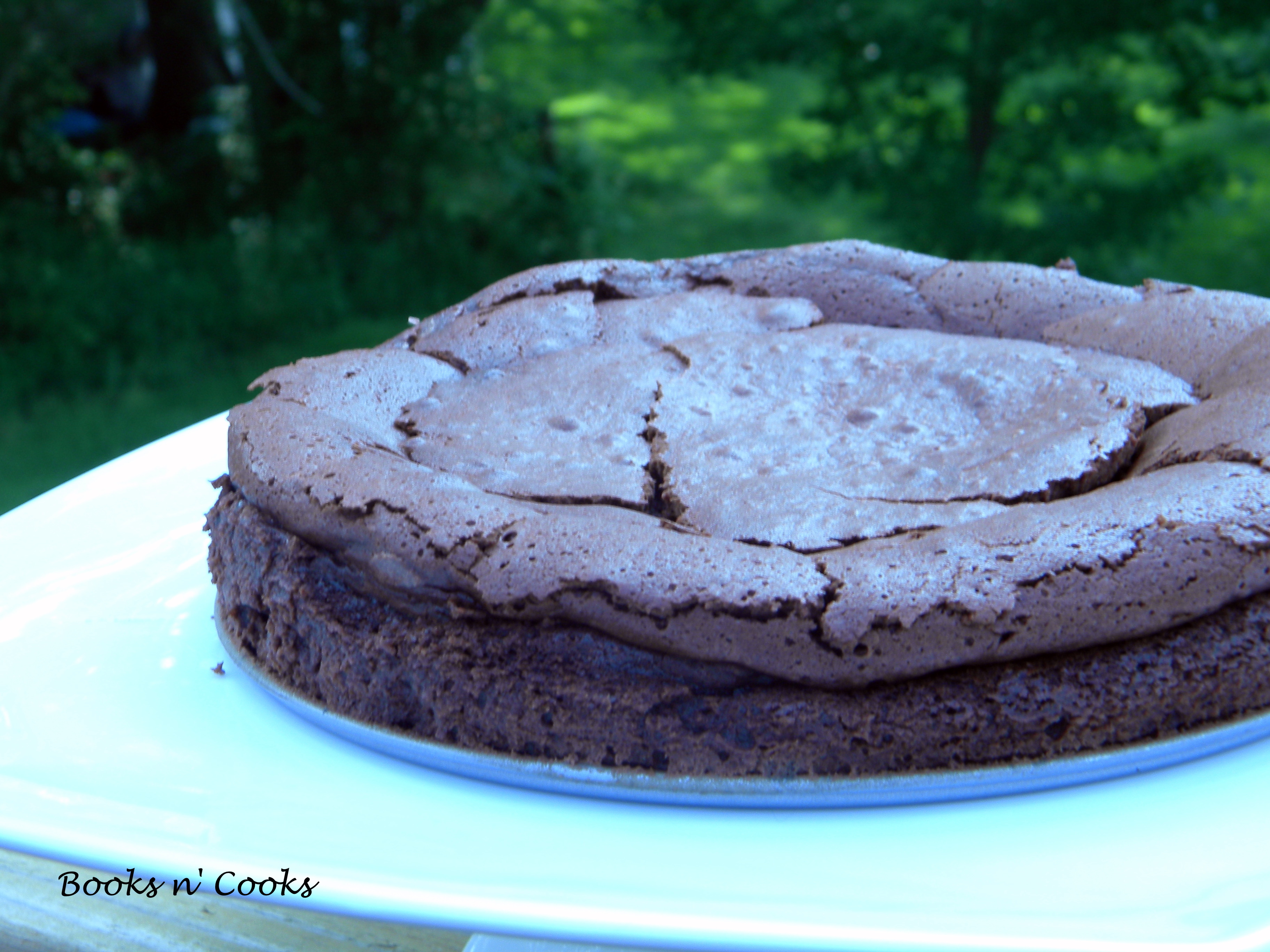 I have to thank my good friend S. for picking out this recipe. We were bumming around the house while our husbands were playing video games, and she decided that I was bringing dessert to her house over the weekend. I'm always happy for an excuse to try out a new recipe, and was thrilled when she picked one from How to Be A Domestic Goddess, a cookbook that has been sitting on my shelf for a couple of years. I've flipped through it, but this was the first time I've ever made anything from it. After this recipe, I'll definitely be going back to this book for more recipes.
This Chocolate Mousse Cake was super rich and fudgy. You can also skip the baking and just refrigerate the batter (chocolate mousse) in a bowl instead of baking it in a spring-form pan (and after licking the spatula, you may just want to do that!)
Chocolate Mousse Cake
Adapted from Nigella Lawson's How to Be A Domestic Goddess (p. 176)
Ingredients:
11 oz. good-quality bittersweet chocolate
2 oz. good-quality milk chocolate
3/4 c. unsalted butter
8 large eggs, separated
scant 1/2 c. light brown sugar
1/3 c. sugar
1 Tbs. vanilla extract
pinch of salt
confectioner's sugar, for dusting
Prep: Preheat oven to 350F and put a pot or kettle on to boil (if making cake).
Line the inside of a 9-inch spring-form pan with aluminum foil, being sure to smooth out wrinkles. (The cake is baked in a water bath, and this will prevent the water from getting inside the cake. I lined the outside of the pan with foil instead, simply because I didn't want to deal with pealing away the foil from the cake. There was a little water in the bottom, but none seemed to get into the cake.)
Make the Mousse: Melt chocolate and butter in a double boiler or in the microwave, stirring until smooth. Allow to cool slightly.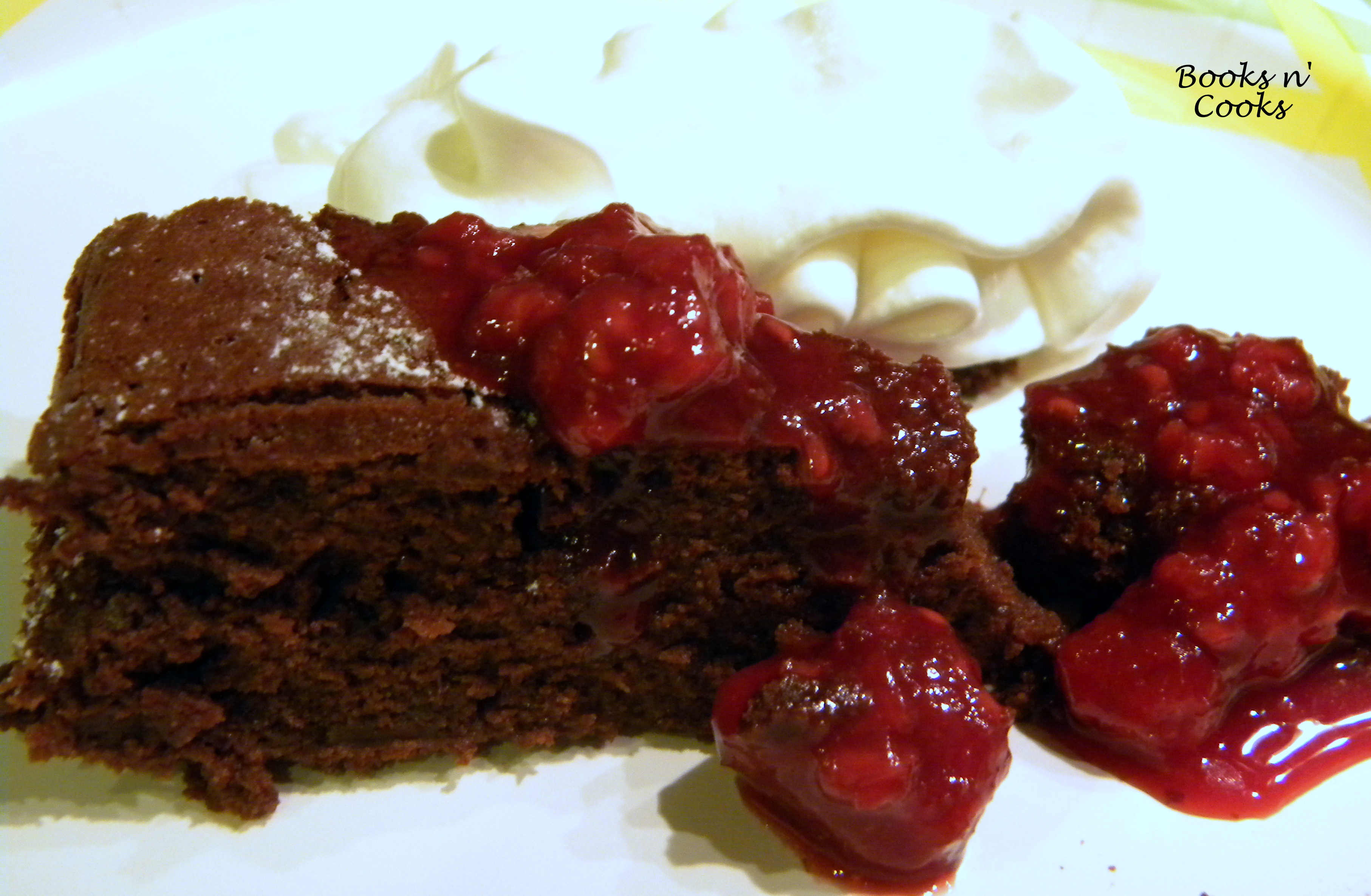 In a stand mixer fitted with the paddle attachment, beat egg yolks and butters on medium-high speed until creamy – when the paddle is lifted, the batter should fall in ribbons, about 5 minutes. Add in salt and vanilla. When combined, add in cooled chocolate. Scrape down sides and make sure chocolate is thoroughly incorporated (I found some left on the bottom of the bowl). Transfer to a large mixing bowl and set aside.
Clean the bowl, and with the whisk attachment, beat egg whites on high-speed until soft peaks form, about 5 minutes. Add in dollops to the chocolate mixture, folding in to lighten.
Mousse or Cake?
If making chocolate mousse, transfer mixture to a bowl and refrigerate.
If making cake, pour into the prepared spring-form pan. Place pan in a baking dish and add water – water should come about 1-inch up the sides of the pan. Bake 50-60 minutes, until top is dry and cooked, and inside is damp and mousse-like. (For me, at 50 minutes, the whole cake was a fudge-like consistency, so I recommend baking for 40 minutes and then re-evaluating from there). Remove from water bath and let cool completely on a drying rack. When cooled, release the pan and peel away foil.
Dust with confectioner's sugar and serve with whipped cream, raspberry sauce, or fresh fruit.