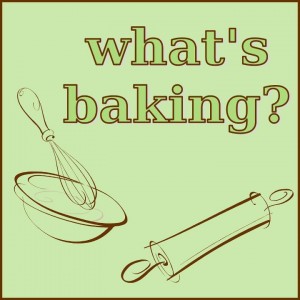 This month is my first to participate in a blogging event called What's Baking? Every month or two, a blogger will choose a theme, and the rest of us will bake something that fits in with the theme. It's a great way to try out new recipes, sometimes out of your comfort zone.
This month, the theme of "Heritage Dish" was chosen by Ali from Sparks from the Kitchen. This theme couldn't have come at a better time, as I recently saw my Polish grandparents. What's Baking? was the perfect excuse to make something that my grandpa always enjoyed – babka.
Babka is a sweet yeast bread or cake from Eastern Europe. Growing up, my family served the Jewish version, a bread (the cake version is associated with Christian Easter and other holidays). I don't recall anyone ever making it but it was ordered from bakeries a time or two around both Easter and Christmas.
This version is streaked with semisweet chocolate. My coworkers polished off two loaves of this bread before noon one day. My grandfather, however, was not as impressed. He reminded me every time he had a slice, that I should have used raisins in it, and that it was a little heavy. But he ate two or three slices a day, so it couldn't have been that bad. 🙂
Baking Note: The original recipe made 4 loaves of bread. I halved the recipe below, because even though it's freezable, four loaves is quite a lot. If you choose to freeze the dough, it can be frozen for up to a month. Defrost in the fridge 24-hours before using. Then roll out the dough, allow it to rest and rise, and bake.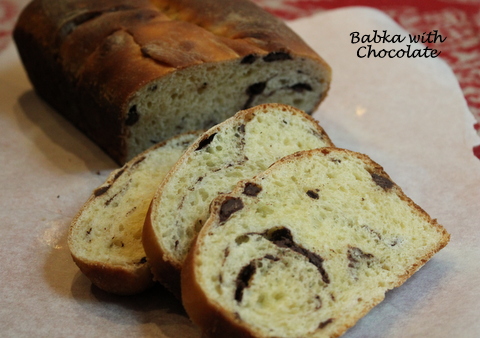 Chocolate-Flecked Babka
Adapted from Artisan Bread in Five Minutes a Day (by Jeff Hertzberg and Zoe Francois), p. 221
Makes 2 loaves
Ingredients: 
1 1/2 c. lukewarm milk
8 egg yolks
3/4 Tbs. granulated yeast (1 packet)
1 tsp. kosher salt
6 Tbs. unsalted butter, melted, plus more for greasing the pan
3 3/4 c. all-purpose flour
1 c. finely chopped or shaved semisweet (or bittersweet) chocolate
1/8 c. rum, divided (for soaking the bread)
In the bowl of a stand mixer, stir together milk, yolks, salt, and butter with a wooden spoon until fairly well combined. Attach bowl to mixer and fit with dough hook. Add flour and stir on speed 2 (the highest speed my mixer could handle using the dough hook) until all of the flour has been incorporated. The mixture will be fairly loose.
Cover loosely with plastic wrap and allow to rest at room temperature until the dough rises and collapses (or flattens on top), about 2 hours. (I tend to place the bread near the oven/stove, when it's turned on to help it along a little).
When the dough has risen, brush with half of the rum and refrigerate (still covered loosely with plastic wrap) until chilled.
Here, the dough can be refrigerated for up to 5 days, or frozen for up to a month. If using dough from the freezer, allow to defrost in the fridge for 24 hours before resuming recipe below. 
On baking day, grease a standard loaf pan and set aside. .
Lightly flour a work surface with flour. Remove dough from fridge and cut dough in half. Dust with flour and shape into a ball by stretching the surface of the below around to the bottom. Roll out into a rectangle, approximately 1/4-inch thick. Sprinkle the entire piece of the dough (including edges) with half of the shaved chocolate (1/2 c.). Roll into a log, starting at the short end. Fold the ends of the log into the middle, so that the ends meet. Place in prepared loaf pan and allow to rise and rest, about 2 hours.
Repeat with the second portion of dough, if you're baking both at once.
Shortly before before baking, ensure that a rack is in the center of the oven and preheat oven to 350F. Bake for 30-35 minutes, until golden brown and firm.
Remove from the oven and brush with rum. Allow to rest for a few minutes before moving to a wire rack to cool completely.
Serve at room temperature.
Store, tightly wrapped, at room temperature.