Enjoy this sweet, crunchy granola by the handful for snack or atop a big bowl of yogurt for breakfast. Easy to make and easy to customize to taste, this Chocolate Coconut Granola is sure to please.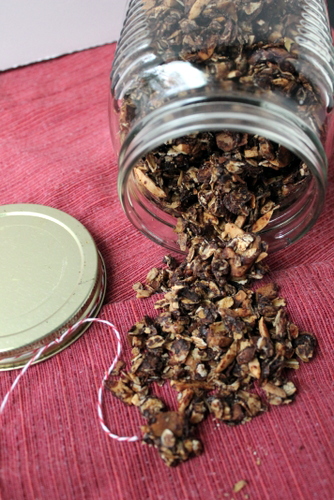 Disclaimer: Thank you to #Choctoberfest Sponsors  Barleans, The PinterTest Kitchen and our gold sponsor Imperial Sugar for providing prizes for #Choctoberfest free of charge. These companies, as well as sponsors Rodelle and Davis Chocolate also provided the bloggers with samples and product to use for #Choctoberfest . All opinions are my own.
Do you prefer your breakfasts sweet or savory? I enjoy sweet breakfasts – like pastries and cinnamon buns – but tend to find that I'm hungry an hour or two later. For that reason, I tend to enjoy savory breakfasts with a protein + carb combo. When I want to satisfy my sweet tooth while still having a fairly healthy breakfast, my default is to turn to granola.
Made at home, granola is not nearly hard as most of what you might purchase at the grocery store. It's actually quite easy to make and very easy to customize to your liking. This particular granola has a wonderful richness from the Rodelle cocoa powder, and sweetness from the Imperial Sugar and toffee pieces. There is a subtle coconut flavor from the coconut oil and the unsweetened coconut chips. Slivered almonds adds crunch and protein. Served with a bowl of your favorite yogurt and you have a sweet but relatively healthy (and filling!) breakfast.
This particular recipe is also a wonderful snack. I've been eating it by the handful instead of a piece of chocolate, to satisfy my post-dinner sweet tooth.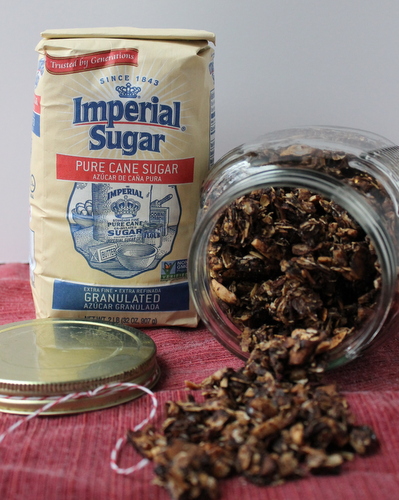 If you're not familiar with Imperial Sugar, I'd encourage you to check them out. Based in Texas, Imperial Sugar has been manufacturing and distributing sugar and sugar products to the US since 1843. Their sugar products are 100% natural and non-GMO. Check them out for great Halloween and holiday recipes for you to make and enjoy with your loved ones.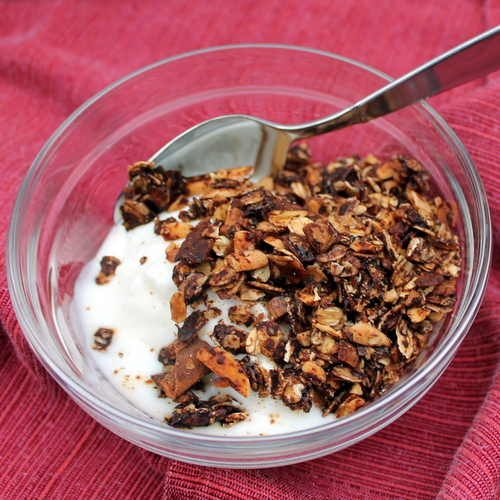 If you haven't entered the #Choctoberfest giveaway, be sure to scroll down and enter via the Rafflecopter. The prize pack is worth over $450 and includes enough sugar to keep you baking for the next year, as well as a $100 Williams Sonoma gift card, a set of Barlean's products and a HUGE bag of Lindt truffles. Full giveaway details here.
Print
Chocolate Coconut Granola
Enjoy this sweet, crunchy granola by the handful for snack or atop a big bowl of yogurt for breakfast. Easy to make and easy to customize to taste, this Chocolate Coconut Granola is sure to please.
Total Time
1
hour
5
minutes
Servings
5
cups of granola
Ingredients
1/4

c.

coconut oil

1

Tbs.

coconut oil

1/3

c.

cocoa powder

I used Rodelle

1/4

c.

honey

1/4

c.

granulated sugar

I used Imperial Sugar

pinch

sea salt

1/4

tsp.

vanilla extract

I used Rodelle

3

c.

oats

1/2

c.

slivered almonds

1

c.

unsweetened coconut chips

1/2

c.

toffee bits
Instructions
Preheat oven to 275F.

Line a baking sheet with aluminum foil or parchment paper. Grease with 1 Tbs. unmelted coconut oil and set aside.

In a small saucepan, melt 1/4 c. of coconut oil. Whisk in cocoa powder, honey, sugar and salt until sugar is melted and ingredients are thoroughly combined (whisking constantly). Remove from heat and add vanilla extract.

In a large mixing bowl, toss oats, silvered almonds, and coconut chips to combine. Add coconut oil-cocoa mixture and toss to coat.

Spread onto prepared baking sheet. Bake for 45-50 minutes until golden brown. Turn off oven and allow the tray to sit in the oven for another 30 minutes. Remove from oven and allow to cool completely.

Break granola into pieces. Toss with toffee bits and store in an airtight container.
Recipe Notes:
I actually tossed the toffee pieces in pre-baking. The end result was still a deliciously sweet  bite to complement the rick cocoa powder, however, the toffee was no longer individual pieces. Do whichever you please. 🙂 Although not intentional, I enjoy the granola with the melted toffee pieces in there.
This recipe was adapted from Bobby Flay.
Save
Save
Save
Save
Save
Save
Save
Save
Save