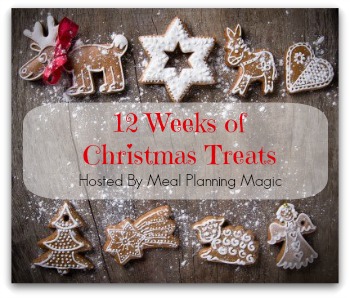 While Christmas is still 3 months away, I'm already making lists upon lists of recipes I want to make for the holiday season. There are care packages to send, a holiday party to plan for, and menus for Christmas Eve, Christmas, and whatever other days my family invade my parent's house. But let's be honest. Christmas is my favorite holiday and I probably start thinking about food to share, crafts to make, and gifts to purchase as early as July.
Thus, it should come as no surprise to you that I'm once again participating in the 12 Weeks of Christmas Treats, hosted by Meal Planning Magic. Over the next 12 weeks, I'll be sharing a holiday recipe for you to keep in your arsenal for your own holiday planning. Some items will get frozen for my own holiday plans, but more likely, my husband, coworkers, and friends will get treated to 12 weeks of Christmas Treats along with you. And now on to the recipe.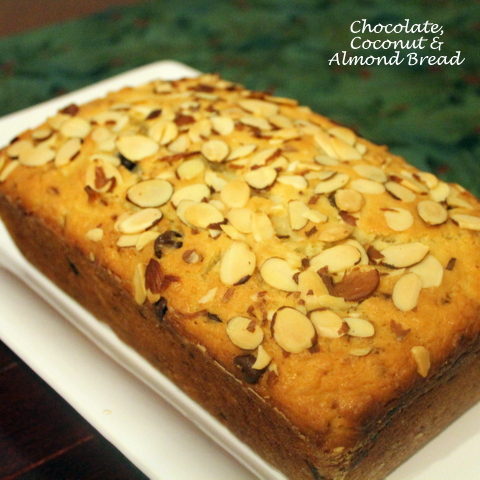 A few weeks ago, I received the latest (October/November) issue of Fine Cooking and flipping through it, I knew exactly which recipe I'd try first. Nope, it wasn't one of the featured holiday pumpkin desserts. I was going to try one of the flavor combinations in the quick bread article. I figure, the recipe is a great recipe to have in my repertoire for unexpected company or a last minute event. The version I made – chocolate, coconut, almond bread – was a tasty snack for afternoon coffee, but would also make a great dessert. I made two loaves, one of which I plan on shipping to a special someone (unless it gets eaten first!).
Chocolate, Coconut & Almond Bread
Adapted from Fine Cooking No. 125 (p. 68)
Makes 1 loaf
Ingredients: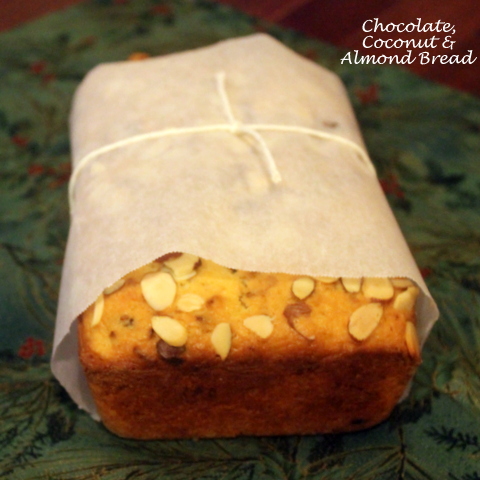 9 Tbs. (1 stick + 1 Tbs.) unsalted butter, divided
2 c. unbleached all-purpose flour, plus more for flouring pan
3/4 c. granulated sugar
1 Tbs. baking powder
3/4 tsp. salt
1 c. unsweetened coconut milk
2 large eggs, at room temperature
1 tsp. vanilla extract
1/2 tsp. almond extract
1 c. sweetened, shredded coconut, toasted
3/4 c. semisweet chocolate chips
1/3 – 1/2 c. slivered almonds
Preheat oven to 350.
In a small bowl, melt 8 Tbs. (1 stick) of butter. Allow to cool.
Using 1 Tbs. butter, grease bottom and sides of a 9×5 inch loaf pan (if your butter isn't softened, you can melt it and grease the pan that way). Sprinkle with a little flour on bottom and sides of buttered pan, tapping pan to move around flour, ensuring that pan is completely covered. Tap out excess flour over the sink. Set aside.
In a large mixing bowl, whisk together flour, sugar, baking powder and salt. In a small bowl, whisk together coconut milk, eggs, vanilla extract, and almond extract. Pour milk mixture and melted butter over dry ingredients and briefly stir with a rubber spatula until most of the wet ingredients are incorporated. Some dry streak are ok. Add toasted coconut and chocolate chips and stir until all ingredients are fulling incorporated.
Pour batter into prepared pan. Top with slivered almonds.
Bake for 45-55 minutes, until top is golden and a toothpick inserted into center comes out clean. Remove from oven and allow to cool on a wire rack for 30 minutes. Remove from pan and return to rack to cool completely.