This summer, my best friend moved from one side of the city to the other. While moving is never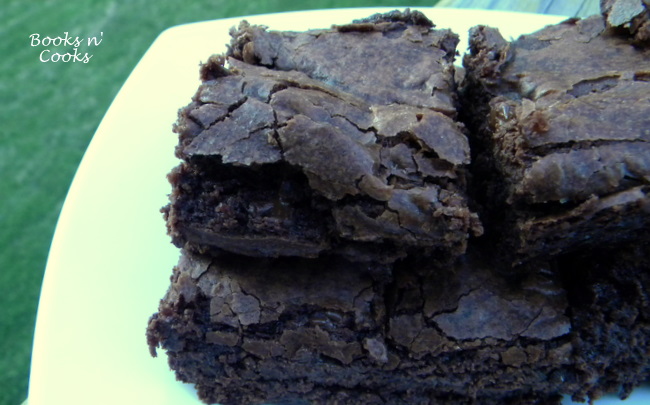 fun, I'm selfish and loved every minute of it. But that's because she moved 5 minutes away from me. I get to see her so much more often than I used to. So close that despite our busy schedules, there's always time for an evening glass of wine. But, knowing how stressed out my bestie was about moving (and starting a new job), I decided to make her a little moving in package – homemade hot chocolate mix and a batch of homemade brownies. Now, I'm not even a big fan of brownies, but these? These were amazing. I allowed myself one out of the pan – gotta make sure it's good enough to gift and to blog, right?. My own little brownie was covered in chopped up walnuts and was gone much faster than I would have liked. These bad boys turned a non-brownie eater into a brownie eater.
Chocolate Chunk Fudge Brownies
Adapted from Fine Cooking No. 76 (p 59)
Makes a 8×8 (or 9×9) pan, about 9 brownies
Ingredients:
3/4 c. unsalted butter, plus more for pan
2/3 c. unsweetened cocoa powder
1 2/3 c. granulated sugar
1/4 tsp. salt
2 large eggs
1 tsp. vanilla extract
1 c. all-purpose flour
4 oz. (3/4 c.) coarsely chopped semisweet or bittersweet chocolate
1/2 c. coarsely chopped walnuts (optional)
Preheat oven to 350°F.
Butter bottom and sides of a 8×8 or 9×9 inch Pyrex or baking pan.Line with parchment paper and butter again. Set aside.
In a medium sauce pan over medium heat, melt butter. Remove from heat. Whisk in the following ingredients, one at a time. The mixture should be smooth before adding the following ingredient:
cocoa
sugar & salt
1 egg
2nd egg & vanilla
Switch to a rubber spatula and sprinkle in flour. Stir until just blended.
Add chopped chocolate, stirring until combined.
Pour batter into prepared baking pan. Sprinkle with nuts, if using.
Bake 33-38 minutes, until a toothpick inserted into center comes out with a little bit of clumps stuck to it. Don't overbake or brownies won't be fudgy. Remove from oven and transfer to a wire rack to cool completely.
When cool, use the parchment paper to lift brownies from pan. Cut into 9 pieces, peeling each piece from the parchment paper.
Enjoy!