It's just barely September and I'm ready for fall. I'm ready for warm soups and stews, comfort food like meatloaf and pasta. Unfortunately, the weather here doesn't agree with me. With the exception of a couple of cool days following some storms, it's still been 90+ degrees pretty regularly.
But I don't care. I've been craving soup. And the moment I told my hubby that we were having Chicken Enchilada Soup for dinner, at 3pm, he couldn't stop asking when it was going to be ready. We really enjoy this recipe, one that I had found last year and never got around to photographing. It's quick and easy. It's healthy, even when I deviate from original recipe (minus the tortilla chips). It's adaptable – use up leftover veggies, add extra chicken for a heartier soup, add extra kick with an additional chipotle. Make it your own. And it freezes beautifully – important for me this past week, as I was making a double batch so that I could deliver some to friends with a newborn.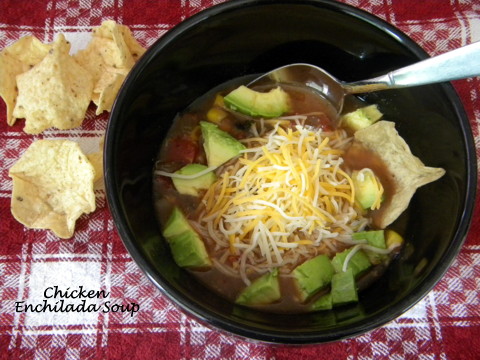 Below, I included both directions for making this in a crock pot as well as making it on the stove-top.
Chicken Enchilada Soup
Adapted from Skinny Taste
Serves 6
2 tsp. olive oil
1/2 onion, roughly chopped
3 cloves garlic, minced
3 c. low-sodium fat-free chicken broth
8 oz. can tomato sauce
1 chipotle chili in adobo sauce*
1/4 c. chopped fresh cilantro or 3 Tbs. freeze-dried cilantro
 15 oz. can black beans, rinsed and drained
14.5 oz. can petite diced tomatoes
2 c. frozen corn
1 tsp. cumin
1/2 tsp. dried oregano
2 to 3 skinless chicken breasts – raw for the crock pot or cooked & shredded (roughly 3 c. if you're using leftover chicken) for the stove-top
Optional toppings: additional cilantro, scallions, shredded cheddar or Mexican cheese, diced avocado, sour cream, tortilla chips
* Tip: Freeze extra chipotles in ziplock baggies for future use. One or two chipotles in a bag, and they defrost in 5 minutes or so on the counter.
Directions for the Crock Pot:
In a small saucepan over medium-low heat, heat oil. When hot, add onion, garlic, and chipotle. Saute until soft and onions are translucent, about 5 minutes.
While above is cooking, add remaining ingredients to a crock pot. Then add onion saute. Give a quick stir, ensuring that the chicken breasts are completely covered. Cover crock pot and cook on low heat for 4-6 hours.
Remove chicken from crock pot and shred with a fork. Return to crock pot. Give a quick stir, and cook on high heat for 5-10 minutes, just long enough to warm up the chicken (if it cooled while shredding) and the soup (if it switched to low heat after cooking for the 4-6 hours).
Directions for the Stove-Top:
In a large pot over medium-low heat, heat oil. When hot, add onion, garlic, and chipotle. Saute until soft and onions are translucent, about 5 minutes. Add remaining ingredients (including cooked, shredded chicken) to a saucepan. Give a quick stir. Bring to a boil and lower heat to a simmer. Cook for 30 minutes, until soup is hot and flavors have melded together.
Serve hot with your choice of toppings.