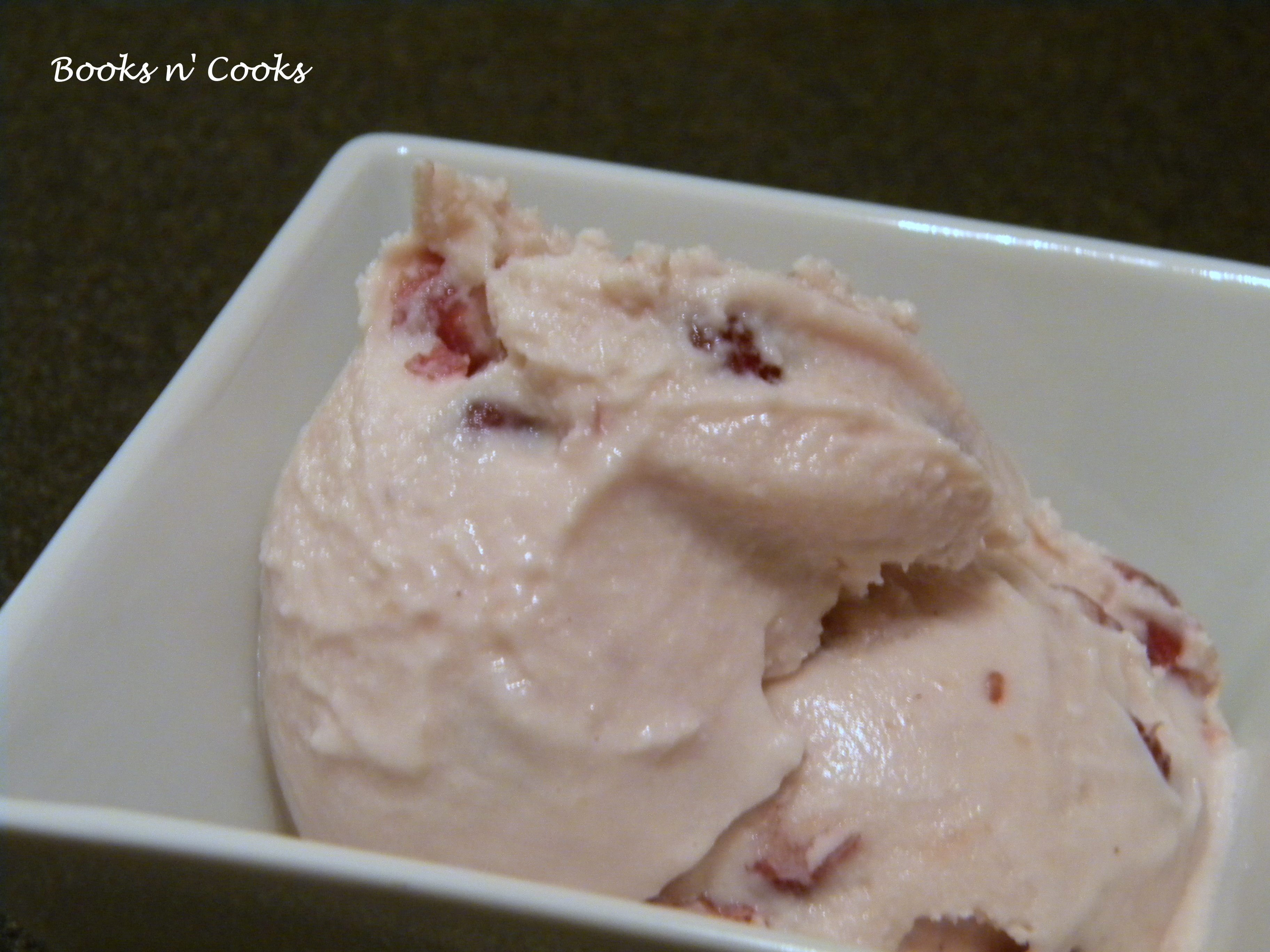 So I completely improvised on this one. Got home, intending to make it, and pretty much didn't have anything right. I thought I had bourbon in the liquor cabinet… nope. Whiskey and Irish Whiskey but no bourbon. Had a hard time finding dried cherries so I used dried cranberries.
The ice cream came out wonderful, soft and creamy, and I'm definitely going to make it again. But bear in mind, from end to end, the ice cream takes 4 days to make (2 days for soaking the cranberries, a day to heat the ice cream, refrigerate overnight, and then freeze). Sooo worth it!
Cherry Bourbon Ice Cream, Adapted
aka Cranberry Irish Cream Ice Cream

Adapted from Alton Brown recipe via Joy the Baker
Yields 1 quart of ice cream
Ingredients:
2 c. half and half
1 c. whipping cream
3/4 c. granulated sugar
2 Tbs. cherry preserves (I used 2 Tbs. raspberry preserves)
1 vanilla bean, split and scraped (I used 1/2 Tbs. vanilla extract)
1/2 c. dried cherries (I used dried cranberries)
1-2 c. bourbon (I used 1-1/4 c. Irish Whiskey.)
Day 1 & 2: Soak dried cherries (or cranberries) in about a cup of bourbon (or Irish Whiskey) in an airtight container for two days.
Day 3: Strain cherries/cranberries, saving bourbon/Irish Whiskey. Chop cherries/cranberries and set aside. Set 2-4 Tbs. of the bourbon/Irish Whiskey on the side for the ice cream. (You can pour the rest over ice and sip while starting on the ice cream).
Leaving the cherries/cranberries and the liquor on the side, combine all other ingredients in a large saucepan over medium heat. Heat, stirring occasionally, until the cream mixture reaches 170F. According to Joy the Baker, don't worry if the milk breaks a bit – it'll still work out.
When the cream reaches 170F, remove from heat and cool slightly. Add liquor and cherries/cranberries. Stir to combine. Pour mixture into an airtight container and refrigerate overnight, allowing "the flavors to mellow and improve the texture of the milk."
Day 4: Freeze ice cream in an ice cream maker according to manufacturer's instructions. For my Kitchen Aid mixer, set the mixer on Stir for 15-20 minutes.
Freeze mixture in an ice cream maker according to the manufacturer's instructions. The mixture will not freeze hard in the machine but will increase in volume and be the texture of soft serve ice cream. Place the mixture in a container with a lid and freeze for at lease one hour before serving.