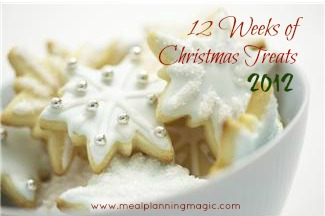 It's the final week of the 12 Weeks of Christmas and I hope that this series of posts gave you some inspiration for your holiday care packages, gifts, parties, and entertaining. I really enjoyed trying out a whole bunch of new recipes and getting the opportunity to remake (and blog!) some tasty recipes from the past. Thanks to Meal Planning Magic for hosting this event – I look forward to participating again next year!
If you missed any of the previous weeks of Christmas treats, check them out:
Cinnamon Sugar Pretzels
Salted Caramel Hot Chocolate (Mix)
New York Style Crumb Cake
Snickerdoodles
Brown Sugar, Pecan & Kahlua Baked Brie
Pretzel S'mores
Bourbon Balls
Lemon Cranberry Cake
Cafe Chocolate Cherry Bites (Cookies)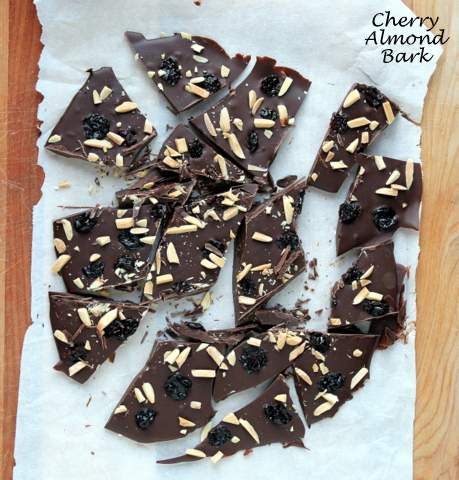 In the above photo, I used 1/4 c. slivered almonds and whole dried cherries. While I enjoyed it, next time I will chop the almonds and cherries and probably add a bit more. I especially loved the tart bite of cherries and wanted more of that!
Cherry Almond Bark
By Books n' Cooks
Makes a 9×9 in. pan
Ingredients:
12 oz. chocolate, chopped (I prefer semisweet or bittersweet or a combination of the two, but you can certainly use white chocolate if that's your favorite)
1/4 – 1/2 c. slivered almonds, toasted (chop if desired)
1/4 – 1/2 c. dried cherries, whole or chopped
Line a 9×9 in. pan with parchment paper.
In a microwave safe bowl (or a double broiler), heat chocolate at 30-45 second intervals, stirring and heating, until chocolate is melted and smooth. Pour into prepared pan. Sprinkle with toasted almonds and dried cherries. Refrigerate until set. Break into pieces with a sharp knife.