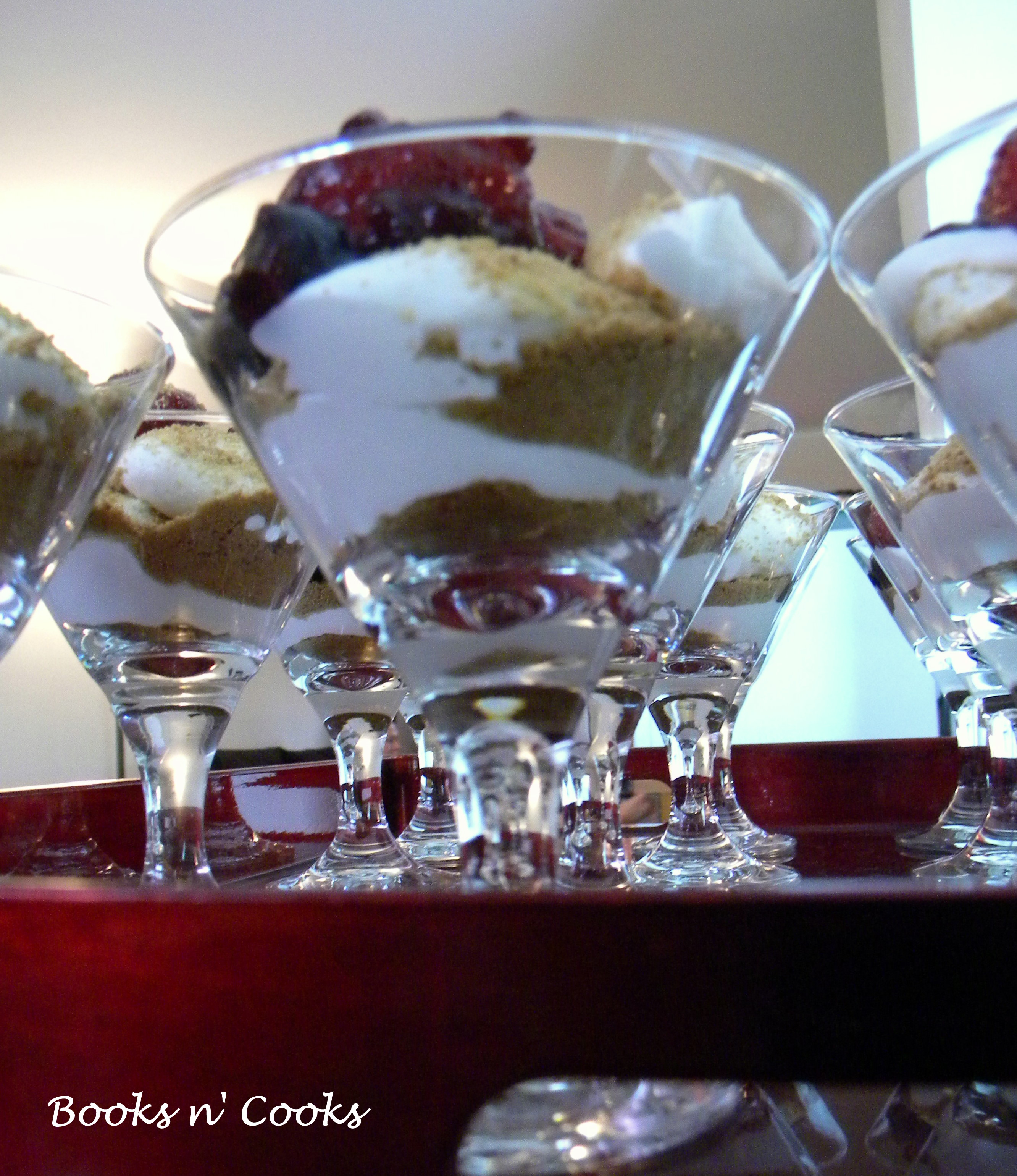 I don't think there's any question what my hubby's favorite dessert is – cheesecake. It's the creaminess that he loves, while I could be happy just eating the graham cracker crust.
When last month's Barefoot Bloggers pick was Ina's Mixed Berry Cheesecake, I had mixed feelings. While I knew the hubby would love it (and so would I – Ina's cheesecakes are amazing!), I wanted something a little lighter. Hence, this cheesecake mousse was born.
Light and airy, these little desserts were a huge hit. I served the mousse, layered with graham cracker crumbs and topped with Ina's mixed berry sauce. An easy dessert but dressed up in the mini martini glass tasting set from Pier 1 Imports, it looked quite impressive.
Cheesecake Mousse
By Books n' Cooks
Ingredients:
4 graham crackers, finely ground
4 oz. cream cheese
1/2 c. heavy whipping cream
1/3 c. sugar
1/2 tsp. vanilla extract
pinch of salt
In a stand mixer fitted with the paddle attachment, combine cream cheese, sugar, salt, and vanilla extract. Set aside.
Switch to whisk attachment and in a clean bowl, whisk heavy cream on high until stiff peaks are formed. Fold into cream cheese mixture. Portion into serving glasses or bowls, layering the mousse and the graham cracker crumbs. Top with berry sauce below.
Refrigerate if not serving immediately.
Berry Sauce
Adapted from Ina Garten
Ingredients:
1 pint mixed berries (raspberries, blueberries, black berries)
1/2 c. red jelly
In a small saucepan over medium-low heat, melt jelly. Remove from heat and toss with berries. Top cheesecake mousse and refrigerate until ready to serve.