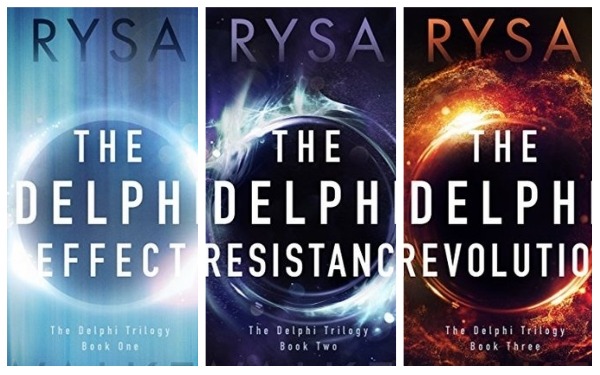 {Book Review}
The Delphi Trilogy
By Rysa Walker
The Delphi Trilogy consists of three books:
The Delphi Effect
The Delphi Resistance
The Delphi Revolution
There is also a novella – The Abandoned: A Delphi Novella (#2.5) that I did not read prior to writing this review. (The novella is available on Amazon's Kindle Unlimited – see affiliate link at the bottom of this review – but I read several of Walker's short stories and novellas that were paired with previous series, and enjoyed them thoroughly. The short stories and novellas usually provided insight into the lives of secondary characters.)
Do you believe in psychic powers?
The world in 2019 didn't either, until presidential candidate Senator Ron Cregg showed the world what a couple of kids were capable of on national television. Not only did Cregg reveal that psychic powers were real and potentially very dangerous, but he revealed that psychics were created by a mix of military and governmental programs, most commonly known as the Delphi Project. Cregg's revelations terrified the nation, creating an environment of fear and mistrust that just kept growing.