The Paris Seamstress packs in mystery, intrigue and romance in two intertwined timelines, present day and World War II, from New York to Paris.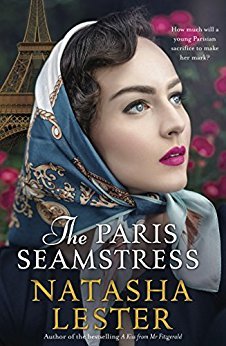 The Paris Seamstress by Natasha Lester
It's 1940 and the Nazi army is approaching Paris. Seamstress Estella Bissette finds herself in the wrong place at the wrong time. Within just 24-hours, her world is turned upside down, with new truths revealed about her family and herself. Her mother forces her to flee. Estella boards one of the last ships to the U.S. before the Nazis reach Paris.
Estella arrives in New York City with little money, her mother's sewing machine, and the gorgeous gold dress that she wears. Her mother dreamed of her safety and her success as a seamstress and a designer – but can she do it alone? And what will her journey look like?