Full of good-for-you veggies, beans and lean ground turkey, this Taco Soup is both healthy and full of flavor!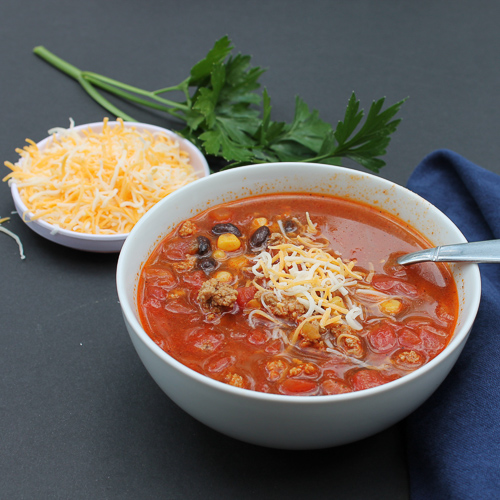 This year, my oldest started kindergarten. Oh, how the time has flown by. It's still hard for me to believe that my sweet and sassy little girl is getting on a school bus each and every morning.
We're a week in and so far, so good. We've more or less seamlessly transitioned from one daycare stop to two different stops each morning and afternoon. I'm dropping a few hours at work which is helping me find time to keep up with two different school schedules plus evening swim lessons, as well as housework and feeding the family.
For me, the start of the school year was also the start of refocusing on ME. Like so many working parents out there, I've been struggling to keep up with everything and focusing on myself has not been the priority. Well, no more. New school year, new routine. With some adjustments to mealtime and a little extra prep before school started (big thanks to my mom who helped with this!), I've managed to have a healthy meal prepared for my husband and I for both lunch and dinner for the past week. I've even managed to get in a few workouts – go me!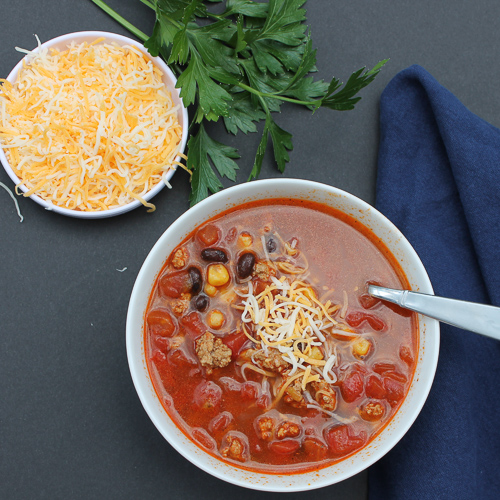 While it feels strange to be posting a soup in September, when it's still 90F almost every day…. this Taco Soup is healthy and fairly quick to whip up (30-minute meal!), making it a fairly frequent star of our dinner table. Or my lunchbox. (Gotta love leftovers. 🙂 ) This soup is highly customizable, as you'll see below in the Recipe Notes below, and full of flavor. Try it now to help you get through busy weeknights or save it off for later, when the weather finally cools off but either way, this is a recipe to remember.
Recipe Notes, Tips, & Serving Suggestions
I use

homemade taco seasoning

in this recipe. It's easy to make (takes just a few minutes), keeps well, and I know exactly what is in it. However, you can totally buy a packet of taco seasoning at the grocery store – one packet is about 3 Tbs., the quantity you need for this recipe.
I've made this recipe with both lean ground beef as well as lean ground turkey. Feel free to use whichever you prefer.
Likewise, feel free to adjust the veggies and beans to your preferences. If you increase the quantities of everything, you'll need more chicken broth and probably a bit more taco seasoning, but the soup is highly customizable so play around and taste as you go!
Toppings: Top with your favorite taco toppings – shredded Mexican or cheddar cheese, sour cream, chives, jalapenos… even fresh avocado.
Serving Suggestions: I find the soup is hearty on its own, but if you'd like, serve it with tortilla chips or corn bread.
This recipe freezes well, if you're looking to stock your freezer with healthy meals for busy weeknights.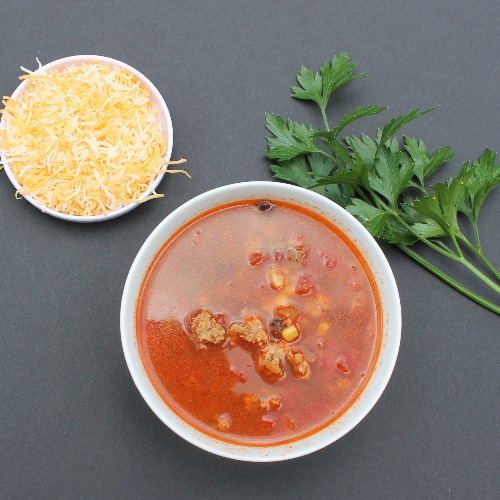 Print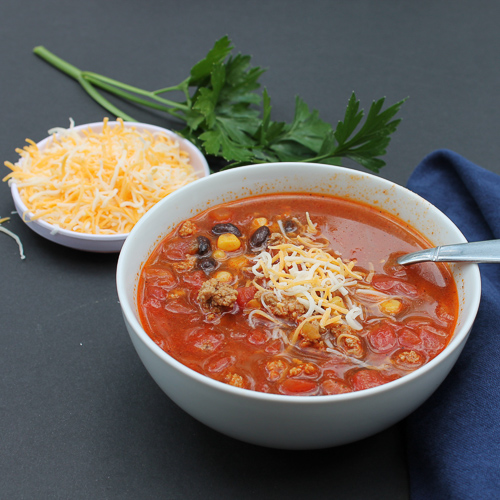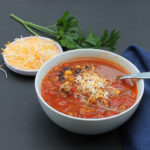 Taco Soup
Full of good-for-you veggies, beans and lean ground turkey, this Taco Soup is both healthy and full of flavor!
Ingredients
1

lb.

lean ground turkey

3

Tbs. (one store-bought packet)

taco seasoning

divided

1

14.5-oz.

can diced tomatoes & green chiles

1

15-oz.

can corn

drained

1

15-oz.

can black beans

drained and rinsed

32

oz.

low-sodium chicken broth
Instructions
In a medium pot set over medium heat, brown ground turkey, breaking into little pieces as it cooks, about 10 minutes.

Drain any fat in the pot and return to stove. Sprinkle with 1 1/2 Tbs. of taco seasoning. Stir to coat ground turkey evenly.

To pot, add diced tomatoes, corn, beans, chicken broth, and remaining 1 1/2 Tbs. taco seasoning. Stir to combine.

Allow to cook for at least 15 minutes to allow flavors to meld, lowering heat if the soup starts to simmer or boil.

Serve hot with choice of toppings and sides.
A Books n' Cooks original.