Tart Granny Smith apples and sweet homemade caramel come together in an amazing fall jam. Caramel Apple Jam is a delicious topping for morning toast, the star of a classic PB&J, a compliment to appetizer cheese plates, and a surprising mix-in for fall cocktails.
This post is sponsored on behalf of #AppleWeek. Our generous sponsors, Swiss Diamond, Envy Apples, Imperial Sugar, Nordic Ware, Rodelle Vanilla, Flahavan's Irish Oatmeal, Nairn's and The Spice House have provided us with products for recipe creation and a giveaway for our readers. As always, all opinions are my own.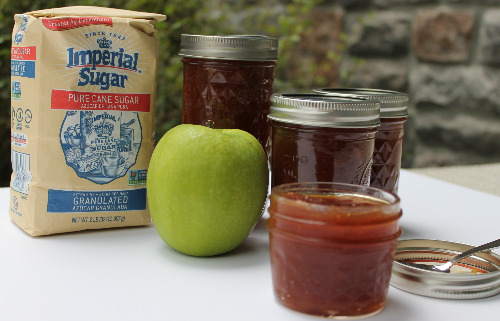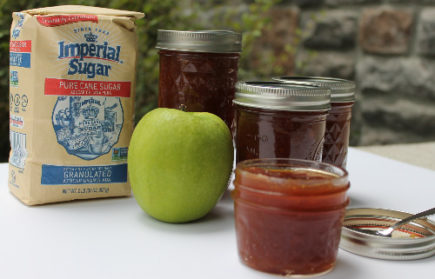 Over the past several years, I've really gotten to enjoy preserving summer and fall fruits. It's become an annual tradition where my parents and I take the kiddos strawberry picking. We pick 20+ pounds of strawberries and then make enough strawberry jam to feed our extended family for the year. And then we do it all over again. Sometimes we'll do blueberry and/or blackberry picking and jam making as as well, but strawberry season is our thing.
Usually, when I can with my mom, we use a canning method that involves sealing the jars with hot wax rather than in a water bath – it's how she learned to can from my grandmother. I dabbled in freezer jam with blackberry chia seed jam as well. I was initially nervous about trying the traditional water bath method, but to be honest, it's not hard. You just need to work quickly and carefully. I first tried this method a few years ago when I made apple butter and was pleasantly surprised how easy it was.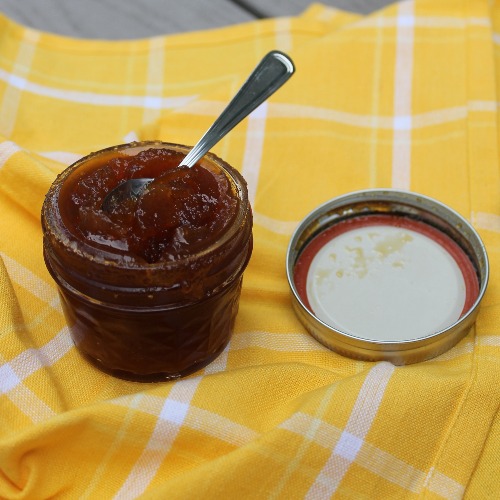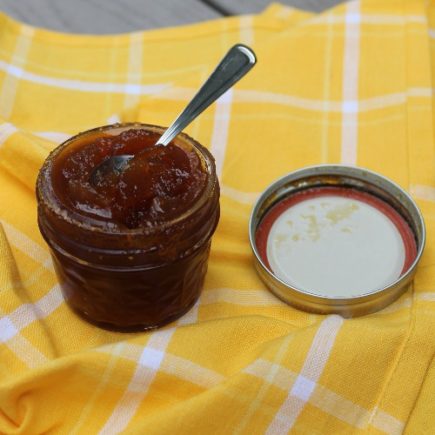 One thing about jam is that it takes a LOT of sugar. For this recipe, and most of the jam recipes I've made, I use sugar from our #AppleWeek sponsor Imperial Sugar. Imperial Sugar has been in home kitchens across the southwest since 1843. Today, the company's sugar products and sweeteners are 100% natural and non-GMO. You can explore their website or social media presence (Facebook, Twitter, Instagram, and Pinterest) for tons of recipe inspiration, baking tips, and craft projects (sugar scrubs!).
Anyway… back to jam. Caramel Apple Jam, specifically. This jam screams of fall. Because let's be honest, in terms of food, I pretty much think of apples in early fall, and cranberries in late fall. (Sorry friends, not a pumpkin lover, so no #AllThingsPumpkin on this blog. If you're into it, search #PumpkinWeek on social media for tons of recipes from my blogging friends.) This jam is made in 3 steps. You're basically making homemade apple sauce and homemade caramel, and then combining the two to create a wonderfully sweet Caramel Apple Jam.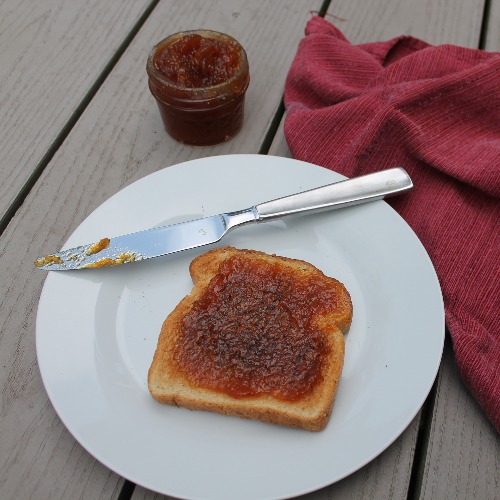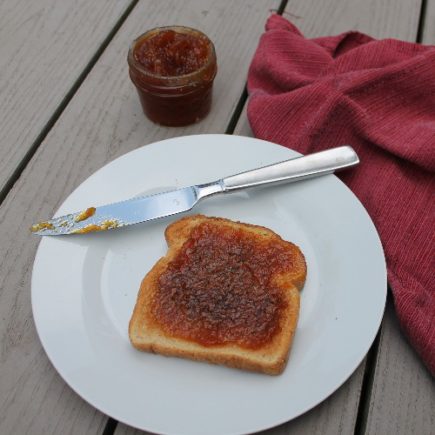 Serving Suggestions:
On top of toast or an English muffin for breakfast.
Mix in with yogurt.
Serve with Brie on top of freshly sliced bread or crackers. Or better yet, serve on top of baked Brie (either on its own or wrapped in puff pastry). Or in a grilled cheese with brie. Pretty much any time you use brie, this jam would taste delicious.
On a cheese tray. Not only does it compliment brie (can you tell it's a favorite of mine), but it would also pair well with cheddar.
On a lunchtime PB&J sandwich. (Tried & True! My Little Man has been enjoying these sandwiches for at least a month now!)
Use in cakes and tarts (new recipe on Friday!)
In a mocktail or cocktail – such as a Bloodhound Cocktail or an apple variation of this Moscow Mule.
Give as a hostess gift for fall/winter parties.
Don't Forget!
Be sure to scroll down and take a look under the recipe and check out the other #AppleWeek recipes that went live today.
Check out Imperial Sugar at the links above.
Finally, be sure to enter the #AppleWeek giveaway – for several great prizes – at the Rafflecopter below (edit: Rafflecopter was removed after the giveaway ended for improved reader experience). There are multiple ways to enter and multiple prizes (description of each prize is listed here) so be sure to throw your name in the ring!
Print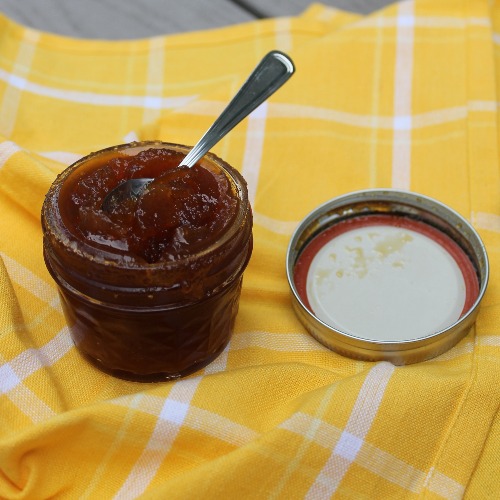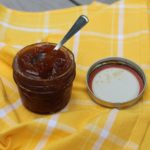 Caramel Apple Jam
Tart Granny Smith apples and sweet homemade caramel come together in an amazing fall jam. Caramel Apple Jam is a delicious topping for morning toast, PB&J star, compliment to appetizer cheese plates, and a surprising mix-in for fall cocktails.
Ingredients
4

lbs.

tart apples

such as Granny Smith apples (8-10 apples), cored and cut into 1-inch pieces

1 1/4

c.

water

divided

2

Tbs.

lemon juice

3

c.

granulated sugar

1

c.

light brown sugar

1

Tbs.

unsalted butter

1

Tbs.

vanilla extract
Instructions
Make the Apple Sauce
Place apples, 1/2 c. water and lemon juice in a large pot. Bring to a boil. Lower heat and simmer, covered, for about 30 minutes, stirring occasionally. Simmer until apples are very soft. Remove from heat.

Press apples through a food mill, sieve, or (my personal choice) a spider skimmer. You need 5 cups of pulp, the texture of apple sauce. Set pulp aside and discard skins and anything leftover.
Make the Caramel
Place granulated sugar in an even layer in a 6 to 8 quart Dutch oven or other heavy-bottomed pot. Heat over medium-high heat until sugar starts to melt, gently shaking the pots back and forth if needed but don't stir. When sugar starts to melt, lower heat to medium-low. Allow to cook for another 5-10 minutes, stirring frequently with a wooden spoon, until sugar is melted and golden.
Turn Caramel Into Jam
Carefully, add remaining 3/4 c. water to the caramel already on the stove. Beware of mixture bubbling. Caramel will then seize up but keep cooking and stirring until caramel melts again, and is the same consistency throughout.

Add apple purée and brown sugar - again, mixture will bubble. Stir until sugar has been dissolved. Bring to a boil and allow mixture to boil for another 10 minutes, stirring frequently. (As mixture is boiling, now is a good time to start bring the water for the hot water bath to a boil.) Mixture should reduce to about 6 cups. Remove from heat and stir in butter and vanilla.

Quickly ladle into sanitized canning jars, leaving top 1/4-inch empty. Wipe rims. Put on lids and seal with bands.

Transfer jars to a pot filled with boiling water. Allow to process in boiling water for 10 minutes. If water stops boiling when adding the jars, bring to a boil again and then start 10 minute timer.

Remove jars and set on a towel-lined baking sheet or a wire rack to cool. Check to confirm jars sealed - if any did not, immediately put the jar in the fridge to use immediately.
Recipe Notes
Feel free to make apple sauce mixture and caramel at the same time. I was nervous about burning the caramel (a bad habit of mine) so didn't.
If the jam doesn't set immediately, allow it to sit for 24-28 hours in a cool place. If the extra time doesn't help, pop it in the fridge overnight. The time in the fridge should allow the jam to set. You can remove it from the fridge and store it normally, once the jam has set.
This recipe was adapted from Better Homes and Gardens.
Today's Apple Week Recipes:
The Rafflecopter was removed in Sept. 2021, after the giveaway had ended, for improved reader experience.
Disclaimer: Thank you AppleWeek Sponsors: Swiss Diamond, Nordic Ware, Envy Apples, Imperial Sugar, The Spice House, Rodelle Vanilla, Flahavan's Irish Oats and Nairn's for providing the prizes free of charge. These companies also provided the bloggers with samples and product to use for AppleWeek recipes. All opinions are my own. The AppleWeek giveaway is open to U.S. residents, age 18 & up. All entries for the winner will be checked and verified. By entering you give the right to use your name and likeness. The number of entries received determines the odds of winning. Seven (7) winners will be selected. The prize packages will be sent directly from the giveaway sponsors. The AppleWeek Bloggers are not responsible for the fulfillment or delivery of the prize packages. Bloggers hosting this giveaway and their immediate family members in their household cannot enter or win the giveaway. No purchase necessary. Void where prohibited by law. This promotion is in no way sponsored, endorsed or administered by, or associated with Facebook, Instagram, Pinterest, Twitter or any other social channel mentioned in the AppleWeek posts or entry.