These nuts are easy to make and crazy addictive. Try them for an easy holiday munchie.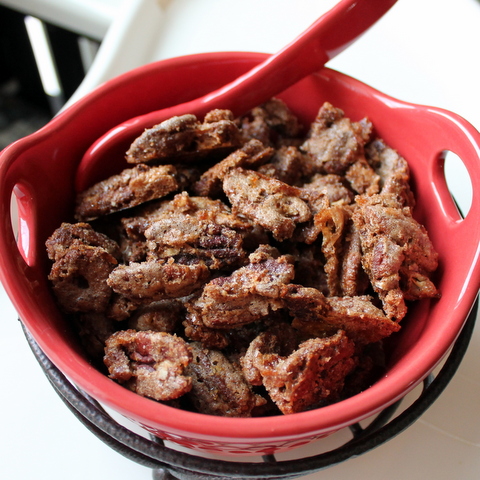 Candied Pecans
Adapted from Joy the Baker
Makes ~3 cups of candied pecans
Ingredients:
1 egg white
1/2 c. granulated sugar
1 tsp. cinnamon
1/2 tsp. nutmeg
1/2 tsp. salt
1/8 tsp. cayenne
2 c. pecan halves
Preheat oven to 300F. Line a baking sheet with parchment paper and set aside.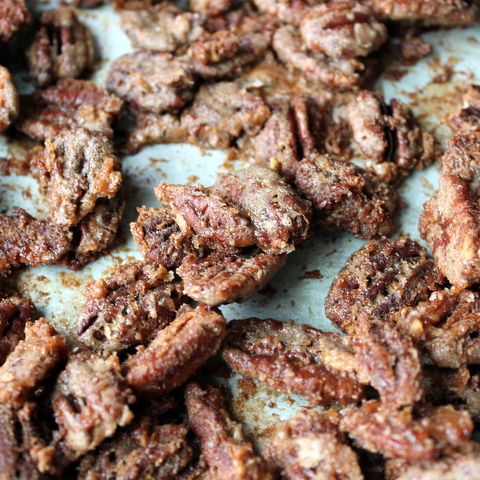 In a medium bowl, whisk egg white until bubbly and starting to foam, 2-3 minutes. Whisk in sugar, cinnamon, nutmeg, salt, and cayenne. Fold in pecans, ensuring they're completely coated.
Spread pecans in a single layer onto prepared baking sheet. Bake 30-35 minutes until toasted and golden brown.
Remove from oven. Allow to cool on baking sheet, before breaking into pieces.
Store in an airtight container at room temperature. Nuts will keep for at least a week.