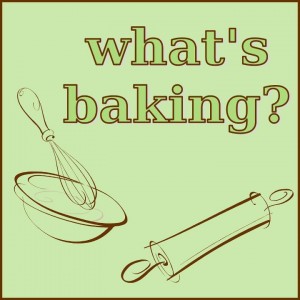 Over the past few years, I've come to really enjoy entertaining for breakfast, or brunch. I tend to make easy, no-fuss items, but my guests are always pleasantly surprised with whatever I make. (Maybe they're expecting me to pick up bagels the morning of?)
I have several go-to choices for brunch entertaining – frittatas and oven-baked eggs, scones, fresh fruit served with yogurt and homemade granola, and biscotti. While biscotti is really a cookie, I love to serve it at breakfast (or squirrel myself a couple pieces for my afternoon pick-me-up) with a steaming cup of coffee. So I was super excited when Coleen from The Redhead Baker chose biscotti for this month's theme for What's Baking?.
As soon as I spotted this recipe for candied pecan biscotti in my bookmarks, I knew I had to make it. It reminded me of pecan pies and late fall. The recipe didn't disappoint. I expected a super strong cinnamon flavor, but it was fairly faint, with the sweetness of the candied pecans shining through.
What's your favorite type of biscotti?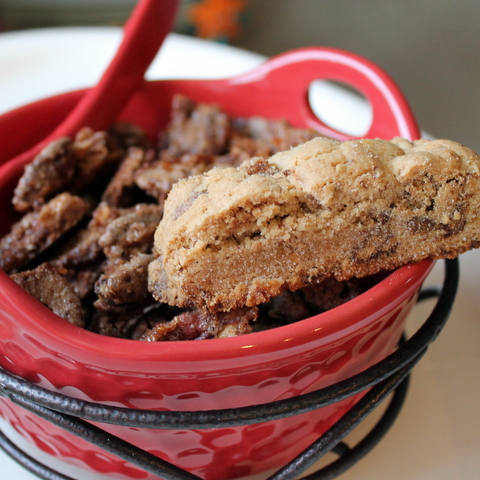 Candied Pecan Biscotti
Adapted from Joy the Baker
Makes 2 dozen biscotti
Ingredients:
2 c. all-purpose flour
3/4 tsp. ground cinnamon
1/2 tsp. ground nutmeg
1 tsp. baking powder
1/2 tsp. salt
1 c. granulated sugar
6 Tbs. unsalted butter, at room temperature
1 egg
1 egg yolk
1 tsp. vanilla extract
1 1/2 c. candied pecans, coarsely chopped
(optional) cinnamon-sugar for sprinkling
Preheat oven to 325F. Line two baking sheets with parchment paper and set aside.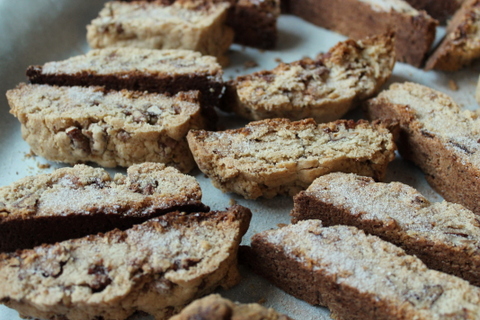 In a stand mixer fitted with the paddle attachment, beat butter and sugar together until light and fluffy, about 4 minutes. Lower speed and add egg, egg yolk, and vanilla, one at a time, scraping down sides of the bowl as necessary. Add flour, cinnamon, nutmeg, baking powder, and salt, a little at a time. Scrape down sides of the bowl, beating a little more if necessary. Dough will be stiff. Fold in candied pecans.
Divide dough into equal portions onto each baking sheet. Shape each into a long log, about 1 inch high.
Bake for 20 minutes. Rotate baking sheets and bake for another 20-25 minutes. Biscotti should be golden and firm to touch.
Remove from oven (don't turn the oven off!) and set on baking sheets to cool slightly. When cool enough to handle, cut into 1-inch wide pieces with a serrated knife. Place biscotti cut-side down on baking sheet. Sprinkle with half of the cinnamon sugar and bake for another 10 minutes. Flip over, sprinkle with the rest of the cinnamon sugar, and bake for a final 10 minutes. Biscotti will be golden brown.
Allow to cool slightly on baking sheet before moving to a wire rack to cool completely.
Store in an airtight container for up to a week.
Enjoy with a cup of coffee.