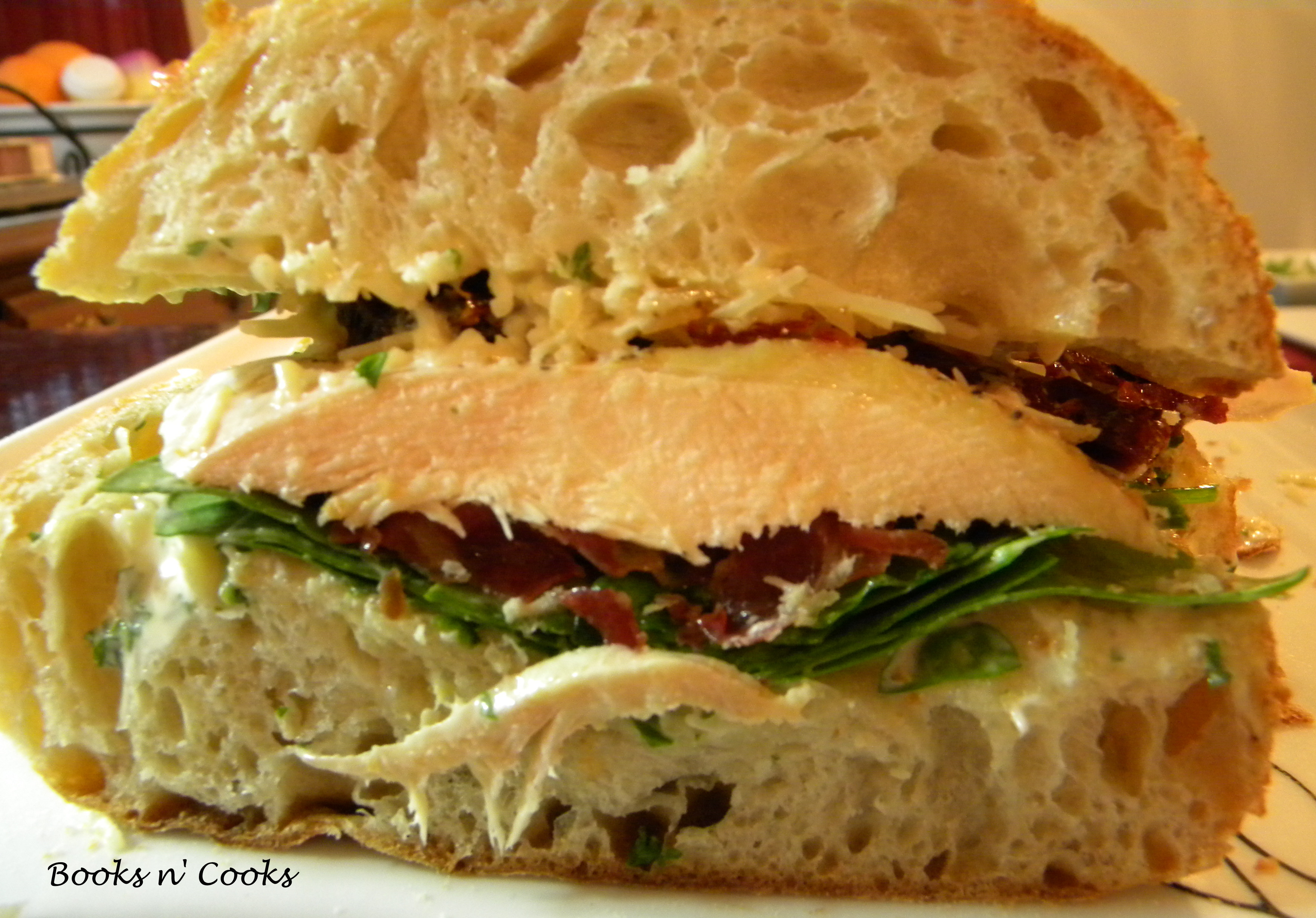 I was very excited when I saw that Karen of Shortbread chose Ina Garten's Caesar Club Sandwich for Barefoot Bloggers this month. I have come across this recipe a couple times and have been waiting to try it. I was not disappointed. The sandwich was amazing – easy and flavorful. The dressing tasted way better than any bottled Caesar dressing does (I made mine without the anchovy paste, which I couldn't find at my grocery store), and the sun-dried tomatoes were a surprising burst of flavor. I prepared everything ahead of time and assembled it shortly before my friends arrived. I have a feeling that my hubby will be adding this to his list of favorite dinners.
Caesar Club Sandwich
From Barefoot Contessa at Home and on Food Network
Ingredients for the Salad Dressing:
1 large garlic clove, minced
2 Tbs. finely chopped fresh flat-leaf parsley
1 1/2 tsp. anchovy paste
1 tsp. Dijon mustard
1 1/2 Tbs. freshly squeezed lemon juice
1/2 c. mayonnaise
Ingredients for the Sandwich:

1 whole chicken breast (bone in, skin on, and split) or leftover rotisserie chicken
Olive oil
Kosher salt
Freshly ground black pepper
4 oz. thinly sliced pancetta
1 large ciabatta bread, or other bread with a slightly crunchy crust
2 oz. arugula or spinach, washed and dried
12 sun-dried tomatoes, in oil
2-3 oz. Parmesan, shaved (I used shredded, since that's what we keep on hand)
Make the Chicken: Preheat the oven to 350F. Rub chicken with olive oil and sprinkle with salt and pepper. Place chicken on a rimmed baking sheet, skin side up, and roast 35-40 minutes, until cooked through. Cook slightly. Slice meat off bone and set aside.
I used left over chicken from an rotisserie chicken I made the night before, and that worked perfectly. This is a great way to use up leftovers!
Meanwhile, prepare other ingredients:
1. Make the Dressing: Combine all ingredients in a bowl and stir until smooth. Or, combine all ingredients in a food processor, processing until smooth.(Refrigerate if not using immediately.)
2. Place pancetta on a baking sheet and roast for 10-15 minutes, until crispy. Pat off grease with a paper towel and set aside.
3. Slice bread in half horizontally. Place on a baking sheet (cut-side up) or directly on wire oven racks. Toast for 5-7 minutes. Set aside to cool slightly.
Assemble the Sandwich
Spread Caesar dressing on both piece of bread. Then layer: arugula / spinach; sun-dried tomatoes; pancetta; chicken; shaved Parmesan (or, if using shredded, sprinkle on top half of bread, so that it will stick to the dressing). Sprinkle with salt and pepper. Place top on sandwich and cut into pieces. Serve at room temperature.