Bridge of Scarlet Leaves is a story of love, family, racism, and patriotism here in the United States during World War II.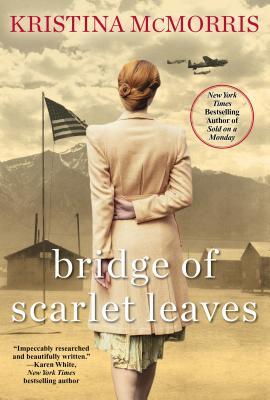 Bridge of Scarlet Leaves by Kristina McMorris
When Maddie Kern, an aspiring violinist, falls in love with her brother's best friend, Lane Morimoto, she assumes that her biggest challenge would be her overprotective brother and Lane's very traditional Japanese family. But Maddie is so wrong .
The day after Maddie and Lane elope, the Japanese bomb Pearl Harbor. Maddie and Lane's biggest obstacle is no longer their families. Maddie sacrifices her Julliard ambitions to stand by her new husband, who loses his summer internship and moves with his family to a relocation camp. While Lane was born in America, strangers and friends alike treat him with suspicion and distrust due to his Japanese heritage.
Bridge of Scarlet Leaves follows Maddie as she stands by her husband at home and in the relocation camp. It follows Lane as he struggles as the head of the household and as a soldier, fighting for a country that does not trust him. And it follows Maddie's brother as he struggles through inner turmoil and war.
Review:
Bridge of Scarlet Leaves has so many strong themes: love, family, racism, and patriotism. Unlike so many other historical fiction stories I've read, Bridge of Scarlet Leaves is first and foremost, a love story – and that theme shines through throughout. Maddie and Lane's love is young and sweet. But nothing was easy for the newlyweds; I was rooting for them through every obstacle they encountered.
Both Maddie and Lane had strong ties to their family as well. Neither had the happiest of stories, but both showed loyalty and dedication despite the hardships.
That being said, this was not always the most uplifting book, which is no surprise when dealing with racism and war. The treatment of the Japanese community at this time is something that, in my experience, is not discussed in depth. I recall a passing mention in history books, but Bridge of Scarlet Leaves puts it front and center. Almost 70 years later, it's hard to believe that relocation camps existed and housed a whole race of people here in the United States. It's still hard for me to wrap my head around the racism in our recent past, even despite knowing how much of it continues today.
Overall, I enjoyed Bridge of Scarlet Leaves, although it was a slightly slower book for me to get into.