This was a surprise for the hubby, a romantic dinner for two after a long week. Even used the good China!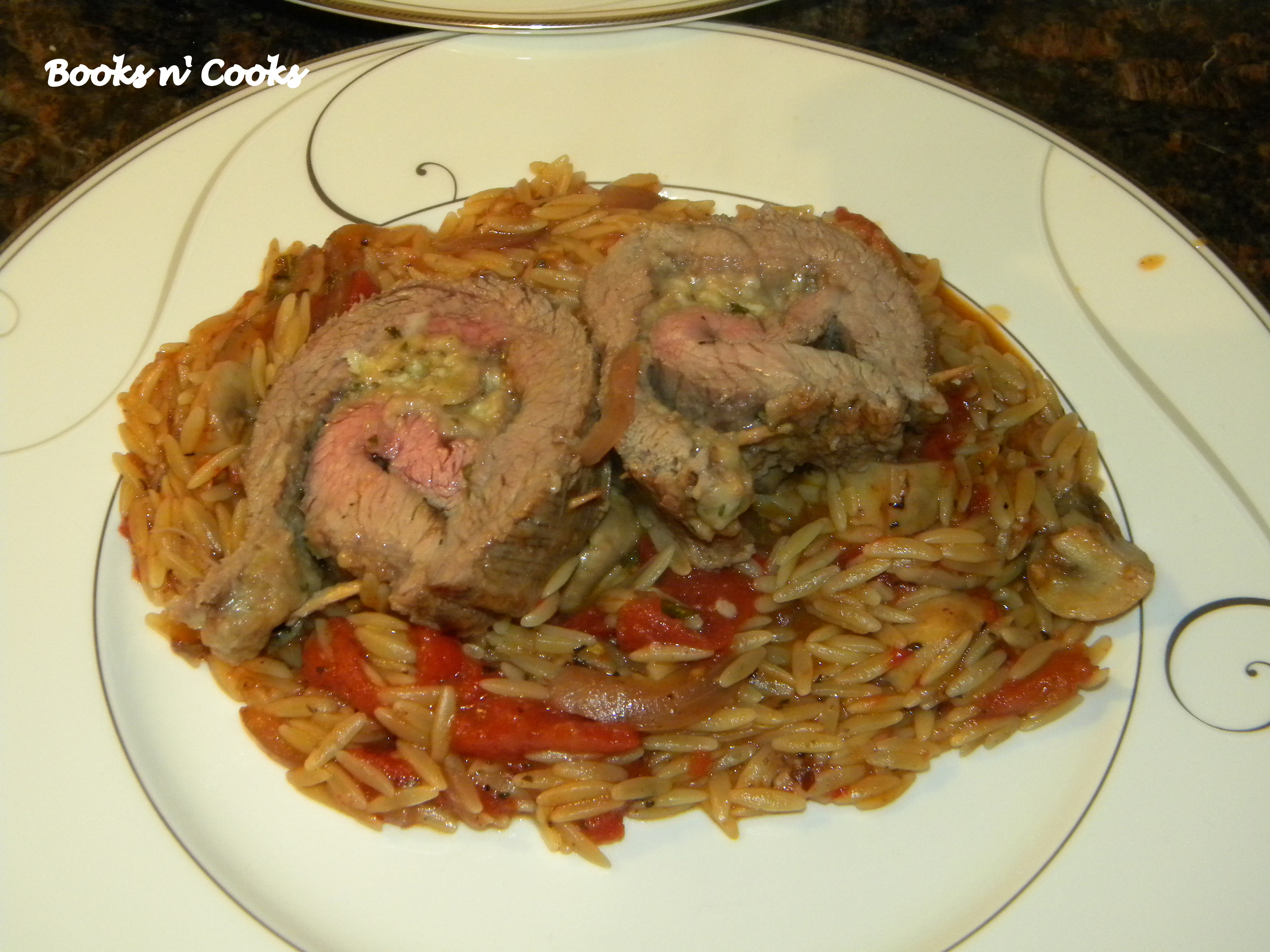 A bracoile is an Italian dish — essentially flank steak rolled up and pan-seared with a tomato sauce. Bracoile can be served over pasta, with a good piece of bread as a sandwich, or even as an appetizer if sliced thin. My bracoile was served as a main dish.
Before you start this, make sure that your dutch oven is ready to go (mine was rusty and I had to re-season it before using… my fault, I'm a slacker and had been procrastinating on that).  Secondly, be aware, that you probably want at least 2 hours to make this — you have the prep work (minimal), searing the meat, browning the onions, and then cooking for 1 1/2 hours.
Braised Beef Bracoile Stuffed with Basil and Fresh Mozzarella

Source: Fine Cooking, Big Buy 2009 (p. 34)
Ingredients:
1 2-lb flank steak
kosher salt and freshly ground black pepper
3/4 c. shredded Parmesan cheese
1 c. shredded low-moisture mozzarella cheese
1/3 c. bread crumbs (I used Italian breadcrumbs)
12 large basil leaves, torn into pieces (I used pre-chopped basil I had frozen in water from my summer garden)
1/4 c. olive oil
1/2 c. red wine
1 – 28 oz. can (3 cups) whole tomatoes and their juices, pureed (see note below)
1/4 tsp. crushed red pepper flakes
8 oz. white mushrooms, quartered
1 onion, sliced in slivers
Orzo (optional, see note below and step #6)
Note: I forgot to puree the whole tomatoes, so I just broke them up in the pan after cooking for a little while minutes. Next time, I'll probably just use crushed tomatoes.
Directions:
1. On a large cutting board, slice the steak lengthwise along one side. It'll look like you are opening up a book. Season all sides with salt and pepper.
2. In a small bowl, combine Parmesan cheese, mozzarella cheese, bread crumbs, and basil. You may want to use a mini-food processor to combine mixture. Place stuffing inside beef and roll it up, lengthwise, jelly-roll style, with the mixture inside. Secure roll with cooking twine or toothpicks.
3. Heat half the oil in the dutch oven over medium-high heat. Add rolled steak, searing on all sides. Transfer to plate.
4. Add rest of the olive oil and onions. Season with a bit of salt. Cook until slightly browned, about 8 minutes. Add red pepper flakes and red wine, cooking until wine reduces (about 2 minutes). Add pureed tomatoes and red pepper flakes; bring to a boil.
5. Nestle steak in the pan, among the sauce. Add mushrooms. Reduce heat and cover, cooking until meat is tender and can be easily cut with a pearing knife, about and hour and a half. Stir and rotate meat occasionally.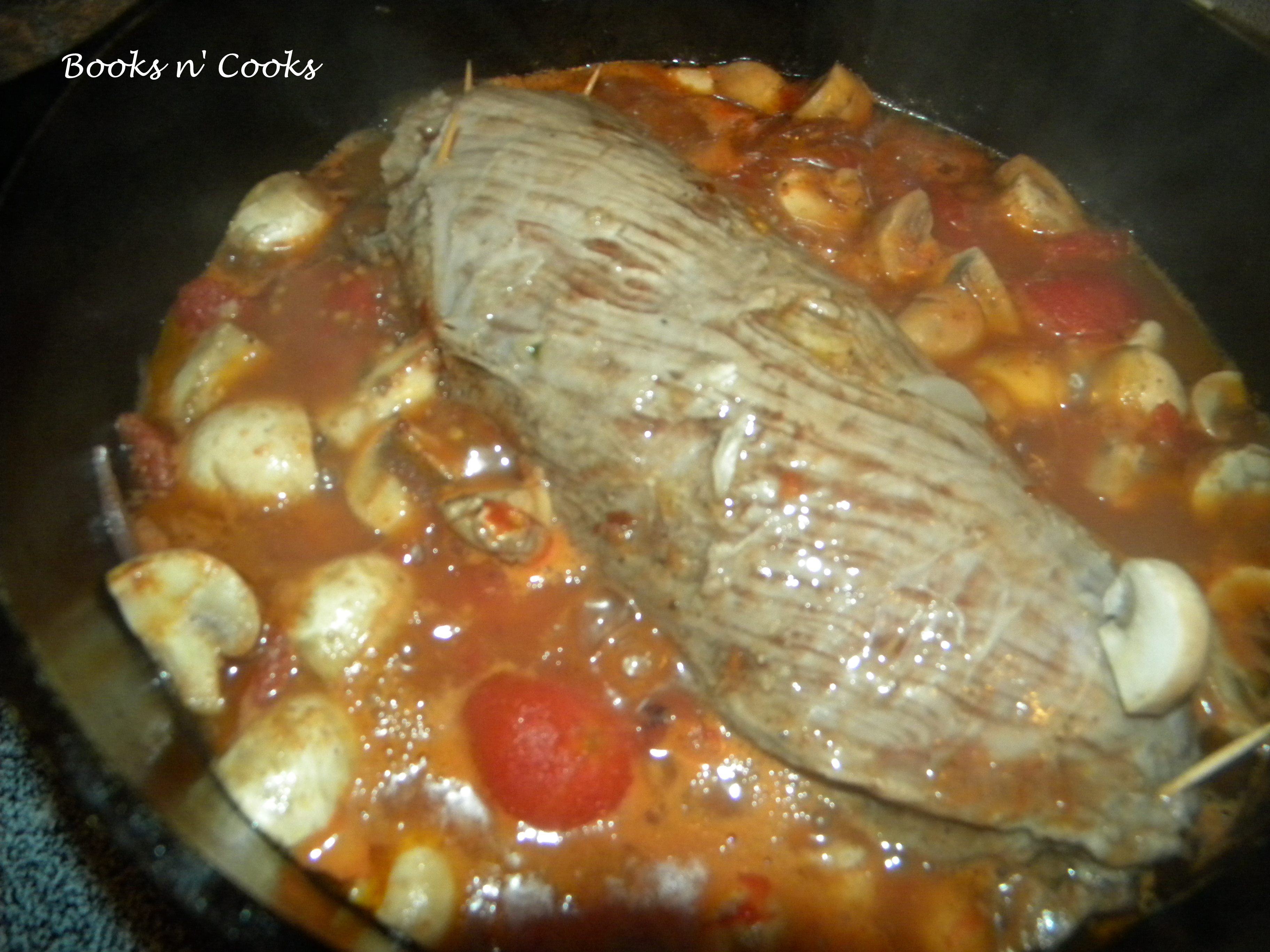 6. Since I forgot to puree the tomatoes, my sauce was much more liquidy than the thick tomato sauce that was supposed to go with this recipe. In the last few minutes of cooking, I added orzo pasta to the sauce as my accompaniment.
7. Let rest 10-15 minutes before serving.