After three weeks of rain and abnormally chilly weather, it looks like some semblance of spring or early summer is finally here, and I'm thrilled. I'm done with heavy meals, the stove and oven heating up the kitchen. I've been longing for lighter fare – grilled meats and veggies, lots of fresh fruit and herbs… everything cooked outside with the windows and doors open. And FINALLY! That time is here!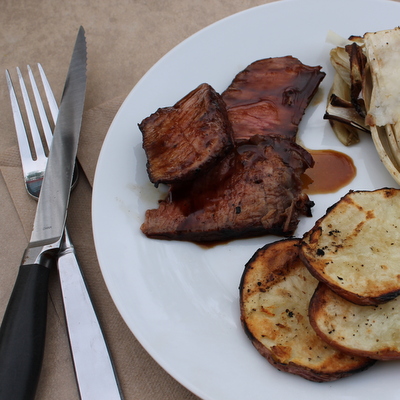 Due to our busy schedules, we're frequently grilling with premade marinades or a quick rub of spices or even just kosher salt and freshly ground pepper. But on the weekends, I have a little extra time for those few extra steps that turn a simple grilled steak into something a little extra special. This recipe is one I've made several times. The  marinade loans a great flavor to the meat, and later gets heated to a boiling point to create a sweet syrup to drizzle on the grilled steak.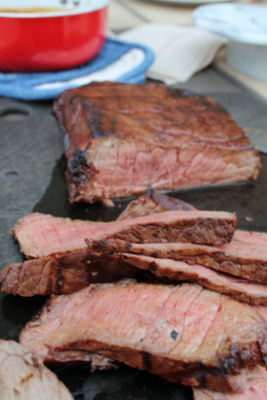 Bourbon & Brown Sugar Marinated Grilled Steak
Adapted from Fine Cooking Grilling, 2008 (p. 33)
Ingredients:
1/2 c. low-sodium soy sauce
1/3 c. bourbon
1/2 c. firmly packed dark brown sugar
1 Tbs. Dijon mustard
1 tsp. hot sauce
2 lbs. steak (I used flank steak)
Marinade: Combine soy sauce, bourbon, brown sugar, mustard and hot sauce in a large ziplock bag. Add steak and marinate at room temperature for 15-20 minutes.
Cook: Meanwhile, preheat grill, with settings on medium.
Remove steak from marinade (save marinade) and grill to desired doneness – about 5-6 minutes per side for medium-rare.While steaks cook, place leftover marinade in a small pot on the stove and bring to a boil. Boil for 3 minutes until thick and syrupy.
Allow steaks to rest for 5 minutes before slicing thinly, across the grain.
Serve with a drizzle of sauce and your favorite summer sides.