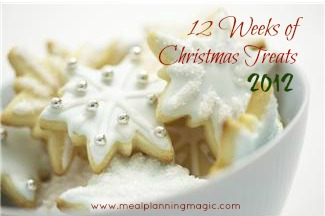 It's the 9th week of the 12 Weeks of Christmas Treats, hosted by Meal Planning Magic. I can't believe  it's so close to Christmas! Where has this year gone?
Unlike several of the recipes I've made this year (cinnamon sugar pretzels; pecan, kahlua, and brown sugar baked brie; salted caramel hot chocolate mix; and snickerdoodles), this week's recipe isn't a new one for me. I've made these bourbon balls a couple of times in the past but it was either before this blog existed, or the candies never survived to be photographed. They're incredibly rich and if you ask my coworkers, it's hard to have just one.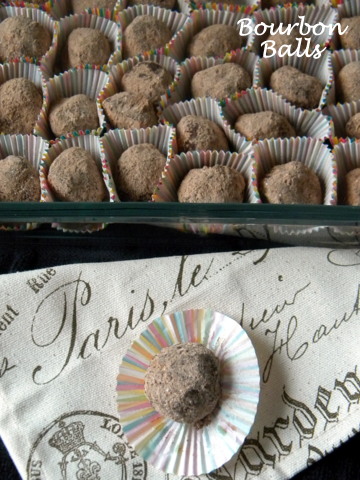 Bourbon Balls
Adapted from Fine Cooking No. 89 (p 80)
Makes ~4 dozen
Ingredients:
1 c. heavy cream
1/4 c. bourbon (I used Jim Bean)
1/2 tsp. vanilla extract
12 oz. bittersweet chocolate, chopped
8 oz. pecans, toasted and cooled
8 oz. plain pound cake (I used store-bought but you can use fresh if you have it on hand)
1/2 c. cocoa powder
1/4 c. confectioners' sugar
Make the Ganache: In a small saucepan, bring heavy cream barely to a boil. Remove from heat and stir in bourbon and vanilla. Sprinkle chocolate over hot cream mixture and allow to sit for 5 minutes.
While chocolate is melting, place pecans in a food processor, pulsing until coarsely chopped. Add pound cake and pulse until pecans and pound cake are finely chopped.
Whisk chocolate into cream until mixture is smooth. With the food processor running, slowly pour in chocolate. When pecans, pound cake, and chocolate are thoroughly combined, pour into a bowl and refrigerate until firm, at least 1 hour.
Make the Bourbon Balls: Just before removing ganache from fridge, line a baking sheet with wax or parchment paper, or set mini cupcake liners on a baking sheet (or serving dish).
Sift together cocoa powder and confectioners' sugar. Place in a shallow bowl or plate.
Remove ganache from fridge. Using a mini ice cream scoop or two teaspoons, scoop out a tablespoon of mixture. Roll in between your palms to form a ball. Roll in cocoa-sugar mixture and place on prepared baking sheet or in a cupcake liner. Continue until finished with the ganache. (If mixture gets too soft to work with, refrigerate again until firm).
Refrigerate bourbon balls until firm, about 2 hours.
Store: Bourbon balls are best stored in a cool place (fridge or at room temp if it's not too warm) so that they retain their shape.