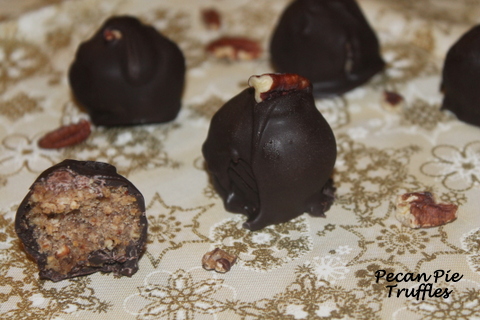 I never had the traditional pumpkin or pecan pie for Thanksgiving dessert when I was growing up. To this day, I won't touch a pumpkin pie. If pecan pie is my only option, I might indulge, but I don't have the same affinity for it as most people. These pecan pie truffles, however, are another story. You can't keep me out of my stash of them. I made mine with bourbon so that they would keep at room temperature (I'll be shipping some to a special someone and serving them at my holiday party this year).
Recipe Substitution: If you don't want to use bourbon in this recipe, you can use coconut or almond milk. If you do, be sure to refrigerate the truffles until serving.
Pecan Pie Truffles
Adapted from VegNews via Growing Up Veg
Makes 2 dozen truffles
Ingredients: 
2 1/2 c. finely chopped pecans (more for garnish, if desired)
1 c. graham cracker crumbs (~1 sleeve of Keebler graham crackers)
1 c. brown sugar
1/2 tsp. salt
2 Tbp. maple syrup
1/3 c. bourbon
1 tsp. vanilla
12-18 oz. dark chocolate candy melts
Place graham cracker crumbs, brown sugar, salt, maple syrup, bourbon and vanilla in a food processor. Pulse until well mixed.
Line a baking sheet with parchment paper. With a small ice cream scoop or a teaspoon, portion pecan mixture into balls about 1-inch in diameter and place onto prepared baking sheet. Roll each ball between palms to shape slightly.
Freeze for 2 hours.
Melt candy melts in microwave. Using two forks, dip each truffle in candy melts. Allow excess to drip off before returning to baking sheet to set. Garnish with chopped pecans, if desired.
Allow to set in fridge/freezer 2 hours before serving.
Store in an airtight container. Pecan pie truffles are fine at room temperature but I recommend storing them in the freezer if not serving within a few days.